Trump's Ex-Social Media Adviser Says President's First Tweet Was Like When Velociraptors Opened Doors in 'Jurassic Park'
Donald Trump's original social media consultant, Justin McConney, has revealed how he helped the president transition from someone who was averse to digital technology to the Twitter behemoth that we all know and love (or hate) today.
In an interview with Politico, McConney—who was in charge of the Trump Organization's social media between 2011 and 2017—spoke about the moment he realized that Trump had tweeted on his own for the first time, writing a relatively boring shout-out to the actress Sherri Shepherd in 2013.
Read more: Donald Trump's tweets are mostly damaging to the stock market, majority of voters say in poll
"The moment I found out Trump could tweet himself was comparable to the moment in Jurassic Park when Dr. Grant realized that Velociraptors could open doors," McConney told the site. "I was like, 'Oh no.'"
McConney—son of a former controller of the Trump organization—landed the job after making a video shown at Mar-a-Lago during a meeting involving several managers of Trump's golf courses.
Trump was so impressed with video—which was heavily focused on the man himself—that he called McConney into his office for a meeting. During the encounter, the then 24-year-old film graduate extolled to him the virtues of social media, after noticing during the making of the Mar-a-Lago video that the Trump organization did not even have a YouTube account.
McConney quickly noticed that that Trump had little understanding of the medium, and while his now-famous Twitter account was active at the time, it was used sparingly and filled mostly with bland promotional messages. So, he advised the business mogul to set up a YouTube account to post videos of himself and to change the way he used Twitter.
"He seemed to be familiar with the names but not what you could do with them," McConney said. "I wanted the Donald Trump who is on Howard Stern, commenting on anything and everything," he said.
Initially, Trump was skeptical of creating social media content for its own sake, according to McConney. However, he gradually began to realize that the medium could be used to boost his public profile in traditional media, especially after he posted a video response to a lunch he had with Sarah Palin after which many news outlets ran stories on his strange method for eating pizza with a fork and knife.
McConney noted that Trump increasingly became enamored with the directness of social media and the way it allowed him to carefully manicure his public image. By the end of 2012, he had posted 744 tweets in total—around five times as many as he had in 2010—many with a political angle.
He soon began having daily discussions with McConney, which the social media manager described as "editorial meeting" to determine the type of content he would put out that day. However, at this point, Trump was still seemingly averse to digital technology, making McConney write his tweets for him and even going so far as to get his social media manager to print out posts he had been mentioned in so he could read them.
"He was very old school back then," McConney said. "He was not someone who really used computers or went on the internet very much."
And even with his newfound interest in social media, it still took time for Trump to come around to the idea of using his platform in traditional media to grow his online fanbase. However, McConney eventually convinced him to promote his @RealDonaldTrump Twitter account during The Apprentice, in what was a pivotal milestone.
From there, things only escalated and Trump began calling McConney day and night to dictate Tweets to him, while also enlisting additional staff to help out. Eventually, Trump bought himself an Android smartphone and began sending his own tweets in February 2013. By the end of that year, Trump had tweeted more than 8,000 times.
When he decided to run in the Republican primaries in 2015, Trump and McConney worked together to raise his public image by posting controversial statements, and the rest is history.
McConney left the Trump Organization in 2017, but says he still has a few tips for Trump if the president wants to continue being a big social media presence.
"He needs to return to engaging directly with his fans again," McConney said, while also suggesting that his tweets should move away from angry rants and go back to having "more of a sense of humor about himself."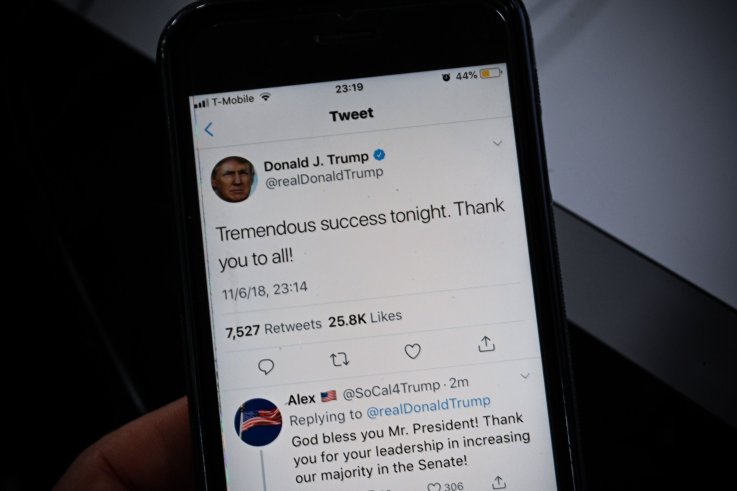 Trump's Ex-Social Media Adviser Says President's First Tweet Was Like When Velociraptors Opened Doors in 'Jurassic Park' | U.S.