Trump Says Fox News Isn't the Same and He's 'Looking for a New Outlet' after Host Warns Against His Medical Advice
Donald Trump believes Fox News is "no longer the same" after host Neil Cavuto urged caution over the use of hydroxychloroquine, which the president is taking as a preventative against COVID-19.
The president criticized the network and said he is "looking for a new outlet" after Cavuto's message, in which he warned of potential risks of taking the drug for vulnerable groups.
Cavuto cited a Department of Veterans Affairs (VA) study of the drug on veterans hospitalized with COVID-19, which saw a higher mortality rate among those treated with the drug alone. He said: "Those with vulnerable conditions, respiratory conditions, heart ailments, they died."
For people in a "risky population," he said: "It will kill you."
Trump said yesterday he has been taking hydroxychloroquine for around one and a half weeks. He said his evidence for its efficacy was that he received "a lot of positive calls about it."
The U.S. Food and Drug Administration has previously warned of hydroxychloroquine's use outside of monitored medical studies. The Centers for Disease Control and Prevention describes hydroxychloroquine as "an arthritis medicine that also can be used to prevent malaria."
Further expressing his concerns to viewers, Cavuto said: "Whatever benefits the president says this has, it certainly has had for those suffering from malaria, dealing with lupus, this is a leap that should not be taken casually by those watching from home or assuming, 'Well the president of the United States says it's okay.'
"Even the FDA was very cautious about this unless in a clinical trial safely and deliberately watched.
"I only make this not to make a political point here but a life and death point: be very, very careful."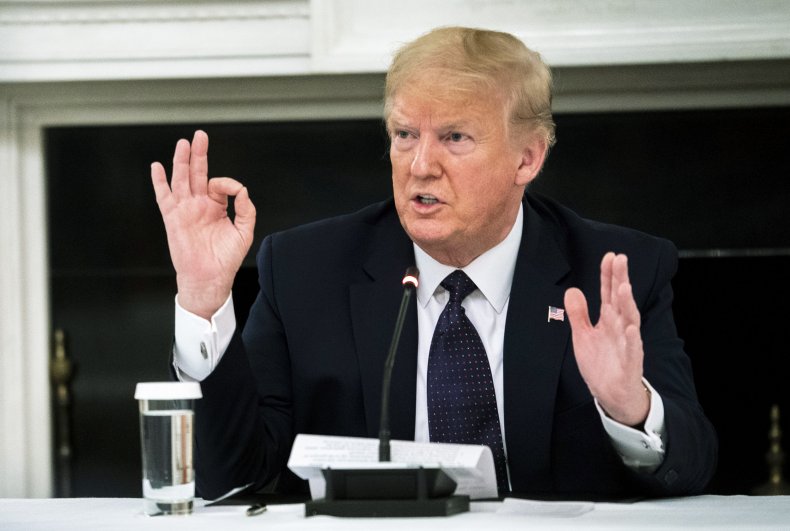 Following these comments, a Trump supporter tweeted a clip of Cavuto, tagging Fox News host Laura Ingraham, asking what was "the problem" with Cavuto.
He said Ingraham's colleagues at Fox News "spew" fake news about the president.
Trump retweeted these comments and wrote: "@FoxNews is no longer the same. We miss the great Roger Ailes.
"You have more anti-Trump people, by far, than ever before. Looking for a new outlet!"
His message reference Ailes, former CEO of Fox News, who quit that position amid accusations of sexual harassment. Ailes, who died in 2017, denied the allegations against him.
Cavuto was not the only member of the Fox News team to question Trump's use of hydroxychloroquine. He was joined by Dr. Manny Alvarez, the channel's senior managing editor for health news.
Asked why the president would be taking the drug, he said: "I don't know, your guess is as good as mine.
"I found it to be highly irresponsible for the president to have come out and made that statement.
"I would like to hear on the White House physician, to come out tomorrow and explain to me, what has changed in a week and a half or two weeks for the president to take this medication, when all the data that has been coming out, very repeatedly, has shown that there's really not a major benefit."
Alvarez said most hospitals were not using the medication in the treatment of coronavirus.
"We have to be careful, this medication does have side-effects," he said.
"Anecdotal evidence right now is really not helpful."
After Trump announced his use of hydroxychloroquine, his physician, Sean Conley, wrote in a letter shared to the press: "As has been previously reported, two weeks ago one of the President's support staff tested positive for COVID-19. The President is in very good health and has remained symptom-free. He receives regular COVID-19 testing, all negative to date."
"After numerous discussions he and I had regarding the evidence for and against the use of hydroxychloroquine, we concluded the potential benefit from treatment outweighed the relative risks."
The VA study, cited by Cavuto, looked at 368 male patients nationwide, some treated with hydroxychloroquine alone, some with the drug in combination with other treatments, and some not exposed to it.
It concluded: "An association of increased overall mortality was identified in patients treated with hydroxychloroquine alone."
Researchers said it found "no evidence that use of hydroxychloroquine, either with or without azithromycin, reduced the risk of mechanical ventilation in patients hospitalized with COVID-19."
Newsweek has contacted the White House and Fox News for comment.
Coronavirus numbers in the U.S. continue to rise, with more than 1.5 million confirmed cases, according to Johns Hopkins University figures.
The graphic below, from Statista, shows the worst-hit states as of May 18.