Donald Trump Backs 'Getting Along' with Russia as Ukraine Standoff Continues
Former President Donald Trump stressed the importance of the U.S. "getting along" with Russia and other world powers as tensions at the Ukraine border continued to mount amid a buildup of Russian troops.
Speaking to Fox News on Monday night, Trump claimed "getting along with Russia is a good thing" and said he got along with the Russian President Vladimir Putin during his time in the Oval Office.
The former commander-in-chief also said it would be a good thing for the U.S. to get along with China and North Korea, as he criticized his predecessor former President Barack Obama's record.
In an interview with Fox News host Sean Hannity, Trump said: "Getting along with Russia is a good thing, not a bad thing. Getting along with China's a good thing. The problem we have with China was COVID, because nobody ever took out so much money from China."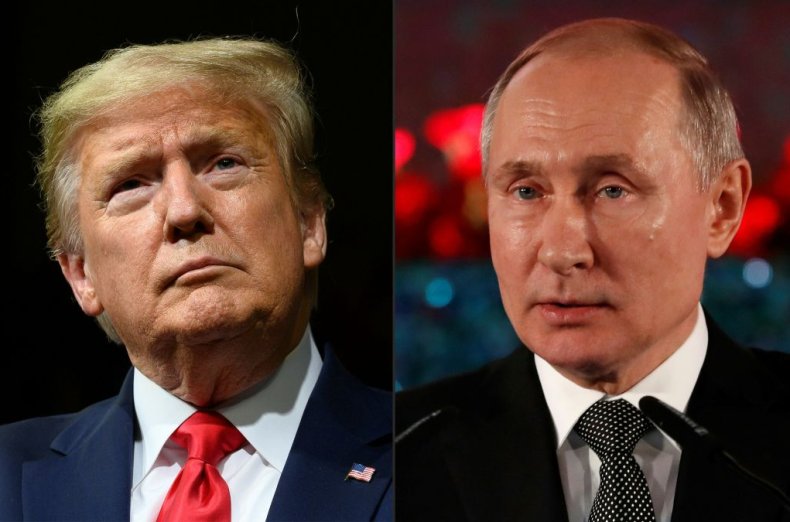 He later added: "I got along with President Putin. I liked him, he liked me. That's a good thing, not a bad thing." Newsweek has contacted former President Trump's office for further comment.
Trump appeared to caution against hostility with Russia as the country continued to amass troops on Ukraine's border following the 2014 annexation of Crimea.
Josep Borrell, the high representative of the European Union, said on Monday that Russia had gathered its largest military buildup on Ukraine's border. He said the force was comprised of roughly 150,000 soldiers, but declined to disclose the source of that number. The Ukrainian Defence Minister Andriy Taran put the estimate at 110,000 last week.
"It is the highest military deployment of the Russian army on the Ukrainian borders ever. It's clear that it's a matter of concern when you deploy a lot of troops," Borrell said. "Well, a spark can jump here or there."
While tensions in the region have increased of late, experts have said that the prospect of a full-scale invasion is still unlikely, as some world leaders have stressed the need for dialogue.
Air Force General Tod Wolters told the House Armed Services Committee that there was a "low to medium" risk of Russian forces invading Ukrainian territory, and predicted that odds would "start to wane." President Joe Biden also announced new sanctions against Russian technology firms that allegedly supported Russian cyberattacks on the U.S.
A Ukrainian general Viktor Ganushchak said his forces would be "ready" for any assault by the Russian military, but added that he couldn't "make any kind of forecast" and said Russia was bringing "battalion tactical groups" to the border. He is the deputy commander of Ukraine's Joint Forces Operation.