Kyiv has voiced its alarm over Russia's biggest military build-up along Ukraine's border since 2014—the year Crimea was annexed, as speculation grows over whether Moscow intends a similar push into Ukrainian territory.
Clashes have intensified over the last few weeks in eastern Ukraine's Donetsk and Luhansk regions, the scene of hostilities between Kyiv-backed troops and Russian-backed separatists.
Kyiv has said Russia had put more than 40,000 troops on Ukraine's eastern border, and more than 40,000 troops in Crimea. The increased presence spurred U.S. Secretary of State Antony Blinken to warn Russia there would be "consequences" if Moscow acted "recklessly or aggressively."
Meanwhile, Ukraine's foreign minister Dmytro Kuleba has accused Russia of "openly threatening" his country with war and warned on Thursday that "if Russia crosses the red line, then it will have to suffer."
Despite the increase in tensions, experts suggest that the prospect of an immediate mass-invasion is unlikely.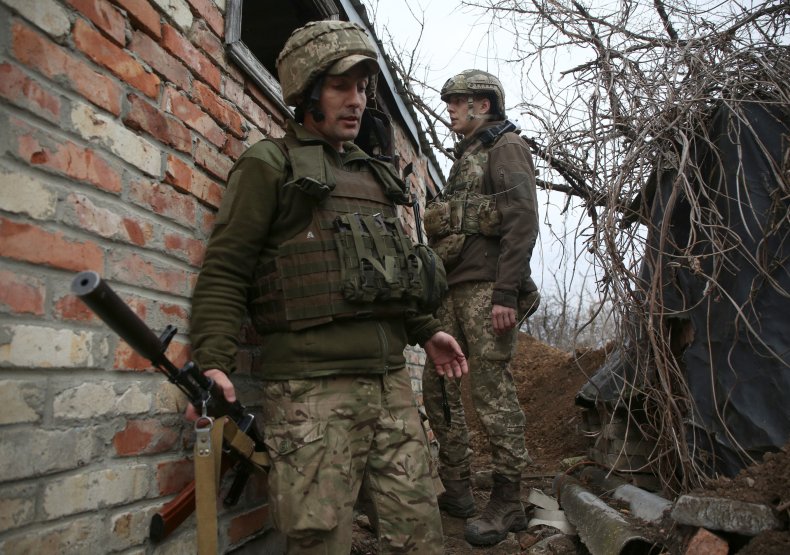 Air Force General Tod Wolters, the top U.S. general in Europe, told U.S. lawmakers on Thursday that there was a "low to medium" risk of such an incursion.
"My sense is, with the trend that I see right now, that the likelihood of an occurrence will start to wane," he told the House Armed Services Committee, later suggesting that the conclusion was partly based on the disposition of Russian forces.
Mark Galeotti, a Russia expert and honorary professor at University College London's School of Slavonic and East European Studies, said that despite the Russian build-up, there is still not the crucial logistics base in place required for a full-scale military offensive.
"That doesn't preclude that this afternoon they start building those up even more.
"But it does give us a hint that actually this is not the prelude for the grand drive to push a land bridge to Crimea...or any of the other nightmare scenarios some people raise," he told Newsweek.
He predicted lesser scenarios, such as Russia withdrawing their troops after two weeks, "having made the point they can mobilise forces very quickly."
Another possibility is that Russian troops do not seek to occupy any more territory, but aim "simply to punish Ukrainian forces."
"This is coercive diplomacy of the heavy-handed kind and the worst that we can expect is more violence along the line of contact but obviously, it is not surprising that people are defaulting to worst case scenarios," Galeotti said.
Russia insists the troop movements are an internal affair with defense minister Sergei Shoigu saying they were part of readiness drills amid what he described as threats from NATO.
April typically sees an increase in tensions along the border following the post-winter thaw and there could be sporadic clashes along the line of contact.
Author of Weak Strongman: The Limits of Power in Putin's Russia, Timothy Frye, said there is little appetite among the Russian public for a conflict in eastern Ukraine, especially given that the Kremlin had previously taken pains to distance itself from the deaths of Moscow-backed fighters in the region.
"Russian public opinion is very wary of any kind of Russian military involvement in eastern Ukraine. If there were a loss of life, that could really backfire," he told Newsweek.
"A more likely scenario might be the insertion of Russian peacekeepers on the pretext of protecting Russian citizens who received passports from the Russian government, who live in the areas that are controlled by the rebel forces.
"That is a tactic that could be sold at home and would also be a smaller step up the ladder of escalation than a full-on military invasion," said Fyre, who is chair of Columbia's department of political science.