Donald Trump Mocked Over Golf Course, Wind Turbines By Scotland's Leader Before U.K. Trip
Scotland's leader mocked President Donald Trump Friday over his battle against wind turbines being built near one of his famed golf courses, noting the success and improvement of wind power.
Scottish First Minister Nicola Sturgeon only referred to but did not specifically state Trump's name, though she did note his failed legal battle to stop the turbines' construction near his Trump International Golf Links Scotland course in Aberdeenshire.
"A few years ago you might have heard of these turbines because a famous golf course owner from America who, I think, has now turned his hand to politics, decided to take the Scottish government to court to try to block these wind turbines because he thought they spoiled the view from his new golf course," Sturgeon said in speech before a technology conference according to The Scotsman.
She continued: "Just earlier this week, in fact, these amazing wind turbines generated their first electricity. They are marvels of engineering, but, even more importantly than that, very soon they will be generating enough electricity for almost three-quarters of all homes in the city of Aberdeen. So, we continue to promote renewable energy projects like that one."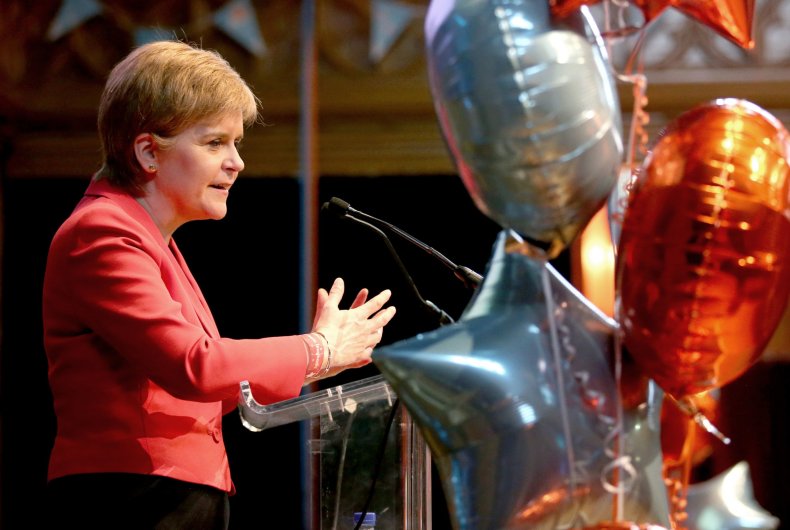 Back in 2013, Trump had filed a lawsuit to stop the turbines' construction but the United Kingdom's Supreme Court ultimately shutdown Trump's case in 2015. Trump had described Scotland as the "most beautiful country ever" and thought the turbines would have "sullied" the countryside.
But even after he was elected in 2016, Trump reportedly asked controversial British politician Nigel Farage if he would possibly campaign against the wind power farms, according to BBC News.
Sturgeon's comments come a week before Trump is scheduled to head to the United Kingdom for the first time since he took office. The billionaire and real estate tycoon was originally supposed to visit one of the U.S.'s strongest allies last year but widespread protests nixed those initial plans.
However, a recent poll indicated Trump's popularity in the U.K. had improved. YouGov found in February that 45 percent of those polled approved of Trump visiting with 39 percent against the jaunt.
Only a month prior, 55 percent of respondents were staunchly against a Trump visit, with 31 percent for it.
Still, Trump may not get the warmest of welcomes. London Mayor Sadiq Khan approved Thursday a permit that would allow an inflated "Trump baby" to fly over the city during the president's visit.