Donald Trump Says 'My Gut Tells Me More Sometimes Than Anybody Else's Brain Can Ever Tell Me'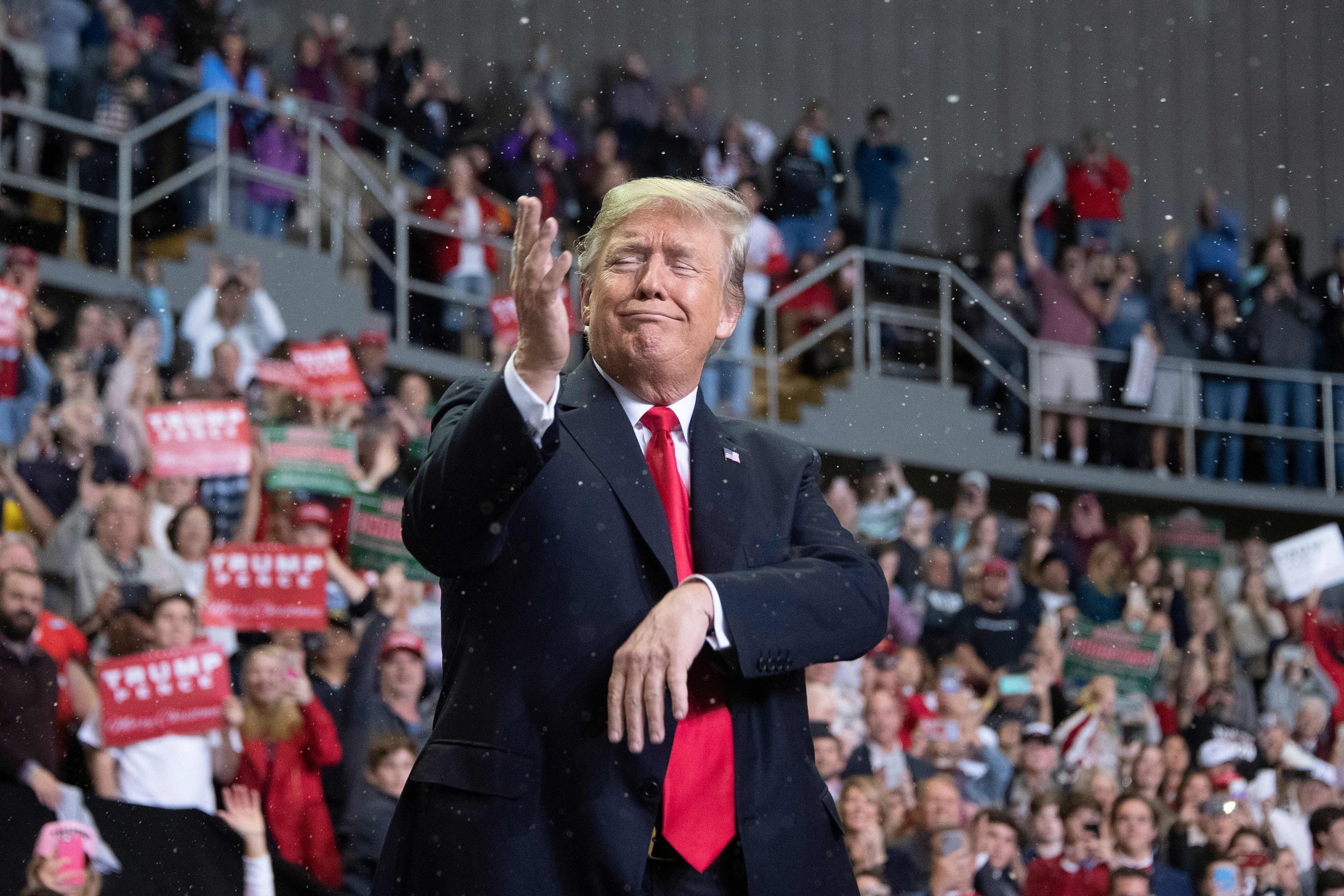 President Donald Trump suggested Tuesday that he trusted his "gut" over the "brains" of experts, as he delivered his harshest rebuke yet of his Federal Reserve chairman.
Trump, speaking in an interview with The Washington Post, blamed declines in the stock market and General Motors' announcement the previous day of shutting multiple plants and laying off more than 14,000 workers in North America on high interest rates. GM has cited fears of an economic downturn and Trump's tariffs for the decision.
"I'm doing deals, and I'm not being accommodated by the Fed," Trump said. "They're making a mistake because I have a gut, and my gut tells me more sometimes than anybody else's brain can ever tell me."
Trump then called out the Fed chairman he nominated, Jerome "Jay" Powell.
"So far, I'm not even a little bit happy with my selection of Jay," he said. "Not even a little bit. And I'm not blaming anybody, but I'm just telling you I think that the Fed is way off-base with what they're doing."
Trump has long claimed that he is more knowledgeable than experts on a range of issues that he has no training in. He has also repeatedly said that he does not need to read up on issues because he has such a strong regard for his instincts.
"I think I'm very well prepared," Trump said ahead of his historic meeting with North Korean dictator Kim Jong Un earlier this year. "I don't think I have to prepare very much. It's about attitude, it's about willingness to get things done. So this isn't a question of preparation, it's a question of whether or not people want it to happen, and we'll know that very quickly."
In the same Washington Post interview Tuesday, Trump also continued to dispute the consensus of 97 percent or more of climate scientists that climate-warming trends are extremely likely down to human activities.
"One of the problems that a lot of people like myself, we have very high levels of intelligence but we're not necessarily such believers," Trump said. "You look at our air and our water, and it's right now at a record clean."
He added: "As to whether or not it's man-made and whether or not the effects that you're talking about are there, I don't see it."
Trump's comments came following the release of a climate change report produced by his own administration that detailed disastrous impacts for the United States in the coming decades.