Donald Trump, former president and current frontrunner for the Republican Party in 2024, is making an impressive run in the polls compared to other GOP primary candidates in previous years, and two experts told Newsweek why that is.
Recent polling indicates Donald Trump has a commanding lead over Florida Governor Ron DeSantis, his nearest challenger, with Republican voters in the race to be the 2024 GOP presidential nominee, potentially setting up a rematch of the 2020 contest against Joe Biden.
Taking to X, formally Twitter, on Thursday, account Interactive Polls noted Trump's success, saying he has the "largest advantage" ever over DeSantis.
Interactive Polls also noted that on this day, September 14, the GOP primary frontrunner was Trump in 2015 up 13.8 percent, Rick Perry in 2011 up 12.2 percent, and Rudy Giuliani in 2007 up 4.6 percent. Interactive polls continued, citing a Real Clear Politics poll average, saying today in 2023 Trump leads polling up 42.5 percent.
Newsweek has not been able to independently verify the polling data from 2015, 2011, and 2007 on this day as noted by Interactive Polls. However, a CNN poll from September 2015 shows Trump up 13 percent over other candidates with registered voters who describe themselves as Republican. A September 2011 poll from CBS News and The New York Times also shows Perry up 7 percent over other primary candidates with voters who intended to vote in the Republican primary. And an NBC/Wall Street Journal survey taken in late September of 2007 shows Giuliani up 7 percent over other candidates with Republican primary voters.
Meanwhile, recent polling from The Washington Post-Monmouth University released Wednesday shows that South Carolina Republican voters favor Trump by more than 2 to 1. Trump received 46 percent of the vote compared to South Carolina's former Governor Nikki Haley's 18 percent and South Carolina Senator Tim Scott's 10 percent. DeSantis came in fourth with 9 percent.
Similarly, in a Quinnipiac University poll also released on Wednesday, support for Trump stands at 62 percent among Republican and Republican-leaning voters. Trump also trended upwards slightly from 57 percent support in August.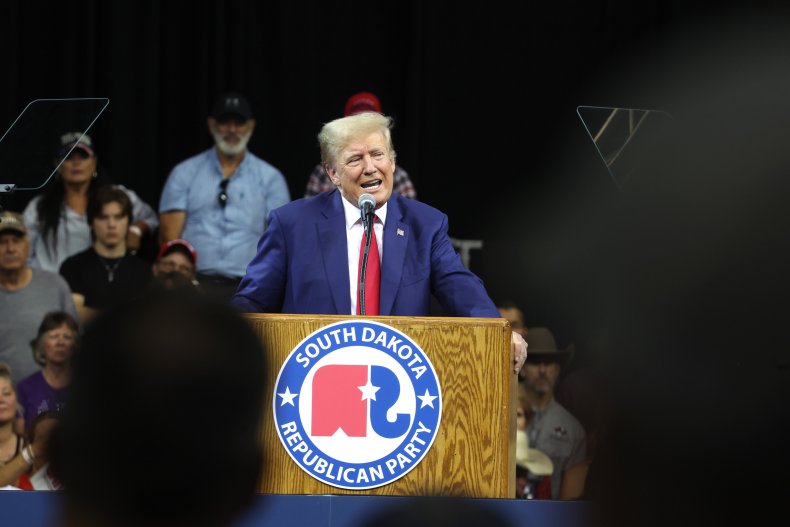 Political pollster and professor Kevin Wagner told Newsweek on Thursday, "People forget that Former President Trump is similar to an incumbent candidate. He's the most well-known national GOP candidate and that often translates into stronger polling numbers. As the campaign progresses, you would expect the numbers to tighten as voters learn about other candidates. The fact that they haven't suggests that the support for the Former President is durable and it will be a challenge to change the minds of voters."
Political analyst Craig Agranoff also told Newsweek on Thursday, "Trump's overwhelming polling success compared to other Republicans is driven by a number of factors, including his strong name recognition, his populist appeal, and his ability to connect with voters on their emotional level. Trump is also seen by many Republicans as a fighter who is not afraid to challenge the status quo."
Agranoff continued, "While it's still early in the 2024 Republican primary, it's clear that Trump is the frontrunner. He has a significant lead in national and early state polls, and he has a base of support that is both loyal and enthusiastic."