Donald Trump Spoke at a Historically Black College—7 Students Showed Up
President Donald Trump spoke at the 20/20 Bipartisan Justice Center on Friday. The event about criminal justice reform was held at the historically black institution Benedict College in South Carolina. But according to a reporter from The State, only seven students were in attendance.
About 300 tickets were available for the event, but half were reserved for guests of Trump's administration. Besides 10 tickets provided for Benedict students, the South Carolina GOP was given 25 tickets. Columbia Mayor Steve Benjamin noted that the auditorium has a capacity of 275, and he attempted to move the event to a larger space to allow more attendees.
In his address, Trump told the audience: "We'll never let up on our efforts to ensure that our justice system is fair for every single American," before turning the speech to his impeachment inquiry. Equating the impeachment to a criminal justice system that perpetuates racial injustice, Trump said: "And I have my own experience, you know that. You see what is going on with the witch hunt. It's a terrible thing that's going on in our country. No crimes. It's an investigation in search of a crime. It's been going on for longer than I have been in office."
Trump's speech also focused on the First Step Act, which helps formerly incarcerated persons transition back into normal life after serving in prison. The act has also led to the early release of many African American federal prisoners, as The Root reports.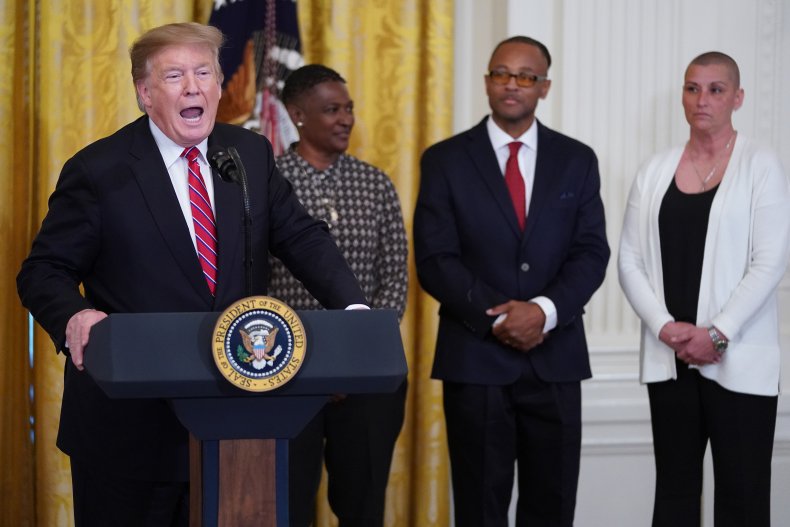 USA Today reported that aside from the seven attendees, students were asked to remain in their dorm rooms while the president was on campus. Citing a safety concern, there were no classes held after 2 p.m. and protests gathered at the college's gates.
South Carolina NAACP president Brenda C. Murphy criticized Trump's inclusion in the event, especially following his "lynching" tweet. She said: "What an unexpected, unpleasant situation for students, the community and many citizens of this state to experience after his insensitive remarks regarding being 'lynched' by the Democratic Party." She condemned his comments: "What a hell of a statement to make."
Trump's invitation at Benedict College caused Democratic Presidential Candidate and Senator Kamala Harris to drop out of the event, tweeting: "I won't be complicit in papering over Trump's record." Presidential Candidates Joe Biden, Elizabeth Warren, Bernie Sanders, Cory Booker, Pete Buttigieg, and Tulsi Gabbard are all still scheduled to speak at the event on Saturday and Sunday.
The 20/20 Bipartisan Justice Center is an organization founded by 20 black Democrats and 20 black Republicans and aims to "empower local leaders to implement innovative and practical solutions to problems in the criminal justice system."
Benedict College and the 20/20 Bipartisan Justice Center did not respond for requests to comment.