As Donald Trump Hits Turkey With Tariffs, Erdoğan Says Country Doesn't Need Dollars Because It Has God
As President Donald Trump rails against Turkey, saying the relationship between Washington and Ankara is "not good at this time" and giving the green light to hit the transcontinental country with heavy trade tariffs, the value of the Turkish lira is plunging to an all-time low.
Nevertheless, Turkey's President Recep Tayyip Erdogan has remained defiant. In a speech Friday, Erdogan told the people they should sell their dollars and convert their "gold under the pillow" into liras to boost the country's flailing currency. He framed the current situation as an economic war and told citizens they should buy lira to participate in the "national struggle."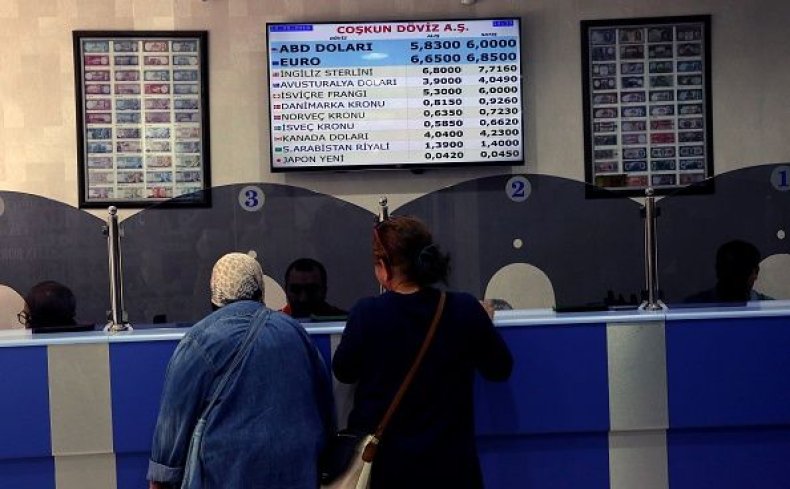 "Don't forget, if they have their dollars, we have our people, our God," Erdogan told supporters during a separate event on Thursday evening. Experts say the strongman leader, who won a resounding victory in elections last month that solidified his control of the country, will shift the blame for the country's economic woes onto external actors and use the lira's falling value to support his claims that outsiders are trying to sabotage the country.
"Pro-government media had already supported the narrative that there would be a "monetary coup" launched against Turkey when the lira started to fall in 2016. The current government is certainly trying to put the blame on outsiders—first the infamous 'interest rate lobby' that Erdogan suspected to be behind the [anti-government] Gezi protest back in 2013," Magdalena Kirchner, a senior analyst and Turkey expert at Conias Risk Intelligence, told Newsweek.
"Yet in recent months it became—due to the critical role of the dollar and the political tensions with Washington—more focused on the U.S. government," Kirchner added.
On Friday, Trump announced his intention to impose a 20 percent tariff on steel imports from Turkey and a 50 percent tariff on aluminum. In recent months, Trump has demonstrated that he often uses tariffs and trade wars as a foreign policy tool.
The political tensions between the two countries appear to be spurred by the ongoing, and thus far unsuccessful, negotiations over the case of Andrew Brunson, an American pastor who has been imprisoned in Turkey since 2016. The Turkish government claims that Brunson supported the movement of a U.S.-based Turkish cleric named Fethullah Gulen, who Erdogan blames for a failed military coup that attempted to overthrow his government in 2016. Brunson maintains his innocence, and the U.S.—including Trump—has been advocating for his release.
Erdogan has long used alleged conspiracies against him to shore up support among his base. But some say this will be harder to do in response to an economic crisis.
"It is possible that Erdogan's conspiratorial rhetoric helps deflect some blame. But it's hard to fathom what threshold of pain supporters can stand before they lose faith in him," Ryan Gingeras, an expert on Turkey at the Naval Postgraduate School, told Newsweek. "Whatever the case, he'll be president for the duration."