Donald Trump Hopes to Use Anti-Obamacare Sentiment to Hang On to Minnesota County He Flipped in 2016
Rural Fillmore County, Minnesota, was once a Democratic stronghold when it came to voting in presidential elections.
Barack Obama won the county by 8.26 percent in 2008 and 7.34 percent in 2012. But that all changed in 2016, when the people in this county with few stop lights and plenty of family farms went for Donald Trump in a big way. He won the county by 21.70 percent in a year that Hillary Clinton won Minnesota, and its 10 Electoral College votes, by 1.5 percent.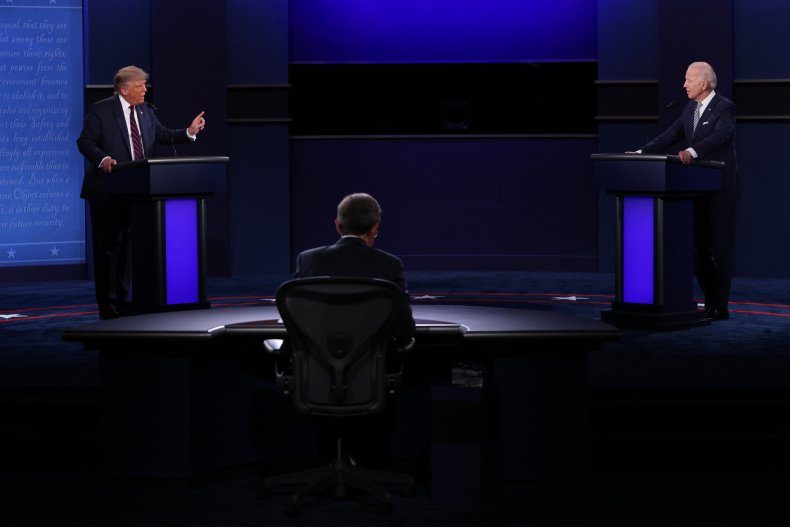 "Today the enthusiasm for Trump is much higher than it was four years ago, and the division is much sharper between right and left," Gary Steuart, chairman of the Fillmore County Republicans, told Newsweek.
Steuart said the sea change began after Obama was elected.
"Obamacare was a big problem for the self-employed farmers," Steuart said. "Their premiums skyrocketed. It turned people off to Obama, and it also awakened an interest in politics. Out here in the country we could see we had a disaster with Obamacare."
Steuart said Trump "rang the bell" for a wide swath of county residents, including working mothers and young people.
Aaron Bishop, chairman of the Fillmore County's Democratic-Farmer-Labor Party, the state's affiliate of the national Democratic Party, told Newsweek the county is "purple" rather than red.
"Our county is a very split-ticket kind of county," said Bishop, who added that he couldn't predict who would win the county or the state in this year's presidential election.
Bishop pointed to Senator Amy Klobuchar winning the county with 52.69 percent of the vote in 2018.
The county had an estimated population of 21,067 in 2019 and, according to the Fillmore County Auditor-Treasurer, has 12,589 registered voters as of this week.
But not everyone in this county has made up their mind.
After this week's presidential debate, County Commissioner Marc Prestby, who won his County Board of Commissioners seat in a nonpartisan election, and said he isn't a member of either political party, remains undecided.
"I don't know if either one of them deserves my vote," Prestby said, adding that he votes for individual candidates based on what they believe in rather than their party affiliation. "I just don't know how anyone can make a good decision from what we're hearing."
Prestby said the debate moment that struck him most was when Biden told Trump he was the worst president ever.
"I respect the office of the presidency, so I wouldn't talk bad on him, but I just think it's foolish how he carries on while in office by Twittering and tweeting all these different things off the cuff," Prestby told Newsweek. "He should take more time and not do a spur-of-the-moment comment and think out the process."
The last time a Republican presidential candidate carried Minnesota was in 1972, when incumbent Richard Nixon defeated Sen. George McGovern. In 1984, Minnesota was the only state won by Minnesotan Walter Mondale, the Democrat who lost in a landslide to incumbent Ronald Reagan.
In this year's presidential race, Biden leads Trump in Minnesota by 9.4 percent in a Real Clear Politics average of recent polls.
But Trump and his campaign, including a few of his family members, are making a strong push to grab Minnesota away from the Democrats. The president held a rally in Duluth on Wednesday night. Eric Trump, one of the president's sons, visited Becker, Minnesota, about 45 miles from Minneapolis, Thursday afternoon.
On the Democratic side, Joe Biden and his wife, Jill Biden, both visited Minnesota in mid-September. Jill Biden is scheduled to campaign in Minnesota on Saturday. As of early Friday morning, the campaign had not announced a change in those plans following the announcement that the president and first lady Melania Trump have tested positive for the coronavirus.
Because Minnesota has historically been a Democratic state, the Republican Party always tries to swing votes as part of the political process, said Fillmore County, Minnesota, County Commissioner Mitch Lentz. He won his County Board of Commissioners seat in a nonpartisan election, and said he isn't a member of either political party. He declined to say whom he planned to vote for, but said that he had decided based on the candidates' records of the past three years and 47 years, respectively.
Lentz said much of the state's problems are attributable to Democratic Governor Tim Walz's COVID-19 restrictions, as well as to the governor's response to riots and looting in Minneapolis following the death of George Floyd, the 46-year-old African American man who died while in police custody in May.
He said the current situation and the troubles businesses and residents are experiencing is what's making the state a target for Republicans.
"So they're trying to take advantage of a situation that happened with the riots and the death of an individual, not the color of an individual, the death of an individual, and to try to make it into a political matter more than what it already is," Lentz said.
Gov. Walz's office did not respond to Newsweek's request for comment in time for publication.