Donald Trump Jokes Hunter Biden Inspired Him to Paint, Could Get Over $2M Per Canvas
Former President Donald Trump has mocked the artistic aspirations of Hunter Biden, whose paintings will be on display at a New York gallery this Fall.
Works by the son of Trump's White House successor have fetched up to $75,000, The New York Post reported, and the George Bergès Gallery has said that other items from his oeuvre which it will showcase could sell for up to half a million dollars each.
But Trump took a sarcastic tone in a statement untroubled by paragraph breaks, or many full stops, in which he said, "while I have never painted before, Hunter has inspired me to immediately begin painting.
"I've always felt I have a talent at that and could surely get at least $2 million dollars per canvas—and probably a lot more," he said, before adding, "our country is crooked as hell!"
Trump's statement on Friday was a broad criticism of the lawsuit settled by former FBI Deputy Director Andrew McCabe, who had been fired just before he was due to retire in March 2018.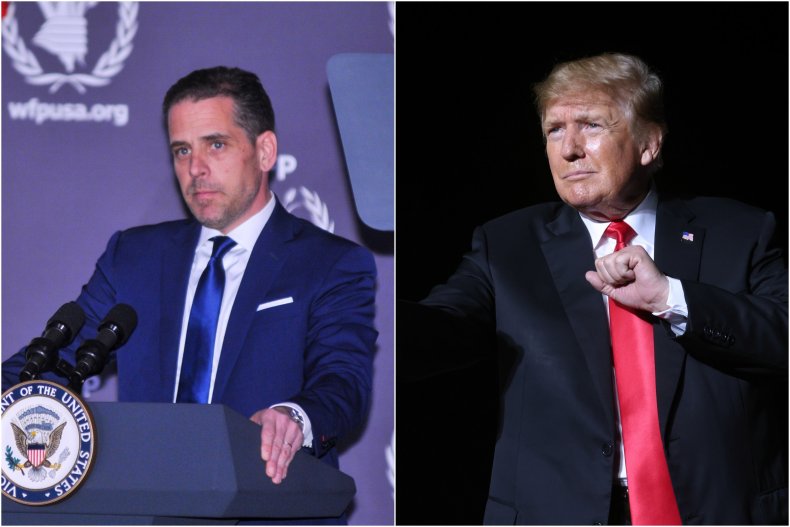 McCabe had been central to the early Russia investigation examining whether Trump's advisers and the then-President had obstructed justice.
Trump described McCabe's settlement with the Department of Justice as "terrible " in his statement which veered into criticism of McCabe's wife, who ran for Virginia's state Senate in 2015, former presidential opponent Hillary Clinton and former FBI agent Peter Strzok and his partner, FBI lawyer Lisa Page.
Trump added that "Hunter Biden will be given a clean bill of health on everything done by him, with everyone to receive as payment a beautiful Hunter Biden inspire painting selling at your local art gallery for $500,000."
Amid warnings that a purchase of Biden's art could be used to curry favor with the Biden administration, the White House said that it will not know the identities of the buyers of any of the works by the president's son.
Government spokeswoman Jen Psaki said any sales are within "the purview of the gallerist. We still do not know and will not know who purchases any paintings. And the President remains proud of his son."
She dismissed a follow-up question, saying, according to the Post, "did you have another question on something else?...There's a lot going on in the world."
According to the George Bergès Gallery which will display his work, Biden's paintings use oil, acrylic, ink and the written word and range from "photographic to mixed-media to abstract works on canvas, Yupo paper, wood, and metal," Politico reported.