Hunter Biden Says His Art Exhibit is 'Pretty Courageous' as White House Grapples with Ethics Issues
Hunter Biden, son of Democratic President Joe Biden, has called his upcoming art exhibition "pretty courageous." The White House, however, is dealing with larger ethical questions regarding its plan to keep the buyers of Hunter Biden's artwork a secret.
While speaking on the podcast NOTA BENE: This Week in the Art World, Hunter Biden said the decision to exhibit one's artwork is "pretty courageous."
"If I was gonna choose something, you know, to become an artist, and subject yourself to that... criticism of sharing your art to a wider audience, then your friends and family is, you know, at least in my book, it's a pretty courageous thing to do," Hunter Biden said.
Hunter Biden said he felt his artworks reflect something "much deeper" than his family's politics or his personal emotions. He added that his last two and a half years—during which time he met his wife, Melissa Cohen and became sober from drugs—has been the "most amazing time of my life."
"Despite all of the, you know, the just constant, constant attacks and attention, the fact of the matter is that I've applied myself to something that gives me an incredible sense of purpose," Hunter Biden said.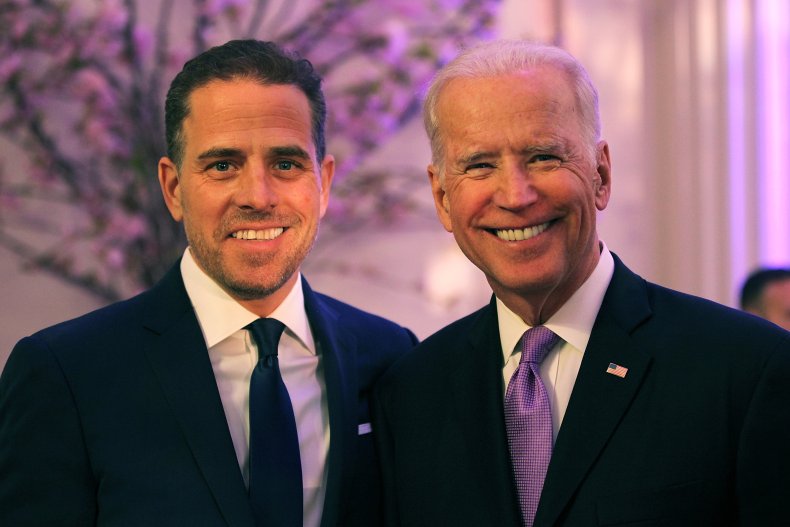 Hunter Biden is expected to sell his work in a New York exhibition this fall. The prices for his work range from $75,000 to $500,000. The sales will be handled by gallery owner Georges Bergès.
In early July, White House Press Secretary Jen Psaki said that Bergès won't share the identities of interested buyers with either Hunter Biden or the Biden Administration.
Ethics experts, however, have questioned whether the lack of sales transparency may make Americans more distrustful of the Biden Administration. During the 2020 election, conservatives claimed that Hunter Biden had illegally used his dad's previous role as Vice President to help secure business deals in China and Ukraine.
It's unlikely that Hunter Biden's buyers will remain completely private since art is intended for public display, Richard Painter told Newsweek. Painter is a law professor at the University of Minnesota who worked as a chief White House ethics lawyer during the administration of former President George W. Bush.
Painter also said that concealing the identities of Hunter Biden's art purchasers will seem shady to the public.
"It doesn't matter who Hunter Biden actually sells the paintings to; you're going to have the appearance of payoffs and influence," Painter said.
Hunter Biden could potentially avoid any allegations of unethical dealing, Painter said, by waiting to sell his artworks after his father is no longer president.
"The next best plan would be to sell first at prices that are more indicative of what a beginning artist sells at, and then see what happens there, and then fully disclose the buyers and keep everything transparent," Painter said.
The Georges Bergès Gallery describes Hunter Biden's work as "photographic mix-media to abstract works on canvas, yupo paper, wood and metal" which "incorporates oil, acrylic, ink and the written word within his work to create a distinctively unique experience."
Newsweek contacted the White House for comment.