Tonight at Democratic presidential nominee Joe Biden's town hall in Philadelphia and Republican President Donald Trump's town hall in Miami, moderators didn't ask either man about The New York Post's recent allegations of questionable business deals in China and the Ukraine led by Joe Biden's son, Hunter Biden.
The Post's articles were based on emails allegedly found on a laptop left at a New Jersey computer repair store in 2019. The store's legally blind owner, John Macissac, said he couldn't identify whether Hunter Biden himself left the laptop. Nevertheless, The Post questioned whether the Democratic presidential nominee Joe Biden had any involvement in any of Hunter Biden's dealings.
The most recent Post article published Thursday featured emails the newspaper said showed Hunter Biden pursuing big-money deals with China's largest private energy company, the CEFC China Energy Company.
The publication wrote that a May 13, 2017 email sent to Hunter Biden from James Gilliar, an employee of the international consulting firm J2cR, said that Hunter would serve as the Chair of Vice-Chair in a business arrangement with CEFC. The email also reportedly said Hunter would receive "850" in pay, 20 percent of the new company's stock shares and an office with some "expectations."
The Post also reported on a second message sent by Hunter Biden as part of an Aug. 2, 2017 email chain that mentions Hunter being the half-owner of a holding company with a three-year consulting contract that would earn him over $10 million a year "for introductions alone."
The joint-venture deal was reportedly arranged with CEFC chairman Ye Jianming, a man with ties to the Chinese military and intelligence, the Post said. Chinese authorities detained Ye in early 2018, and he hasn't been seen since. His company, CEFC, went bankrupt earlier in 2020.
The Post also claimed to have obtained a September 2017 "Attorney Engagement Letter" specifying that one of Ye's "top lieutenants," a former Hong Kong government official Chi Ping Patrick Ho, agreed to pay Biden a $1 million retainer for "Counsel to matters related to US law and advice pertaining to the hiring and legal analysis of any US Law Firm or Lawyer."
"In December 2018, a Manhattan federal jury convicted Ho in two schemes to pay $3 million in bribes to high-ranking government officials in Africa for oil rights in Chad and lucrative business deals in Uganda," the Post wrote.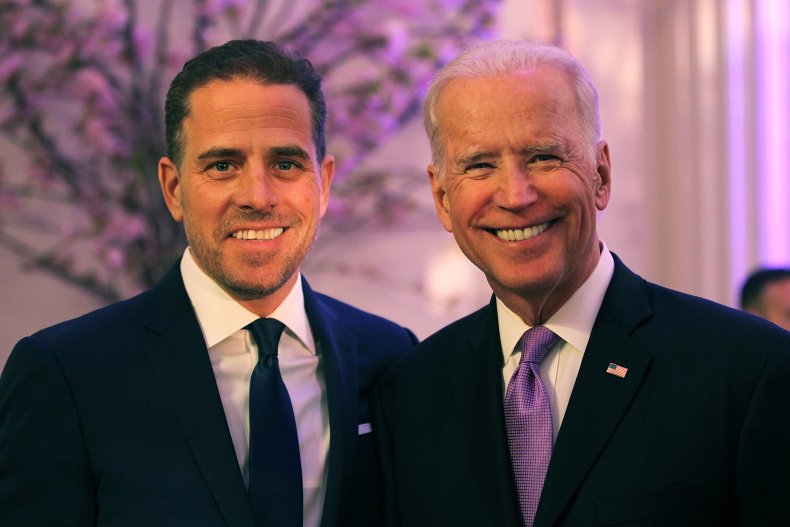 The Post's first report on Wednesday alleged that Hunter sought to use his father's role as vice president during the administration of Democratic President Barack Obama to benefit himself and Burisma, a Ukrainian gas company that Hunter served on the board of from 2014 to 2019.
The Post published what it claimed were emails showing that Burisma adviser Vadym Pozharskyi emailed Hunter in May 2014 asking Hunter for "advice on how you could use your influence" to aid the company. At the time, Burisma's president was under investigation by Ukraine's then-prosecutor general Viktor Shokin.
On April 17, 2015, Pozharskyi emailed Hunter to thank him for connecting him with his father, then-Vice President Joe Biden, the Post reported.
"Dear Hunter, thank you for inviting me to DC and giving an opportunity to meet your father and spent [sic] some time together. It's realty [sic] an honor and pleasure," the email read.
About eight months later, during Joe Biden's December 2015 trip to Kiev, the then-vice president said he pressured Ukraine's president and prime minister to either fire Shokin or be denied a $1 billion U.S. loan guarantee.
While Shokin was fired shortly thereafter, the U.S., U.K. and other western governments had previously accused the inspector general of failing to root out corruption throughout his country.
The email the Post calls the "smoking gun," however, was uploaded as a PDF with no metadata, meaning its authenticity could not be verified. There is also no evidence that the meeting between Joe Biden and Pozharskyi took place; according to the Washington Post, the day the meeting was supposed to take place, Joe Biden spoke at the White House Greek Independence Day Reception and the Congressional Fire Services Institute Gala.
Andrew Bates, a spokesperson for Joe Biden's campaign, said that Biden's schedules from 2015 show no record of the meeting, according to the Washington Post. Michael Carpenter, Biden's foreign policy adviser that year also denied the reports.
"I was with the vice president in all of his meetings on Ukraine," Carpenter told the Washington Post. "He never met with this guy. In fact I had never heard of this guy until the New York Post story broke."
"We have no idea where this came from, and certainly cannot credit anything that Rudy Giuliani provided to the NY Post, but what I do know for certain is that this purported meeting never happened," George Mesires, Hunter Biden's attorney, told the Washington Post.
Regardless, the newly published story has resurrected the Trump campaign's allegations of corruption between the Bidens. In a Wednesday interview with Newsmax TV, Trump called the Bidens "grifters and crooks." His campaign convened a call with journalists about the story hours after its release and also released a 30-second ad accusing the Bidens of corruption.
Speaking at his Des Moines rally, Trump also called Joe Biden "corrupt" and said he should not be allowed to run for president.
"Just weeks ago, Joe stood before the American people in a presidential debate and told you that these claims had been totally discredited and that his son did nothing wrong," Trump said. "But now that turns out to be a total lie. Now we can see clearly that Biden is a corrupt politician who shouldn't even be allowed to run for the presidency."
Before the rally, Trump also tweeted, complaining that Facebook and Twitter had limited the spread of the New York Post story.
"So terrible that Facebook and Twitter took down the story of "Smoking Gun" emails related to Sleepy Joe Biden and his son, Hunter, in the @NYPost. It is only the beginning for them. There is nothing worse than a corrupt politician. REPEAL SECTION 230!!!" Trump tweeted.