Donald Trump, Just Like Bill Clinton, Could Be Impeached Thanks to Women and Sexual Misconduct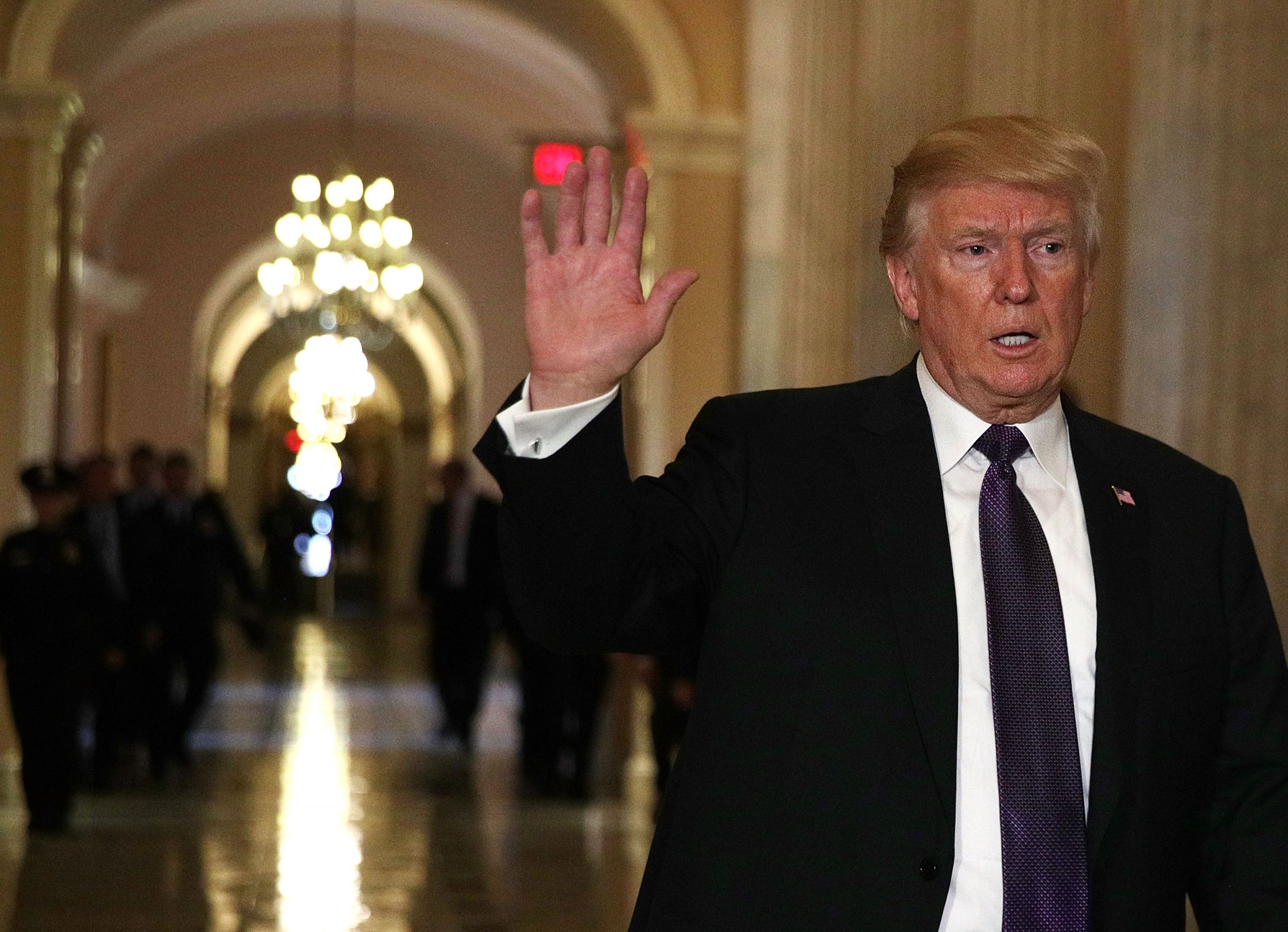 As sexual assault and harassment have become the topic du jour in America, touching almost every sector from Hollywood to Capitol Hill, seemingly no one's skeletons can rest safely in the closet. That even encompasses both former President Bill Clinton and the current man in the White House, Donald Trump.
Related: What is Trump's reaction to Roy Moore? Not a word, because he's also an accused sexual assaulter​
Almost 20 years after Clinton was impeached for lying under oath and obstructing justice stemming from accusations of sexual harassment, Trump could face a similar fate.
Trump is currently the subject of a defamation lawsuit filed by a former contestant on his reality TV show The Apprentice, Summer Zervos, who has accused him of sexual assault. Zervos claims Trump defamed her by calling accusations made by her and multiple other women "lies" and "nonsense." Rather than financial reward—she is seeking damages of just $3,000—her lawyer, Gloria Allred, has said the motivation is to have the truth come out.
The judge in the case is expected to decide before the end of the year whether the suit should move ahead or to agree with the argument of Trump's lawyers that a sitting president cannot be sued in state court.
In the case of Clinton, the Supreme Court unanimously ruled that a sitting president was not immune to being sued in civil court. That would appear to have set a legal precedent, but, because Clinton's case was adjudicated in federal court and Trump's would go before a state court, the current president has argued that the high court decision should not be followed.
That stance is rejected by a group of legal scholars who submitted a brief 20 years ago that Clinton wasn't immune from his sexual harassment suit, and last month filed a similar brief in the case against Trump.
"There's no important difference between this case and the one against Clinton," Richard Primus, a professor at the University of Michigan Law School who is representing the legal scholars, told Newsweek Thursday. "Clinton was sued civilly and the Supreme Court said that even though it's distracting for a president to have to defend a lawsuit, he's not above the law and the suit can go forward. The same principle should apply here."
Were the case to go ahead, Trump could be forced to give a deposition or even to testify. Were he to lie under oath, it would be grounds for impeachment, just as happened with the husband of his 2016 election rival.
"We all know what happens when the president of the United States goes into a deposition and lies under oath," Richard Painter, an ethics chief in President George W. Bush's administration, said. "I don't think he really wants to compound his problems with Clinton's problems."
However, much could depend on what questions the judge allows Zervos's lawyers to ask, said Painter, and if they are given as wide a brief as lawyers in the Clinton case, who were able to question him about his extramarital affairs.
Clinton's alleged sexual misconduct has recently come back into the spotlight amid the wave of sexual assault and harassment allegations against numerous powerful men. After the allegations moved into the political world via the case of Republican Senate candidate Roy Moore, a volunteer on Bill Clinton's Arkansas gubernatorial campaign in 1978 resurfaced her accusation of rape. The accusation has been denied as "false and outrageous" by Clinton's legal team.
It was another case, though, that led to Clinton becoming just the second president in U.S. history to be impeached by the House of Representatives. Clinton faced a civil lawsuit on accusations of sexual harassment against Paula Jones, in which he testified that he had not engaged in a sexual relationship with White House intern Monica Lewinsky.
When evidence later came forward suggesting that he was less than truthful, Clinton was compelled to change his account, leading to an impeachment inquiry and the House Judiciary Committee approving four articles of impeachment. Two of those—of perjury and obstruction of justice—then gained a majority vote in the House, leading to him being only the second president to be impeached, following Andrew Johnson. Like Johnson, Clinton was acquitted in the Senate.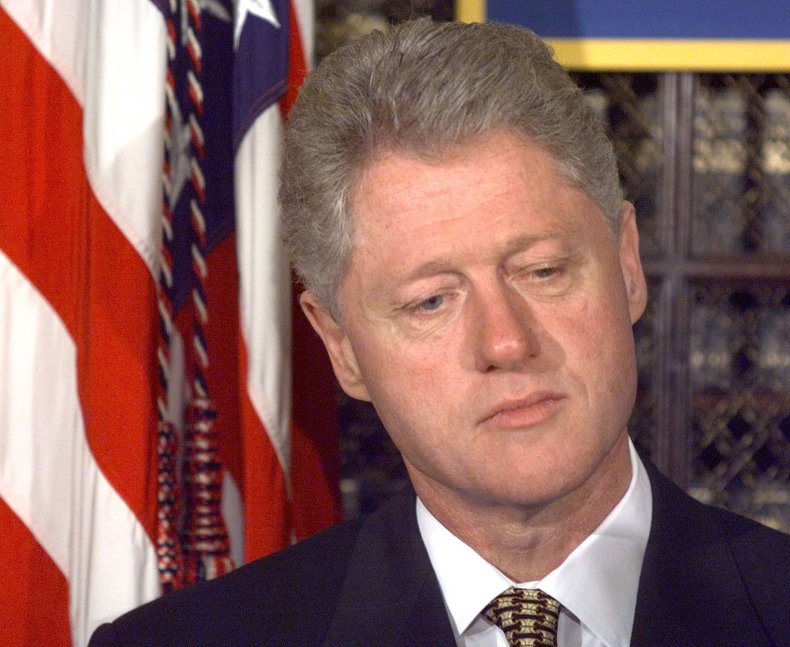 The American public was far from unified in believing that Clinton should have been impeached for lying about his sexual activities. And, Painter suggested, the negative reaction to the push for Clinton's impeachment could deter Congress from bringing a case against Trump. Still, there are already articles of impeachment that have been filed against Trump, including for obstruction of justice, and the last thing he needs is another scandal to add to his embattled presidency.
"I think Congress kind of got a message from the voters that impeaching Clinton just over that wasn't that good an idea, that that's not how the public understood an appropriate use of the impeachment clause," Painter said. "I don't know that a Congress would be wise to impeach a president for that alone. But the problem with President Trump is he's got a whole bunch of problems."
Yet it need not be such a direct route that leads from sexual misconduct allegations to impeachment. A wave of accusations of sexual misconduct involving Moore ahead of next month's special Senate election in Alabama has created the very real possibility that Republicans could lose a valuable Senate seat at a time when the president and his party are desperate to get a first legislative victory.
If Republicans fail to pass tax reform, even leading members of the party have warned that their hopes of retaining a majority in the House would be yet further imperiled, leaving Trump vulnerable to being impeached by a Democratic majority.
"They'd try to impeach him pretty quick and it would be just one constant investigation after another," Senator Lindsey Graham said last month. "So it's important that we pass tax reform in a meaningful way. If we don't, that's probably the end of the Republican Party as we know it."