Will Donald Trump Be Impeached Or Resign? Odds Soar Amid President's Week of Putin Mishaps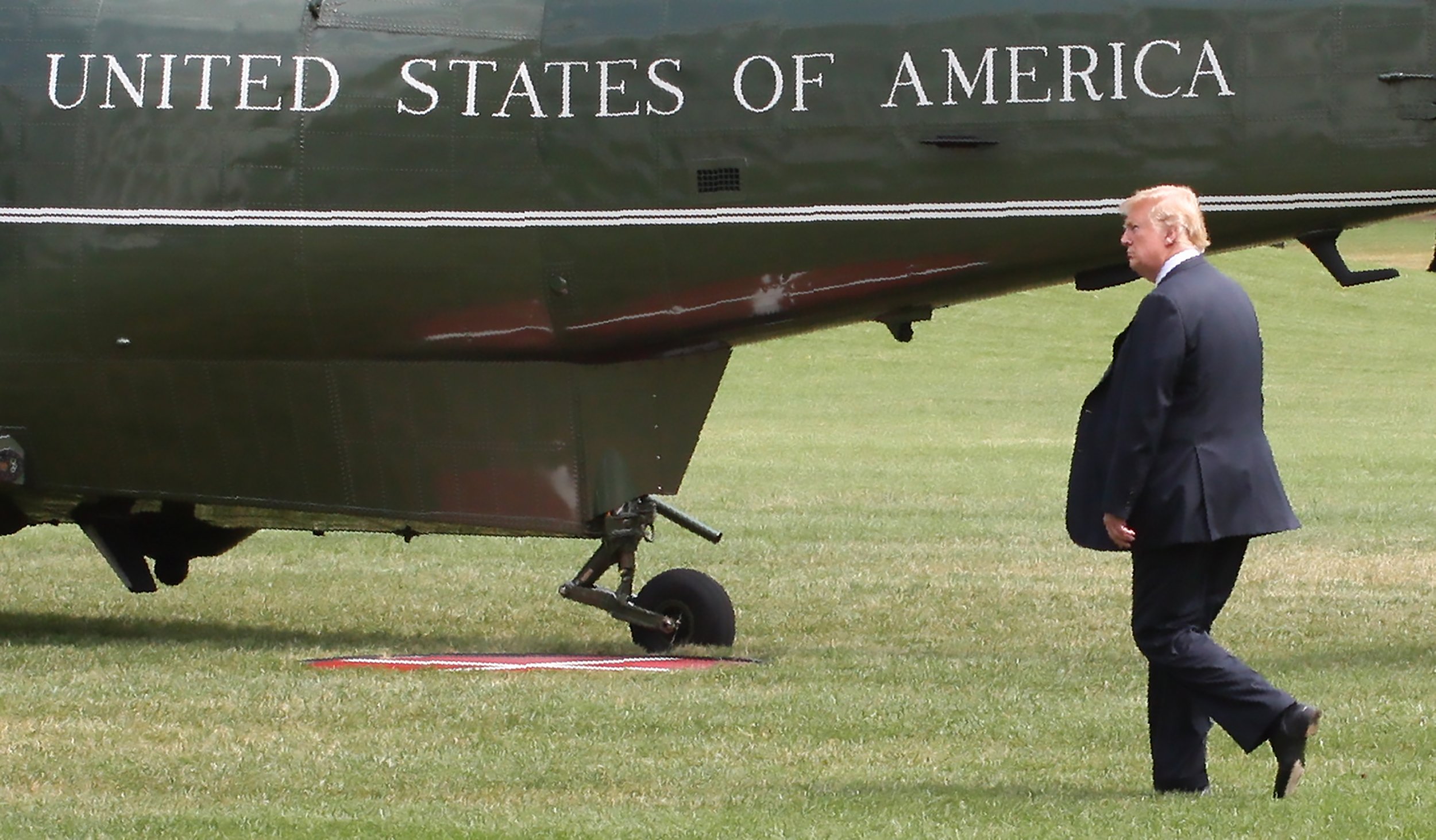 President Donald Trump has endured one of the most controversial weeks of a tumultuous presidency, experiencing bipartisan condemnation for his struggles to take a tough stance with Russian President Vladimir Putin. And it appears the public, at least in the United Kingdom and Ireland, have taken notice, daring to place bets on the Trump administration meeting an early end, either through impeachment or resigning.
In the 24 hours since Trump's widely panned press conference with Putin in Helsinki Monday, Irish bookmaker Paddy Power cut the odds on Trump becoming just the third president in history to be impeached to 2/1, the equivalent of a 33 percent chance. Prior to Trump appearing to side with Putin's denial of meddling in the 2016 United States presidential election, the odds stood at 4/1, a 20 percent chance.
The White House has spent several days trying to clean up Trump's remarks. On Tuesday, Trump claimed he simply misspoke in Helsinki. And after he then appeared to say that he didn't believe Russia was still attempting to interfere in U.S. elections, contrary to the findings of U.S. intelligence agencies, White House press secretary Sarah Huckabee Sanders said the president was not answering a question but merely ushering reporters out of the room.
Another reversal was forthcoming Thursday. Only hours after stating that the White House was considering a proposal from Putin to allow Russia to question a former U.S. ambassador to Russia, something that Trump had initially described as an "incredible offer," Sanders said that the move had been rejected.
To the president's critics, the constant backtracks have done little to convince that he does not have a serious weak spot when it comes to the authoritarian Russian leader. And it appears gamblers haven't been swayed, either.
The odds of Trump being impeached before the end of his first term have remained at the same level since Tuesday. As for the year Trump will be impeached, 2018 remains the favorite, at 13/2, a 13.33 percent implied probability.
The president being impeached anytime soon is a distinctly far-fetched possibility, however. While Trump has been subject to some stinging Republican criticism in recent days, the huge support the president retains among the GOP base means members of his party remain hugely reluctant to speak out, let along back impeachment. The situation could, though, become distinctly more perilous for the president were Democrats to regain control of the House of Representatives in November's midterms.
Impeachment is not the only route of an early exit for Trump. And gamblers would also appear increasingly confident of the president opting to throw in the towel before the end of 2020. The odds on Trump resigning have dipped to 7/1 (12 percent) this week, from a high of 20/1 (4 percent) a few months ago.
Trump has shown no indication of being ready to walk away from the White House. Indeed in an interview with CBS earlier this week, Trump looked forward to the 2020 election and potential Democratic opponent Joe Biden.
"Well, I dream, I dream about Biden," he said of the former vice president.
Trump took to Twitter Saturday morning to hit out at the news that completed his troubled week. On Friday, reports, confirmed by the president's personal lawyer Rudy Giuliani, revealed that in the runup to the 2016 election Michael Cohen had secretly recorded his then-client discussing plans to pay off former Playboy model Karen McDougal to silence her claims about an affair with Trump. The tape came to light after it was seized during an FBI raid on Cohen's home, office and hotel room in April.
This story has been updated to include President Trump's response to Michael Cohen's recording.