Will Donald Trump Be Impeached or Resign? Odds Suggest President's Future Is Precarious Amid Midterms, Omarosa Tapes
Betting on the future of the presidency has become big business in the era of Donald Trump. And those with money at stake continue to offer strong odds that the 45th president of the United States may not see out his full first term in office, either by being impeached or becoming just the second U.S. president to resign,
Trump has had to ride various scandals during his time in the Oval Office—from the ongoing investigation into Russian interference in the 2016 election and possible collusion with his campaign to his much-criticized remarks when blaming "both sides" following a deadly white nationalist rally in Charlottesville, Virginia, a year ago.
Last month, Trump stoked further controversy when standing alongside Vladimir Putin and appearing to accept the Russian president's denial of interfering in the 2016 election above the unanimous view of his own intelligence agencies. Following the remarks, Trump's impeachment odds were slashed in several markets. With Irish bookmaker Paddy Power, the odds were cut to 2/1, an implied probability of 33.3 percent.
Trump later attempted to clarify his remarks by saying he simply misspoke. He continued his defense of the meeting in a video released on his Twitter feed Saturday.
"We had a tremendous meeting with President Putin, a lot of things were accomplished," he said. "Meeting with foreign leaders is a good thing, not a bad thing. Nothing bad can happen, it's only going to be positive, especially if your president knows what he's doing."
Paddy Power's odds on a Trump impeachment remain the same. And the bookmaker is also offering odds of just 6/4, an implied probability of 40 percent that, for whatever reason, Trump does not make it to January 2021 as president. That's because there are also odds of 11/2, equivalent to just over 15 percent, that Trump, like Richard Nixon, will decide to resign.
The odds of a Trump impeachment are even stronger elsewhere. With Las Vegas oddsmaker Bovada, the odds are 13/10, an implied probability of 43.5 percent, that Trump will be impeached by the House of Representatives in his first term.
Only two presidents have ever been impeached by the House—Bill Clinton and Andrew Johnson—and both survived trial in the Senate.
A similar fate could befall Trump. There have already been multiple votes put forward by Democrats in the House to impeach Trump but the Party's leadership has thus far refused to jump onboard fearing a distraction ahead of crucial midterm elections in November.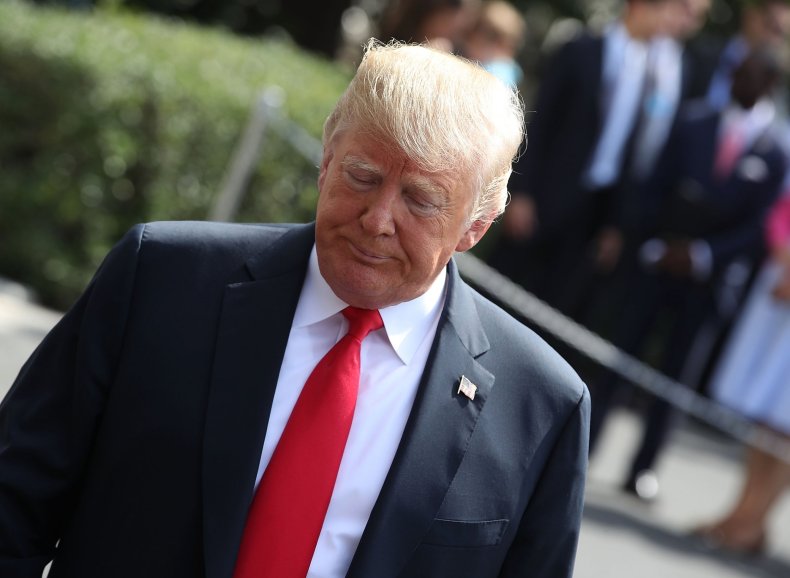 That could all change, if, as many think is likely, Democrats retake the House in November. Still, the prospect of getting significant Republican support needed for a two-thirds majority in the Senate to convict Trump is highly unlikely.
That is unless a major new scandal breaks. Former White House aide Omarosa Manigault Newman is currently attempting to fan the flames of scandal, releasing a tell-all book this week on her time in the Trump administration and making a series of media appearances in which she has released secretly recorded audio tapes featuring her former colleagues.
Manigault Newman's most explosive claim has been that a tape exists of Trump using the "N-word," something which White House press secretary Sarah Huckabee Sanders said last week she could not guarantee did not exist.
Reports have claimed that Manigault Newman has up to 200 secret recordings, some of them videos.
There was further worrying news for Trump Saturday when The New York Times reported that White House Counsel Don McGahn has been sharing extensive information with the special counsel in the Russia investigation concerning whether the president obstructed justice. McGahn is said to have given Robert Mueller's team three interviews totaling 30 hours over the last nine months, in part because he feared Trump was planning to set him up to take the fall for any possible illegal obstruction of justice.
This story has been updated to include a new report about the Russia investigation. It was later updated to include fresh comments from the president about his meeting with Putin.