Donald Trump Facing Second Impeachment As 25th Amendment Hits Dead End
President Donald Trump faces being impeached for a second time in his tenure as Democrats seek routes to strip his powers early with calls for the 25th Amendment to be used seemingly hitting a dead end.
Vice President Mike Pence has been pressed to invoke Section 4 of the 25th Amendment to have Trump's presidential powers stripped, with him then to become acting president for the remainder of the tenure.
Democrat figureheads House Speaker Nancy Pelosi (D-CA) and Senate Minority Leader Chuck Schumer (D-NY) called Pence on Thursday morning to discuss this point, though they did not speak to him and in a recent statement said he had not been in touch with them.
"The President's dangerous and seditious acts necessitate his immediate removal from office," the pair said in a joint statement. "We look forward to hearing from the Vice President as soon as possible and to receiving a positive answer as to whether he and the Cabinet will honor their oath to the Constitution and the American people."
The 25th Amendment route would require Pence's cooperation. With this potentially not forthcoming, lawmakers have drafted articles of impeachment as another potential means of ousting the president.
In an earlier statement, Schumer said: "If the Vice President and the Cabinet refuse to stand up, Congress should reconvene to impeach the president."
Pelosi similarly said Congress "may be prepared to move forward with impeachment," should the Vice President and Cabinet not invoke the 25th Amendment.
Reps. Ted Lieu (D-CA), David Cicilline (D-RI) and Jamie Raskin (D-MD) have drafted articles of impeachment. Lieu on Thursday night said there were 112 members of the House as cosponsors.
"We just had two more Members sign on, bringing the total to 112 Members who are cosponsors of the Articles of Impeachment drafted by Rep @davidcicilline, @RepRaskin & me," Lieu said in comments shared on Twitter. "We urge @realDonaldTrump to resign to spare himself from being impeached twice, by two separate Congresses."
The resolution cites Trump's interaction with the rally in Washington, D.C. on January 6. They suggest his statements encouraged the chaos that then unfolded, as supporters stormed the U.S. Capitol.
Rep. Ilhan Omar (D-MN) has also drafted an impeachment resolution.
Responding to suggestions the House will impeach, Omar wrote late on Thursday: "We will impeach!
"Most likely tomorrow."
Omar's resolution references a Trump call with Georgia Secretary of State Brad Raffensperger, in which he asked the official to help him find votes to alter the presidential election outcome from the state. It also mentions the events of January 6.
House Judiciary Chairman Jerrold Nadler (D-NY) said in a statement on Thursday that he would support articles of impeachment being brought directly to the House floor.
"I have called upon the Vice President to invoke the 25th Amendment and remove the President from office because he is unfit to serve. And now, I am once again urging that the president be impeached and removed from office. We have a limited period of time in which to act," he said in a statement.
"The nation cannot afford a lengthy, drawn-out process, and I support bringing articles of impeachment directly to the House floor."
The list of GOP voices also calling for Trump's removal has also been growing following January 6.
Dr. Julie Norman, a lecturer in politics and international relations at University College London, said time constraints limit the options to oust Trump.
Norman stated the first option of the 25th Amendment seemed unlikely, then that impeachment is likely to pass through the House, but perhaps stall in the Senate.
"For impeachment to actually go through the whole process and to have a two-thirds Senate vote to actually remove the president from office seems very unlikely, given the make up of the Senate and again the timeline we're on," she told Bloomberg TV.
Pushing Trump to resign might be another option Norman said, though said it would be unlikely he would do this. While Trump has accepted his presidency is coming to an end, he continues to cast doubt upon election processes and said he believes laws should be reformed.
He has consistently suggested Biden's win was facilitated through foul play, however he has failed to evidence any such fraud or irregularities on a scale that would actually alter the election outcome. Biden's Electoral College win has been certified by Congress and he is due to be inaugurated on January 20.
Newsweek has contacted the office of the Vice President for comment on the calls for the 25th Amendment and the White House for response to the prospect of impeachment. The lawmakers proposing impeachment have also been contacted for further comment.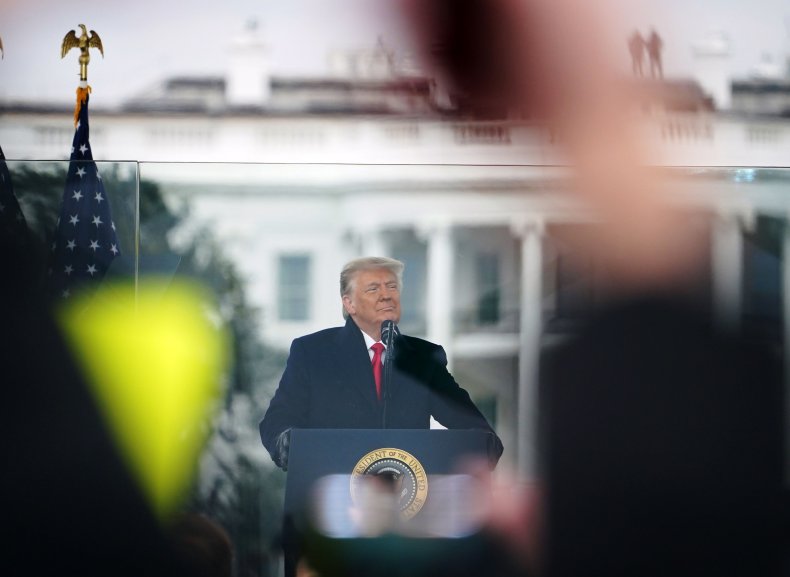 Correction 1/8/2020: Pelosi and Schumer attempted to call Pence on Thursday, not Wednesday as originally stated.