Support for Donald Trump's Impeachment and Removal Now Equal to His Approval Rating, Amid Government Shutdown, Legal Peril
Two polls in recent days have painted a bleak picture for President Donald Trump as he battles troubles on multiple fronts—from an ongoing government shutdown to legal investigations that continue to creep closer to his door.
Thirty-nine percent of voters in the United States say Trump should be impeached and removed from office, according to a Harvard CAPS/Harris poll released to The Hill on Friday. That figure of 39 percent is the same as Trump's approval rating, as found by a Morning Consult poll earlier in the week.
Thirty-nine percent also equaled Trump's record low approval rating in the poll, previously recorded in the wake of the fallout from his controversial comments on a deadly white nationalist rally in Charlottesville, Virginia, in August 2017. Trump remarked that there was blame on both sides and "very fine people" on both sides, speaking of the white nationalists and the counter-protesters, one of whom was killed when a car plowed through a crowd.
Trump now faces unwelcome scrutiny on a range of issues. Earlier this month, federal prosecutors on New York concluded that the president had directed his former longtime lawyer Michael Cohen to commit campaign finance violations when paying hush money to two women to silence their claims of affairs with Trump prior to the 2016 election.
Separately, an investigation into Russian interference in the 2016 presidential race and possible collusion with the Trump campaign remains ongoing under the direction of special counsel Robert Mueller.
As well as 39 percent of voters in the Harvard CAPS/Harris poll saying that Trump should be impeached by the House of Representatives and convicted in the Senate, an additional 20 percent said Congress should formally censure the president. A minority, 41 percent, said Congress should take no action against Trump.
The survey of 1,473 registered voters was conducted between December 24 and December 26.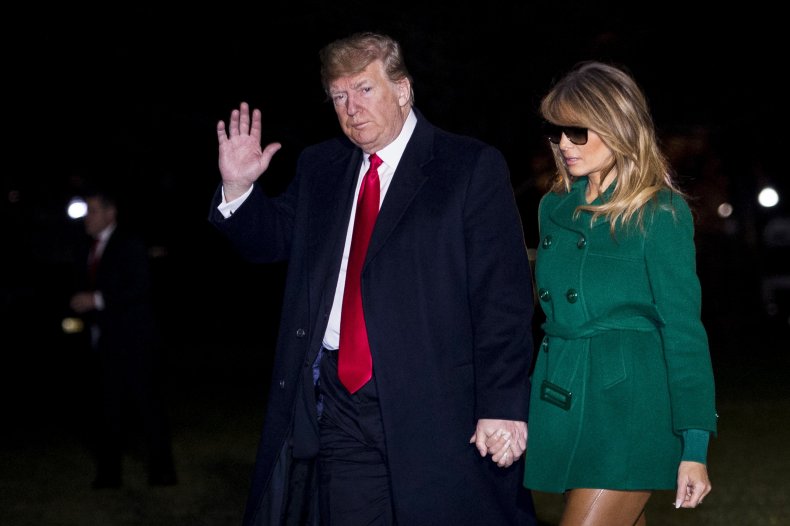 Democrats will control the House of Representatives from next month, giving them the votes to make Trump just the third president in U.S. history to be impeached. However, leading Democrats, including presumptive next Speaker Nancy Pelosi, have signaled that they will be in no rush to move forward with impeachment, perhaps knowing that they would still lack the Republican support needed for a two-thirds majority vote in the Senate.
But there have been signs in recent weeks of some Republicans beginning to express displeasure with the president. Trump's decision to withdraw troops from Syria led to the resignation of his Defense Secretary James Mattis and bipartisan criticism.
Trump is also losing the public relations battle over the government shutdown. Around 800,000 federal workers have entered a second week without pay after Trump refused to agree to a bill to fund the government that did not include $5 billion for his long-promised border wall. A number of polls have shown that more Americans blame Trump, rather than Democrats, for the shutdown.