Donald Trump Impeachment or Resigning Odds Now Almost 45 Percent After Cohen, Manafort News
The odds on Donald Trump failing to complete his first term as president got dramatically shorter following Tuesday's explosive court developments involving his former campaign chairman and former longtime personal attorney and "fixer."
Most notably, the odds on Trump's presidency ending before the end of 2018 were cut in half by Irish bookmaker Paddy Power following a flood of bets.
The change in odds came in the wake of a remarkable afternoon in which Paul Manafort, who led Trump's campaign in the summer of 2016, was found guilty on eight fraud charges, while Michael Cohen, who worked for Trump for more than a decade, pleaded guilty to a variety of charges, including tax evasion and bank fraud, in federal court.
Worse than that for the president, Cohen directly implicated Trump in two campaign-finance law violations, claiming that the president had directed him to arrange payments to two women who alleged they had had affairs with Trump.
And those eager to make money off the downfall of the Trump presidency have signaled that they believe the president faces real peril. The odds on Trump exiting the White House in 2018 went from 10/1 to 4/1, an implied probability of 20 percent.
"Mr. Trump has had a few stormy nights during this presidency but, just as you thought he was getting on top of it, another allegation comes along," a spokesman for Paddy Power said. "Our punters, certainly, are convinced he'll be impeached—just nine people have bet against it. Though that figure would be much higher if we operated in Russia."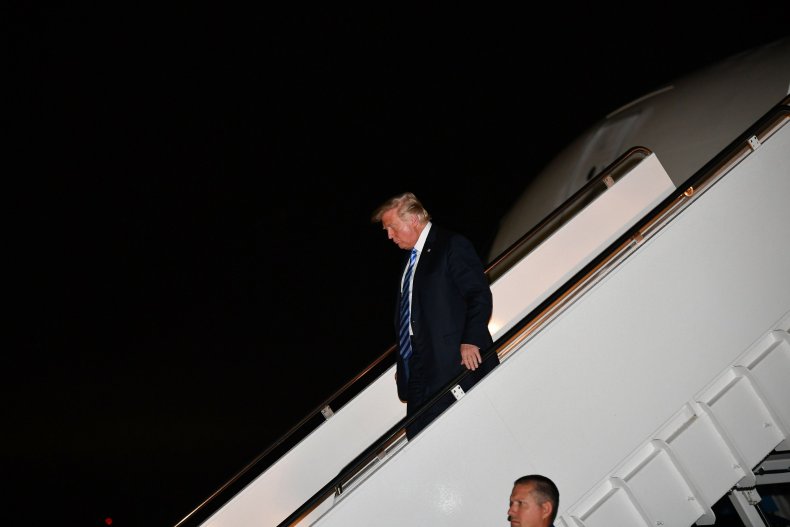 Other odds on Trump making an untimely exit shortened, too, following Tuesday's news. The odds on Trump failing to survive until his first term expires in January 2021 dropped from 6/4 to 5/4, an implied probability of 44.4 percent.
And the odds on Trump being impeached by the House of Representatives at any point during his first term shortened from 2/1 to 6/4, which works out to a probability of 40 percent.
Other markets experienced similar shifts. On the political prediction site PredictIt, the odds of Trump being impeached reached their highest mark in at least three months.
There remains little immediate danger of impeachment, however. Republicans have shown scant indication of speaking out against, never mind calling for the removal of, the president. And leading Democrats remain cautious about embracing an impeachment push before the crucial midterm elections in November.
"If and when the information emerges about [special counsel Robert Mueller's investigation], we'll see," House Minority Leader Nancy Pelosi told The Associated Press Wednesday. "It's not a priority on the agenda going forward unless something else comes forward."
Trump Wednesday tried to downplay his own exposure in the Cohen and Manafort cases.
"Michael Cohen plead [sic] guilty to two counts of campaign finance violations that are not a crime," Trump falsely claimed. "President Obama had a big campaign finance violation and it was easily settled!"
Trump also continued to suggest that he could pardon Manafort, something even some Republicans have warned could have severe consequences for the president.
"I feel very badly for Paul Manafort and his wonderful family," Trump wrote. "'Justice' took a 12 year old tax case, among other things, applied tremendous pressure on him and, unlike Michael Cohen, he refused to 'break' - make up stories in order to get a 'deal.' Such respect for a brave man!"