Senate Republicans Out of Step With Majority Opinion on Convicting Donald Trump
A guilty verdict in Donald Trump's trial looks more unlikely after only five GOP senators agreed with Democrats it was constitutional to impeach an ex-president, although polls show most Americans want him to be convicted of inciting the Capitol riots.
Tuesday's procedural vote, forced by Kentucky Senator Rand Paul, to declare as unconstitutional the impeachment trial of an ex-president was defeated 55-45. Sens. Mitt Romney (R-UT), Ben Sasse (R-NE) Susan Collins (R-ME), Lisa Murkowski (R-AL) and Pat Toomey (R-PA) crossed party lines.
However, in a chamber tied at 50-50, at least 17 GOP senators will be needed to back Democrats to reach the two-thirds majority required for a conviction. Tuesday's result indicates how GOP lawmakers might vote when the trial starts on February 9 and shows a conviction is a tall order, despite polling showing most back Trump's impeachment.
Trump is charged with a single count of inciting an insurrection when addressing supporters on January 6 before Congress was to certify the presidential election results. It followed months of him pushing baseless claims of election fraud.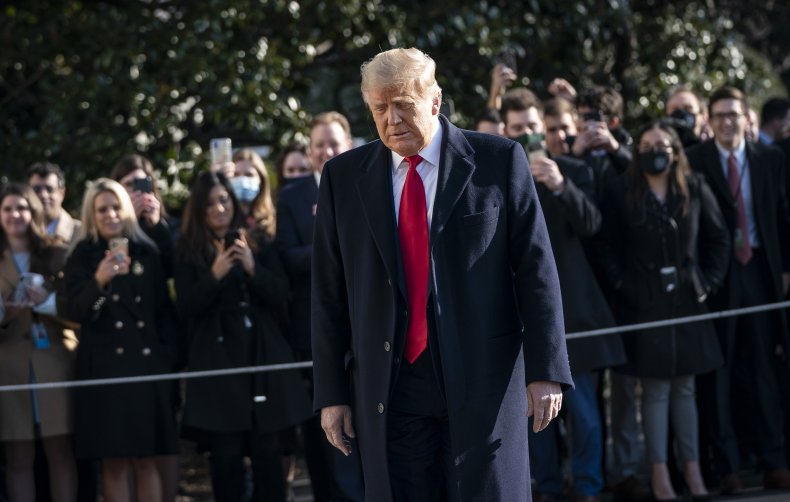 A poll by Monmouth University released Monday showed 56 percent of people backed the impeachment, while 42 percent disapproved. This figure, which had a margin for error of 3.5 percent, was slightly higher than the 53 percent surveyed last January who backed Trump's first impeachment trial, in which he was acquitted.
Just over half (52 percent) of people wanted the Senate to convict Trump on the impeachment charge, while 44 percent did not, the latest poll found.
"There is somewhat more agreement that Trump did something wrong than there was with the first impeachment," Monmouth University Polling Institute director Patrick Murray said in a statement.
"But there are still a good number of Republican stalwarts who continue to stand with the former president regardless," he added.
Another poll, by Ipsos-Reuters and conducted on January 20 and 21, found that 51 percent of Americans believed Trump should be convicted for inciting the storming of the Capitol. If convicted, the Senate would need to hold a second vote to bar him from holding office again, and such a ban was backed by 55 percent of respondents.
Paul said Tuesday's vote showed "impeachment is dead on arrival," and described it as "a big victory for us.
"Democrats can beat this partisan horse as long as they want. This vote indicates it's over, the trial is all over."
However, John Thune, the Senate minority whip, said that despite Tuesday's vote, lawmakers may change their minds when they hear the evidence.
"It was a question on the constitutionality of it. I don't think it binds anybody once the trial starts," he said.
Experts also disagree with some GOP claims that the process is unconstitutional. Keith E. Whittington, the William Nelson Cromwell Professor of Politics at Princeton University, previously told Newsweek that there are precedents for the Senate to try a former officer, although it is tricky to get the super-majority required to convict.
As previously reported by Newsweek, Thomas J. Balcerski, associate history professor at Eastern Connecticut State University, said that the Constitution was being used by GOP senators who want to "move tension away from former President Trump" as well as "call into question the very proceedings themselves."
The graphic below provided by Statista outlines how the impeachment process plays out.