We Can't Impeach Donald Trump Without Sean Hannity's Permission, Democratic Congressman Argues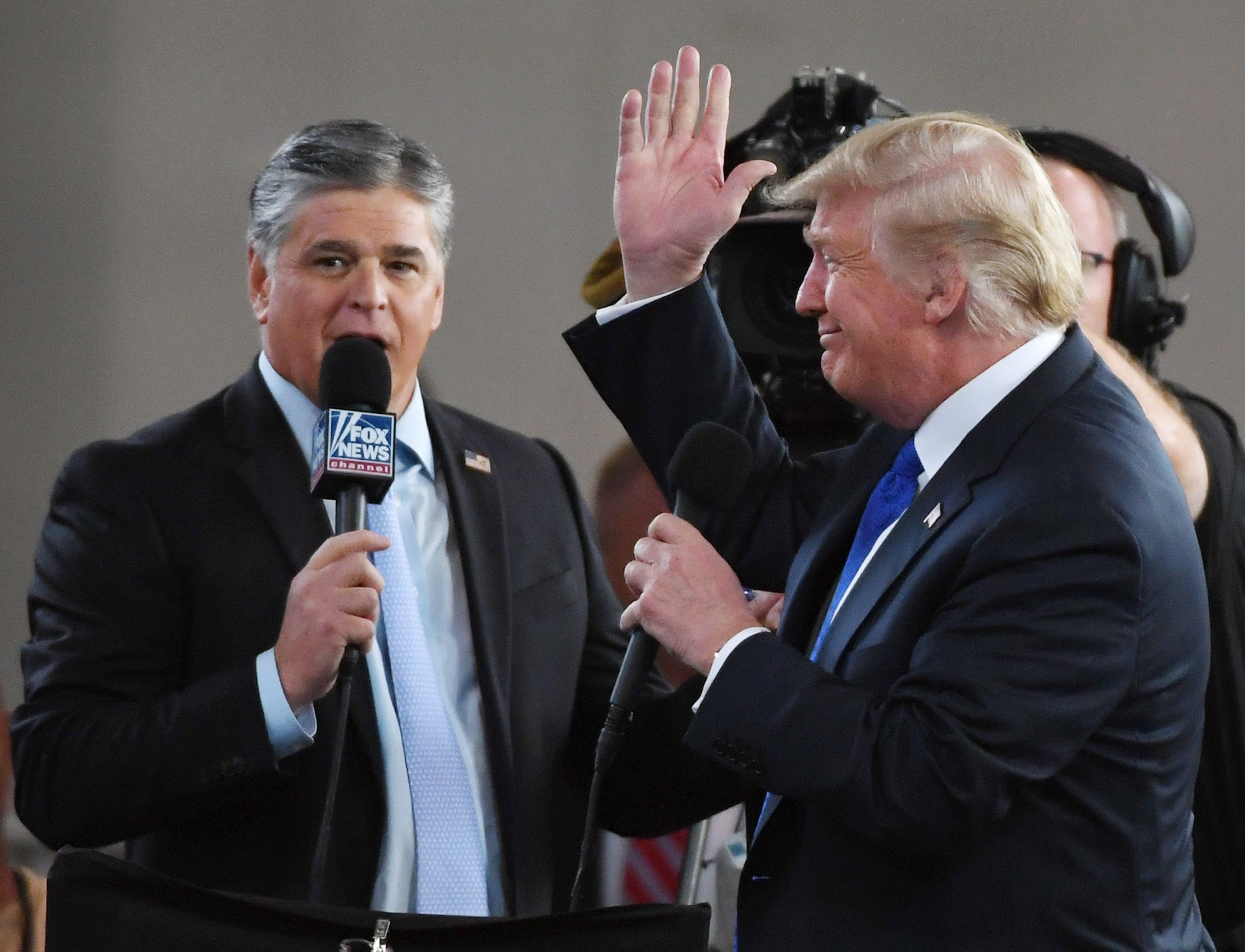 As the Democratic Party continues its internal debate over initiating impeachment proceedings against President Donald Trump, one member of Congress said such a move would be useless without the blessing of Fox News host Sean Hannity.
Representative Brad Sherman, a Califronia Democratic, said that Hannity and fellow Fox star Laura Ingraham represent—or direct—an important strain of public opinion, which should inform whether impeachment proceedings can begin.
Sherman was responding to Speaker Nancy Pelosi's suggestion that impeachment was not the best way forward. Though some high-profile Democrats came out against the House leader's remarks, Sherman was more pragmatic.
"We won't actually remove this president until Sean Hannity calls for us to remove this president. Or until Laura Ingraham [does]," he said, according to The New York Times. He warned that impeachment would not be feasible "until we drive home our message, change public opinion and develop more facts."
Sherman introduced Articles of Impeachment against Trump in July 2017. "I am introducing Articles of Impeachment to begin a long process to protect our country from abuse of power, obstruction of justice and impulsive, ignorant incompetence," he wrote at the time.
But he also said in his announcement that his efforts were only the beginning of a long journey of building support to remove Trump from office. Speaking with Jake Tapper on CNN Tuesday, Sherman again noted that impeachment would not be possible without more investigation and more facts.
Discussing the new Democratic-majority House, Sherman said, "Now we're doing the investigation that may develop enough facts not only to show that [Trump] has violated the law but to generate the public support for going forward with removal. And until we have much more public support, we're not going to be able to remove him from office."
But not all of Sherman's colleagues are willing to wait, nor do they agree with Pelosi's assertion to The Washington Post that impeachment was such a divisive move that to try to remove Trump "may not be worth it."
Sherman's fellow California colleague, Representative Juan Vargas, said, "The Constitution is clear: If there's an impeachable offense, we should impeach the president or impeach whoever. And that's what we should do: Follow the Constitution and not politics."
And Representative Rashida Tlaib of Michigan, who in the past has called on her party to "impeach the motherfucker," said she would support ongoing and new investigations with impeachment as the goal. "Speaker Pelosi has always encouraged me to represent my district, has never told me to stop, has never told me to do anything differently, ever," she said.
White House Press Secretary Sarah Sanders gleefully jumped on Pelosi's comments Tuesday. Speaking on Fox News, she said it was "time for other Democrats in Nancy Pelosi's party to get onboard" and to "start doing what they were elected to do—do their jobs and quit trying to focus so much on making excuses for the historic loss that they suffered in 2016."