Rashida Tlaib Says Nancy Pelosi Isn't Stopping Her From Pushing Forward With Trump Impeachment
House Democrats welcomed Speaker Nancy Pelosi's latest remarks on tamping down calls for President Donald Trump's impeachment, including some who had already sought to remove him from office, telling Newsweek that Congress must continue its investigations and await special counsel Robert Mueller's final report.
In a wide-ranging interview with The Washington Post published Monday, Pelosi said she was currently "not for impeachment," but that didn't mean she was ruling it out if the evidence and bipartisan support was there.
"Impeachment is so divisive to the country that unless there's something so compelling and overwhelming and bipartisan, I don't think we should go down that path, because it divides the country," she said. "And he's just not worth it."
But Representative Rashida Tlaib, the freshman Michigan Democrat who had told supporters, "We're gonna go in there and impeach the motherf***er" and has continued to call for Trump's impeachment, said she planned to move forward with introducing a House resolution to "begin investigating the impeachable offenses" of the president.
"That doesn't mean we're voting on it," she said. "It means we're beginning the process to look at some of these alleged claims of impeachable offenses."
Taking impeachment off the immediate table gave more moderate Democrats in battleground districts some breathing room, stalling the impeachment talk from certain newcomers and allowing the rank-and-file to avoid "a major distraction," as many members have called it. Key Democrats on the House Judiciary Committee, where articles of impeachment would originate, agreed with Pelosi.
And Tlaib took no issue with the speaker's position.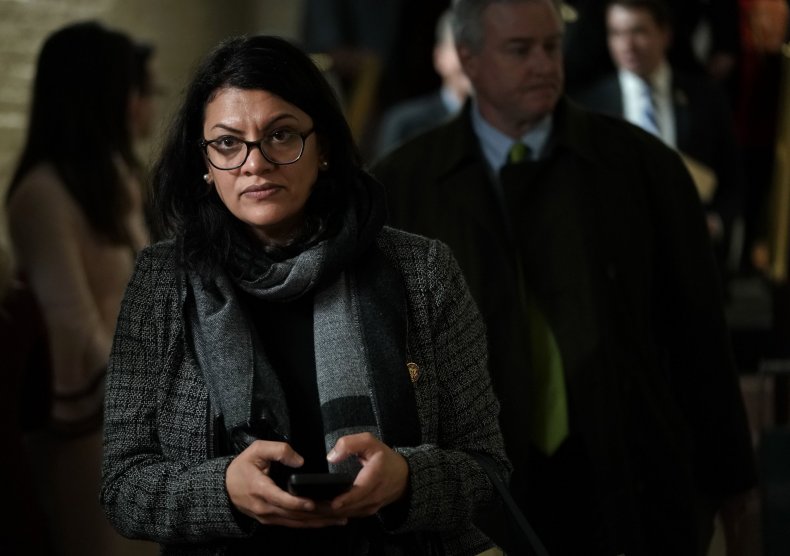 "What you all should know is Speaker Pelosi always tells us new members, 'represent your district.' And that's what I've been doing," she told reporters following the party's weekly caucus meeting. "Speaker Pelosi has never told me to stop or do anything differently—ever. I know it's hard to believe, but it's very true."
Like colleagues Representative Alexandria Ocasio-Cortez and Ilhan Omar, Tlaib has made her desire to impeach the president clear, even at the risk of becoming a thorn in the side of Democratic leadership.
The new group of representatives, however, is simply playing to its progressive electorate, Representative Karen Bass, a California Democrat, told Newsweek.
"The freshmen who are pushing for impeachment, they know very well that it's a two-step process," Bass said. "But I think they're responding to their base, they're responding to their constituents."
A member of the Judiciary Committee, Bass agreed it was wise to refrain from pushing for impeachment, calling Pelosi's remarks as "right on the money."
"We literally just got the [House] gavel. There's all the various oversight and investigation that needs to take place in all the committees," she continued. "We don't want to spend all of our time focusing on impeachment, especially because we could impeach him every day of the week in the House. But what would happen in the Senate? What's the point?"
Representative Steve Cohen, a progressive Democrat on the Judiciary Committee who had already introduced an impeachment resolution in November, backed Pelosi's stance. Although believing Trump had "violated the Constitution and the office," Cohen told Newsweek he realized that "nevertheless, the party is not looking that direction."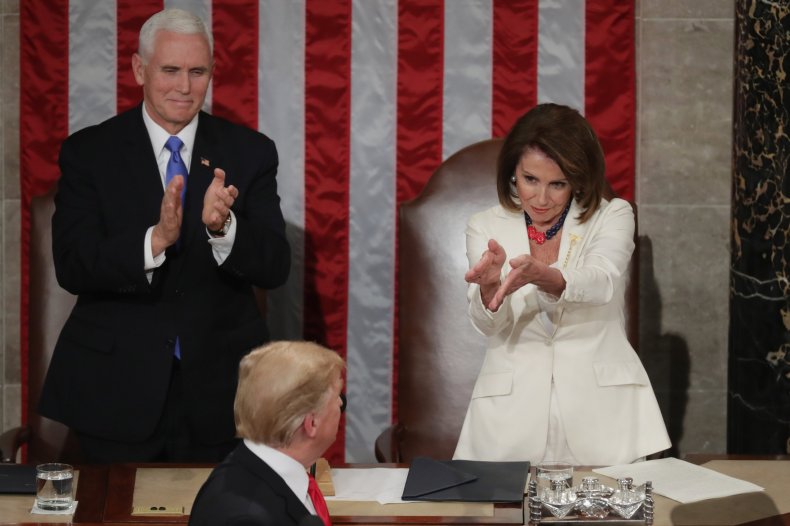 "I'm a Democrat who spent eight years in the minority. That's a desert, and when you've been in the desert, you want to stay in the promised land, and the promised land includes getting the presidency and the Senate in 2020," he said. "[Pelosi] has a lot of experience and wisdom, and I will adhere to that."
But not everyone in the party is onboard with Pelosi pouring cold water on the prospects of impeaching Trump, and agree with Tlaib that the party should proceed. Representative Al Green, ignoring the speaker's message to focus on issues other than impeachment and taking Tlaib's comments a step further, promised "there will be a vote on the floor of the Congress."
"This is not about the speaker. It wasn't about the speaker before she became speaker, and it's not about the speaker now," said Green, whose previous attempts last year to advance an impeachment vote in the House failed overwhelmingly. "I think the country is worth it, I think the Constitution is worth it, and I don't place my word in a person [like Trump] who happens to be causing harm to society."