Donald Trump Invokes 'Deep State' Conspiracy Theory at North Carolina Rally
President Donald Trump told attendees at a Wednesday campaign event in North Carolina that the Deep State, a major element of the conspiracy theories espoused by the QAnon movement, was real.
According to some QAnon adherents, Trump is engaged in a secret war against members of the Deep State which is comprised of Democrats, business people and individuals in the entertainment industry that are involved in a worldwide child trafficking ring. No evidence has been uncovered to prove the veracity of the QAnon theories. At Wednesday's rally, Trump said that he had been trying to get rid of people who were aligned against him, a process Trump has called "draining the swamp."
"We've had to soundly defeat—we're in the process of doing it," Trump said, "it's much deeper than I thought. The Deep Staters, right? We had a bit of a steeper—you know, the swamp. And the swamp creatures are much deeper and much worse than we ever thought."
"And there is such a thing as the Deep State," Trump added. "Who would think?"
During a televised town hall meeting in October, Trump declined to denounce QAnon.
"I know nothing about QAnon," Trump said, but added that he knew that "they are very much against pedophilia."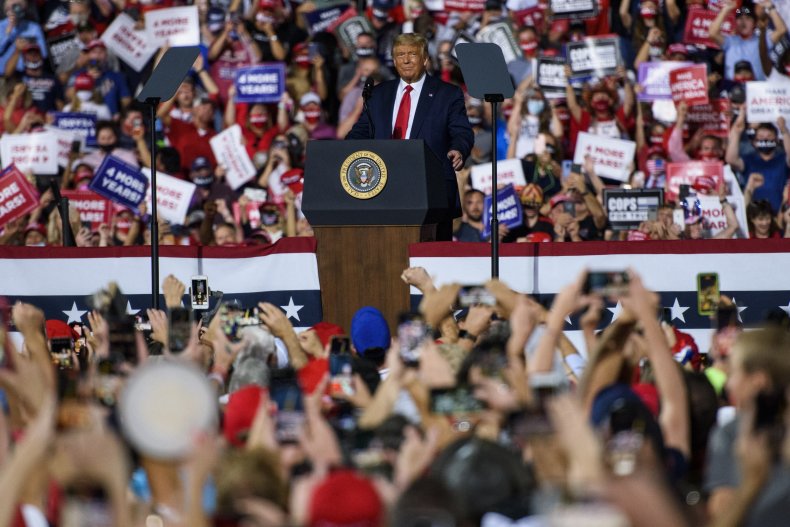 Trump's claims of ignorance about QAnon are nothing new. In August, Trump told reporters that his knowledge about QAnon is limited, but that he understood that QAnon adherents "like me very much, which I appreciate."
Trump's political opponent Democratic presidential nominee Joe Biden decried the QAnon movement during a September campaign event.
"What in God's name are we doing?" Biden said. "Look at how it makes us look around the world. It's mortifying. It's embarrassing, and it's dangerous."
Newsweek reached out to the Biden campaign for further comment.
In an effort to curb the spread of QAnon theories, many of which have been found on social media forums after originating on anonymous message boards like 4Chan and 8kun, Facebook announced Wednesday that it would begin redirecting searches about QAnon to the Global Network on Extremism and Technology. The redirect policy applies to both Facebook and Instagram searches.
In October, Facebook announced the removal of more than 1,500 QAnon related pages that contained discussions of potential violence.
"Our Dangerous Organizations Operations team will continue to enforce this policy and proactively detect content for removal instead of relying on user reports," Facebook said in a public blog post published in October.
National Director and CEO of the Jewish advocacy group the Anti-Defamation League Jonathan A. Greenblatt offered cautious praise in October about Facebook's decision to crack down on QAnon.
"Now that they have announced that they will treat the QAnon ideology like the very real threat that it is," Greenblatt wrote, 'we hope that they will follow up with some modicum of evidence showing how the ban is being enforced and whether it is fully effective."