When photos revealed that Ivana Trump, ex-wife of former president Donald Trump, had been buried on a golf course he owns, some commentators expressed shock at the sparsity of her final resting place.
The site appeared rather meager given the renowned ostentation of the late Ivana Trump, with the grave located in a remote corner of the grounds of her ex-husband's Bedminster golf course.
Social media users speculated why Ivana wasn't buried in a cemetery. Some of them discovered what they claimed was the "real" reason for the location: That New Jersey subsidizes cemeteries with tax breaks.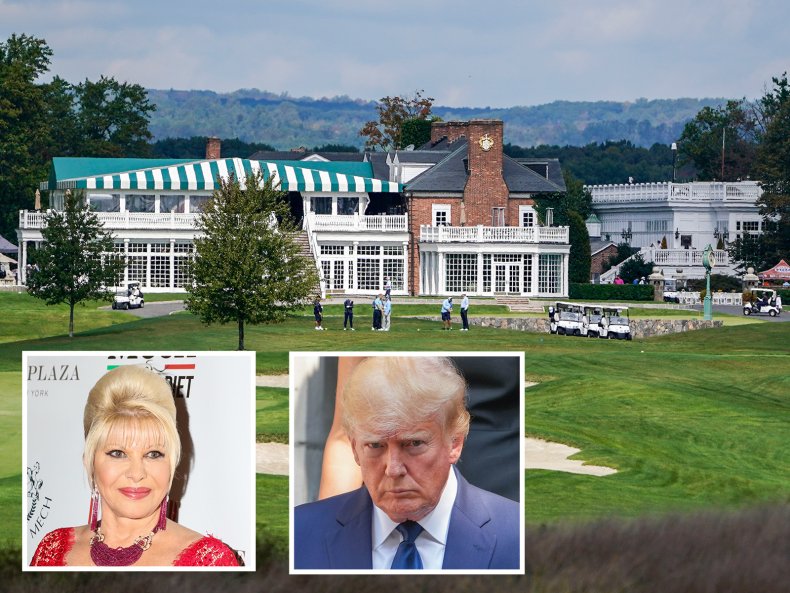 Assumptions were quickly made that Trump had his ex-wife buried at Bedminster for tax purposes.
What We Do Know
The document shared by New Jersey Treasury about the state's tax laws says that authorized "cemetery companies" may receive "tax exemptions in recognition of the vital public health and welfare benefits cemeteries provide."
These exemptions include "real Property Taxes on lands dedicated to cemetery purposes, Income Taxes, Sales and Use Taxes, Business Taxes and Inheritance Taxes."
It continues: "Cemetery property is exempt from sale for collection of judgments. Cemetery trust funds and trust income are exempt from tax and exempt from sale or seizure for collection of judgments against the cemetery company."
That last sentence is crucial because the Trump Family Trust did indeed have a cemetery company authorized by the New Jersey State Cemetery Board in 2016.
Documents shared with Newsweek by the New Jersey Attorney General's Office show an "Application for Certificate of Authority from the New Jersey Cemetery Board."
The application states the proposed cemetery would be "a private family cemetery and is limited to ten plots reserved for Donald Trump and members of his immediate family."
The document says: "...it is very likely that the purpose of the cemetery company shall be solely for the operation, preservation and maintenance of the cemetery."
There are sections on the accountancy of the company, and the donation of gifts too.
It states that a trust, created by the cemetery company, would receive "additional deposits (from the company)... as necessary, through gifts made by Mr. Trump and his family and friends. These gifts shall not be for perpetual care of an individual plot but for the maintenance and preservation of the entire cemetery."
A further accounting statement claims that the trust could be expected to "grow to anywhere between $200,684.71 and $8,646,030.95."
A spokesperson for the New Jersey Attorney General's Office said: "In 2014, the Trump Family Trust (aka TFT, Inc.) applied to the New Jersey State Cemetery Board (the Board) to obtain a certificate of authority to dedicate and operate a cemetery company on a 5700-square-foot section of the Trump National Golf Club in Bedminster, NJ.
"The application limited the parcel's usage as a private, 10-plot cemetery for Donald Trump and members of his family. After determining that TFT Inc. had satisfied all the requirements for obtaining a Certificate of Authority to operate a cemetery company in New Jersey—including obtaining a resolution of approval from the local land use authority—the Board granted Certificate of Authority #434 on February 4, 2016.
"As a designated cemetery company, a burial at this location is permitted. The Board has not received any subsequent applications for a cemetery company in Bedminster."
Newsweek understands that any tax exempt status resulting from a cemetery designation would apply to the 5700-square-foot parcel of land only.
The question remains: Is this a tax ploy?
What We Don't Know
It remains a mystery as to whether the burial site choice was in the final wishes of the deceased—Newsweek was unable to find any past public statements by Ivana about any such plans or requests.
Newsweek could not immediately find Ivana Trump estate contacts, but has reached out to the Trump family for comment.
But just because she was buried at Bedminster doesn't prove anything about Trump's tax breaks.
Evidently, based on photos of the site, very little has been done so far to develop the cemetery plot since 2016. That may now change, though the exact plans for the site are not clear.
In any case, the arguments about tax breaks are theoretical at this point. Even if a tax break were available, documents state that the cemetery company is to be used "solely for the operation, preservation and maintenance of the cemetery."
Although this may mean that the Trump trust could invest more money into the cemetery and not have to pay tax on it, there's no evidence that shows that money could be used for another purpose.
Additionally, as past reporting suggested, developing such a tax-reduction scheme may be simply too elaborate and cumbersome, especially as it appears that Trump is already paying low taxes on the property.
The Washington Post reported in 2017 that after Trump persuaded the township to declare the property a farm (thanks to some trees on the site turning into mulch), he was able to access pro-farmer tax perks that allowed him to pay just $16.31 per year in taxes on the parcel.
So while the documents shared on social media are an interesting talking point, particularly with Donald Trump's record on taxes, there isn't enough evidence to conclude that the purpose of using the cemetery plot at Bedminster is a tax break.
Newsweek has contacted Donald Trump and the New Jersey Treasury for comment.