Donald Trump Was the True Winner of Jan. 6
Polling shows Donald Trump continues to enjoy soaring ratings among Republicans, as support for the ex-president's false claims of election fraud remains essential for GOP contenders going into upcoming election races.
On the first anniversary of the January 6, 2021 insurrection by Trump supporters, data shows how Republicans such as ex-Vice President Mike Pence and Senate Minority Leader Mitch McConnell have paid a high price for acknowledging President Joe Biden's win in 2020.
After the storming of the U.S. Capitol, GOP insiders told The Intelligencer they had lost patience with Trump, whom they predicted would face waning influence within the party. Trump's closest allies also feared that his role as the riot's catalyst would hurt his legacy and the party.
However, Civiqs' daily tracking polls have shown that following the tumultuous 12 months since the riots, Trump's standing among Republicans is largely unchanged.
Just before the insurrection, 83 percent of registered Republican voters surveyed said they had a "favorable" opinion of Trump. That rating stayed above 80 percent every month until August 2021, and was still as high as 76 percent by the end of December.
Pence's favorability rating, which was 78 percent at the time of the insurrection, slumped immediately to 40 percent after he certified the election results. By the end of 2021, the rating had declined even further to 28 percent.
McConnell's 58 percent rating declined 10 points when he recognized Biden as the winner on December 15, 2020. It went even lower after he condemned Trump's "conspiracy theories" before Congress on January 6, 2021. He now has a net favorability rating of minus 32, according to the polling reported by FiveThirtyEight.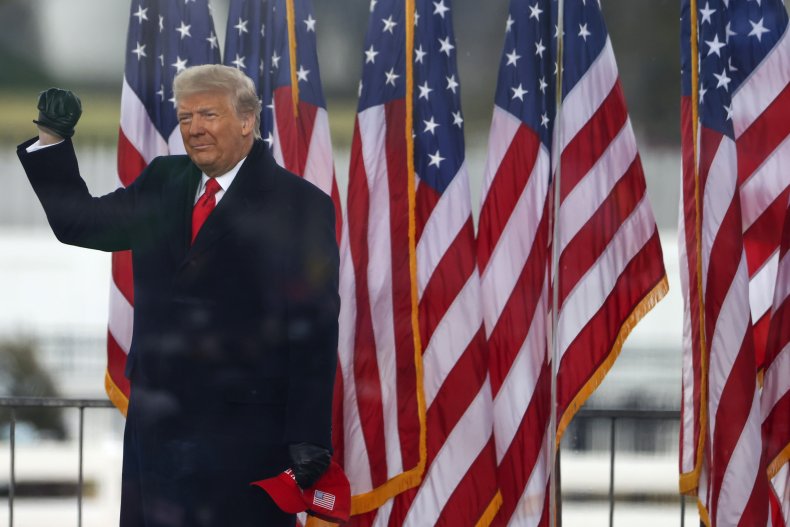 While there was the expectation that Republicans would break with Trumpism after the U.S. Capitol riots, "what we've seen is very much the opposite, in which a lot of Republican politicians have begun to think it is in their interest electorally to support the lie," Daniel Ziblatt, co-author of How Democracies Die, told The Washington Post.
Trump has set his face to ensuring the defeat in this year's mid-terms of the 10 GOP House members who voted to impeach him for inciting the insurrection. Each faces at least one primary challenger, while Rep. Tom Rice (R-SC) will have at least 10 primary opponents.
Rep. Liz Cheney (R-WY), vice chair of the congressional committee investigating the insurrection, was removed from her position as House Republican Conference chair for her criticism of Trump's role in the U.S. Capitol riots.
At least 163 Republicans who back Trump's false claims are running for statewide positions that would give them authority over the administration of elections, according to the Post.
These include 69 candidates for governor in 30 states, 55 U.S. Senate candidates, 13 candidates for state attorney general and 18 candidates for secretary of state in places where that position is the state's top election official.
With Trump backing candidates who echo his claims of election fraud, a Washington Post-University of Maryland poll in December 2021 found that over half of Republicans surveyed (58 percent) think Biden's election was not legitimate.
It also found that 62 percent of Republicans believe there is evidence of widespread voter fraud in 2020, pointing to the prospect that the fortunes of GOP candidates on the campaign trail this year will be tied up with their views about Trump's defeat in 2020.
An anonymous GOP consultant told The Post that Trump "isn't going to endorse you if you say he's wrong and there was no fraud, but you don't want to make your whole campaign about that either."
Newsweek has contacted the Republican National Committee for comment.