Donald Trump Accuses Jews Who Vote Democrat of 'A Total Lack of Knowledge or Great Disloyalty'
President Donald Trump on Tuesday accused Jewish-Americans who vote for Democrats of showing "great disloyalty."
"Any Jewish people that vote for a Democrat — I think it shows either a total lack of knowledge or great disloyalty," Trump told reporters at the White House as he discussed a Monday press conference by Democratic Congresswomen Rashida Tlaib of Michigan and Ilhan Omar of Minnesota, in which they criticized Israeli leaders for barring them from entering the Mediterranean nation.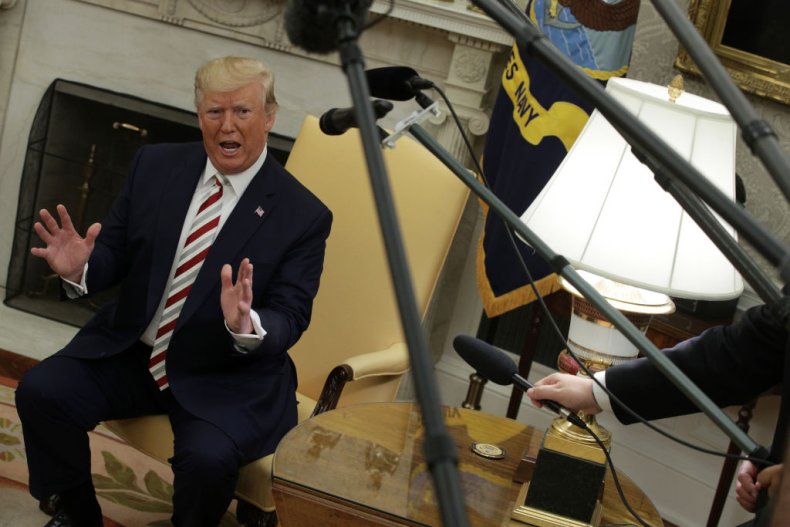 The congresswomen were joined by Jewish-American supporters during that press conference, during which they suggested that the U.S. Congress should consider cutting the billions of dollars in aid it regularly provides to Israel. Those comments were similar to remarks by 2020 Democratic presidential candidate Senator Bernie Sanders of Vermont, who is also Jewish. He has repeatedly slammed the Israeli government decision to ban his colleagues, arguing that Israeli Prime Minister Benjamin Netanyahu should also decline aid money sent from Washington.
"Cutting off aid to Israel because of two people that hate Israel and hate Jewish people — I can't believe we're even having this conversation," Trump said on Tuesday from the Oval Office.
On Twitter, some of the president's critics were quick to suggest that the president's comments were anti-Semitic. "So about that dual loyalty trope..." Ben Rhodes, a political commentator who worked for the administration of President Barack Obama, tweeted, sharing the president's quote.
Rhodes was referencing a common anti-Semitic trope that claims Jewish-Americans have a dual loyalty to Israel and the U.S., suggesting that they would support the best interests of Israel over those of America. Trump's comment suggested that Jewish-Americans necessarily should have this kind of "dual-loyalty."
"This is an explicit dual loyalty charge wielded by the President of the United States against 80% of American Jews who voted against him. It is not mearly [sic] an antisemitic dog whistle — it's a bullhorn to his white nationalist base," the progressive Jewish-American group IfNotNow told Newsweek in a statement. "American Jews and Democratic voters know full well the impact of the racist policies of Netanyahu and the Israeli government on the Palestinian people. This is why an overwhelming majority to oppose those policies, like unchecked settlement expansion."
"The president just called around 75% of American Jews ignorant and/or disloyal, which IMO is straightforward antisemitism but if you're in the other 25% your mileage may vary," David Klion, news editor at Jewish Currents, tweeted.
Beth Miller, government affairs manager at Jewish Voice for Peace Action, told Newsweek in a statement that Trump's remark did not only "play into the antisemitic trope of Jews holding 'dual-loyalty,'" but was "also just wildly disconnected from reality."
"A rapidly growing number of American Jews support conditioning, cutting, or ending U.S. military aid to a country that uses our tax dollars to violently oppress Palestinians," Miller said.
Omar and Tlaib last week were banned from traveling to Israel on a previously approved trip, during which they intended to meet with Israeli and Palestinian groups. Both congresswomen, who are the first two Muslim women to serve in the legislative body, have been outspoken in their criticism of Israel, pointing to the documented human rights abuses that the U.S. ally has committed against Palestinians.
Tlaib, who is the child of Palestinian-American immigrants, has family, including her 90-year-old grandmother, living in the West Bank. The Palestinian territory is largely controlled by Israel with a degree of autonomy, and the only way to enter is by traveling through Israel.
Israel banned the representatives due to their support for the Boycott, Divestment and Sanctions (BDS) Movement, which calls for an economic and cultural boycott of Israel and its products until the country addresses human rights abuses against the Palestinians. Although Israeli leaders later decided that Tlaib could travel to the country to visit her elderly grandmother, she would have still been barred from criticizing the country or promoting BDS. As a result, she chose not to go.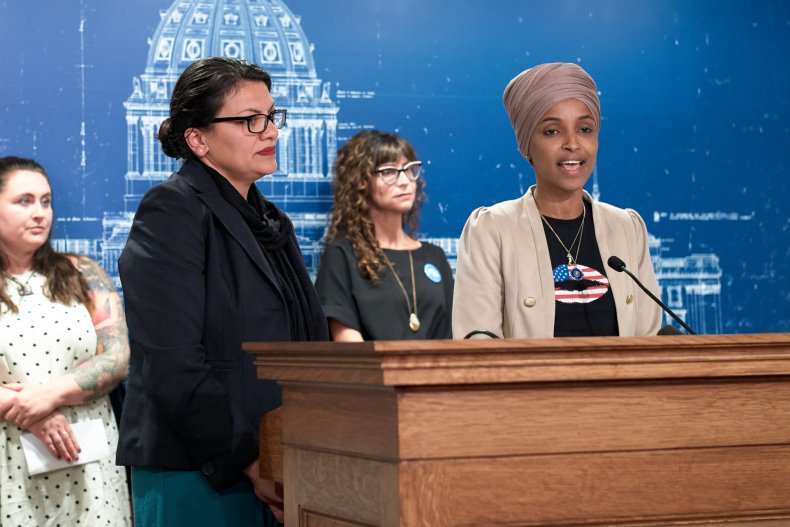 "It was an agonizing and unjust position for Israel to demand that @RepRashida silence her political views as a condition of visiting her sitty in Palestine," the progressive American-Jewish organization Jewish Voice for Peace wrote on Twitter on Tuesday. "Instead, she chose freedom at the expense of seeing her grandmother knowing that her freedom gives her life."
Trump has repeatedly attacked the two congresswomen, who have been highly critical of him and his administration. The president has claimed that Tlaib and Omar hate Jews, when they actually work frequently with Jewish colleagues on various legislative initiatives and enjoy significant support from progressive American Jewish groups.
Despite Trump's belief that Jewish-Americans should not vote for Democrats, only a minority of the group identified as Republicans as of 2018, according to data released by Gallup in March. Just 16 percent of Jewish-American respondents said they were Republican, while 52 percent identified as Democrats and 31 percent considered themselves to be independent. That survey also found that 71 percent of Jewish-Americans disapproved of Trump's leadership.
This article was updated with a statement from Jewish Voice for Peace.