Trump Must Fix His Law and Order Message or 'Biden Will Get Elected,' GOP Strategist Warns
A Republican communications expert has warned that President Donald Trump is using the wrong language regarding law and order which risks his re-election chances.
Frank Luntz, who is a pollster and an expert on GOP campaign messaging, told the BBC's Hard Talk program that the way Trump is framing the law and order debate is alienating many people who might vote for him.
Luntz said when the president referred to "law and order", an image of "police beating up protesters with sticks" sprung to mind. He also took issue with Trump referring to his supporters as "warriors," which Luntz says is a "violent description" when instead, the average person saw themselves as a "hard-working taxpayer."
The quote
Luntz told BBC presenter Stephen Sackur: "When Donald Trump says there is a silent majority, really what the voters want is to be heard, to be listened to, they want the president to be their voice.
"I believe that Donald Trump is off in his language, that he is off in his messaging and unless he fixes it between now and the debates, then what is currently happening, is going to happen, which is Joe Biden will get elected."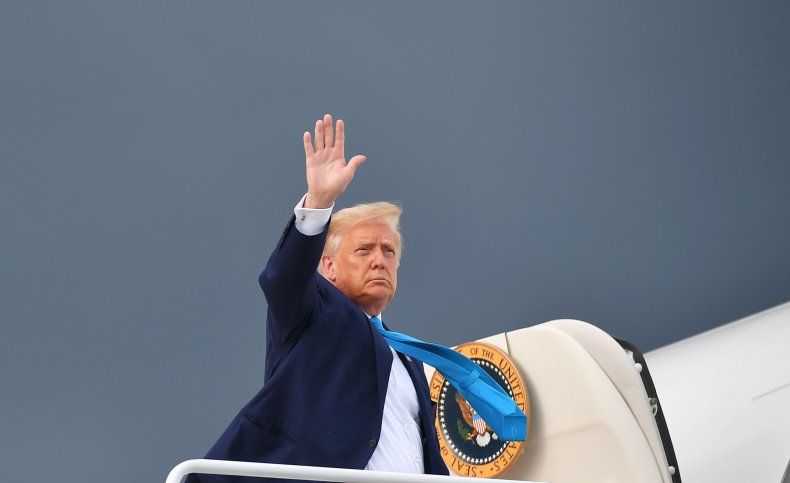 Why it matters
Trump has tried to focus his election campaign on the violence that has raged during the protests sparked initially by the death of George Floyd. Trump has accused Democratic officials of allowing criminals to overrun cities, such as Portland, which has been the site of daily protests for three months.
Last week, Trump visited Kenosha, Wisconsin, to see the destruction wrought by violence sparked by the police shooting of Jacob Blake. Trump also stepped up his attacks on Biden, suggesting he would be a softer touch on crime, telling a rally in the battleground state of Pennsylvania "Biden's plan is to appease the domestic terrorists and my plan is to arrest them and prosecute them."
A Harvard CAPS-Harris poll this month shows people trusting Biden ahead of Trump to curb violence in cities, with 57 percent saying he would be better at addressing civil unrest, while Biden leads Trump on establishing law and order by a margin of 54 to 46.
The counterpoint
During his 2016 campaign, Trump advocated strong law enforcement, a position he continued throughout his presidency and he can point to some successes.
Trump has touted the bipartisan First Step Act as a key step he made toward criminal justice reform which gives judges more discretion during sentencing and also helps prisoner rehabilitation.
Although the president has stepped up his rhetoric in attacking the leaders of Democratic cities, he has also committed extra resources, such as $1 million in federal aid for the Kenosha Police Department and $4 million to rebuild businesses that were destroyed or damaged in the Wisconsin city.
Republicans are likely to continue portraying Trump as someone who can defend law enforcement in a message which they feel will resonate across the country. During the Republican National Convention, Vice President Mike Pence warned: "You won't be safe in Joe Biden's America."
Trump can also count on the support of the largest police union the Fraternal Order of Police, which has more than 355,000 members nationally.
Patrick Yoes, the union's national president, said in a statement: "The FOP is proud to endorse a candidate who calls for law and order across our nation."
In a statement to Newsweek, spokesperson for the Trump campaign, Courtney Parella, said: "Every American, from city to suburb, wants and deserves to feel safe in their communities.
"Unlike Joe Biden who stayed silent for months as his supporters led violent riots and destroyed businesses across our great nation, President Trump took action without hesitation to restore law and order and defend our brave men and women in blue who put their lives on the line to keep us safe."
This story has been updated to include a statement to Newsweek by the Trump campaign.