Majority Favor Biden Over Trump on Law and Order, Poll Indicates
A new poll suggests that most voters prefer former Vice President Joe Biden over President Donald Trump on issues of law and order and his ability to reduce violence in American cities.
Results from a September Harvard CAPS-Harris poll show Biden maintaining a 7 percent lead over Trump in the presidential election, tightening from a 10 percent advantage in July, according to a report published Friday by The Hill.
Trump has made issues of law enforcement and violence in urban environments a central theme to his reelection campaign, repeatedly mentioning the topic online, often by tweeting simply "LAW & ORDER!"
However, the poll suggests that Trump's focus could backfire, as voters appear to favor Biden on those and many other issues. A 56 percent majority said that Biden would do a better job on "establishing law and order," compared to 46 percent for Trump.
Biden was favored by 58 percent of voters who said he would be better equipped to reduce violence in cities, while 57 percent believe he is better equipped to handle "civil unrest." Another 55 percent said he would be better on issues of race and policing. The former vice president had the largest advantage in terms of who would best "bring the country together," with 61 percent trusting Biden compared to 39 percent for Trump.
Half of respondents said they were concerned about rising violence in areas they live in, with close to 75 percent saying violence in cities was a concern. When asked who they blamed for rising violence, a plurality of 26 percent said they blamed Trump, with 20 percent each blaming either police brutality or the actions of "left-wing agitators."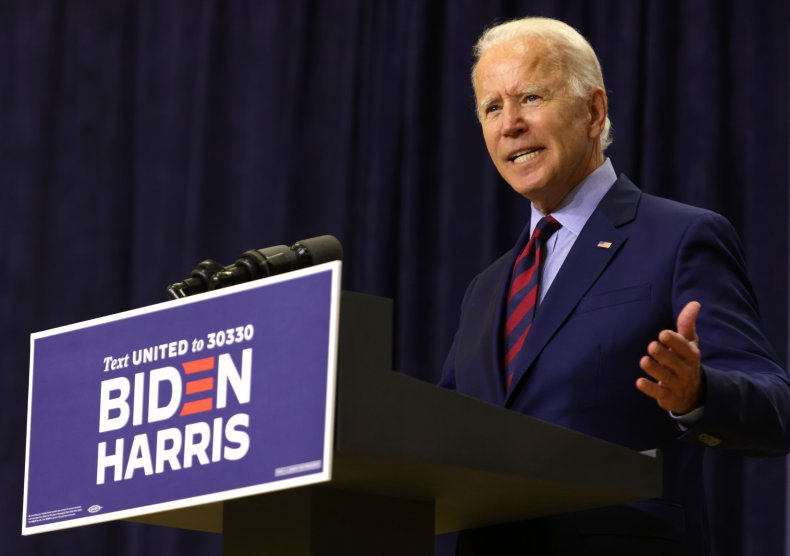 While insisting Biden is the weaker candidate on law enforcement issues, Trump and his allies have also claimed without evidence that the former vice president is in favor of "defunding the police." Biden has actually called for increased police funding to aid with reform efforts and support services.
Police were viewed favorably by a 68 percent majority, while 52 percent said they have a favorable view of the Black Lives Matter movement. Demonstrations against police brutality and racial injustice have continued throughout the country after a string of incidents involving Black people being apparently targeted and then killed or injured by police, sparked in part by the May 25 death of George Floyd.
"The civil unrest has become a significant issue in the country, though it ranks behind the virus and the economy, and so politicians might overplay it," Harvard CAPS-Harris poll director Mark Penn told The Hill. "Nine in 10 expect it to be an issue and support for the police has been rising to nearly 7 in 10 support, while favorability of Black Lives Matter is just about half."
"Most see the police as being treated unfairly by the media yet most also see America as a racist country," Penn added. "Attitudes toward all of this are very much in flux as the public want both tough prosecutions and police reform."
Biden is preferred to "lead the nation out of the coronavirus" by 57 percent of voters, while 58 percent said Trump had done a "bad job" of handling the COVID-19 pandemic. The economy is the only issue where Trump had an advantage, with 53 percent trusting him to fix it over Biden. However, the economy was viewed as the second-most important issue after the pandemic.
"There's a reason why this administration wants to only talk about dividing the country and about law and order," Biden said during a community meeting in Kenosha, Wisconsin on Thursday. "They don't want to talk about all those people who have died from COVID."
The poll was conducted among 1,604 registered voters online between August 31 and September 2. Full results of the poll are expected to be published online later this week.
Newsweek reached out to the Trump campaign for comment.