Donald Trump and Joe Biden Both Mixed Up the Locations of Weekend Mass Shootings
President Donald Trump and Democratic 2020 presidential hopeful Joe Biden both got confused in regards to the locations of mass shootings in El Paso and Dayton over the weekend, mentioning inaccurate cities when discussing the violence.
During a Monday address from the White House, Trump, 73, shared condolences for the victims "in Toledo," apparently mixing up the Ohio city with Dayton, where nine people were killed and dozens more were wounded on Sunday morning.
"May God bless the memory of those who perished in Toledo," the president said toward the end of his speech. "May God protect them."
Biden, 76, who previously served as vice president under former President Barack Obama and is currently leading in the Democratic presidential primary polls, made a similar gaffe on Sunday evening while addressing attendants of a fundraiser in California. He referred to the mass shooting as "the tragic events in Houston today and also in Michigan the day before." Although the politician later corrected his mistake, he seemed to be confusing Houston, which is also in Texas, with El Paso and mixing up Ohio with its fellow midwestern state of Michigan.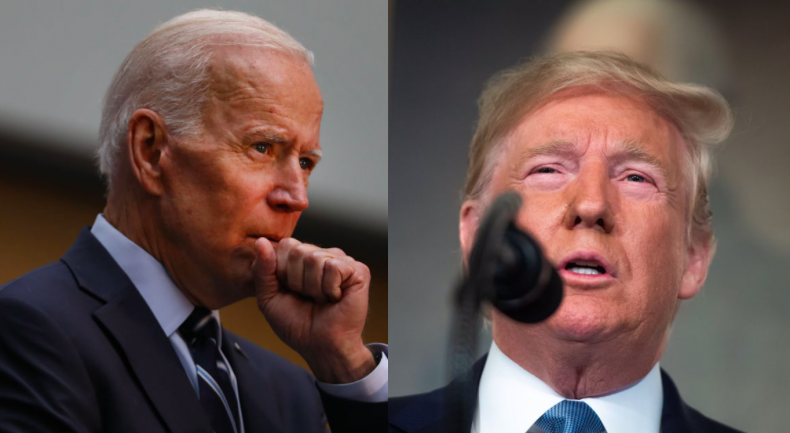 Over the weekend, two mass shootings were carried out by assailants, leading to the death of at least 29 people and dozens of injuries. In El Paso on Saturday, a shooter attacked shoppers at a local Walmart, leaving 22 dead and 24 others wounded. Authorities detained 21-year-old Patrick Crusius as the suspect in the shooting. Prior to the attack, a manifesto that has been linked to Crusius was shared online, ranting against a "Hispanic invasion of Texas." Prosecutors said Sunday they are considering filing federal hate crimes charges against Crusius.
Less than 24 hours later, a shooter identified by police as Connor Betts, killed nine people and injured dozens as he attacked a popular nightlife area in Dayton, Ohio in the early hours of Sunday morning. Police intervened almost immediately and killed Betts less than a minute after he fired his first shot. The motivation for that attack remains unclear, but Betts' sister was among the victims.
Biden and Trump have both made numerous public gaffes in the past. During a Fourth of July speech last month, the president referred to airports during the Revolutionary War, which ended about 120 years before the first airplane flight. Trump later blamed his mistake on an issue with the teleprompter.
Although Biden has long been noted for making awkward and sometimes offensive gaffes, he most recently screwed up on the debate stage last week. He told viewers to "go to Joe30330" rather than "text JOE to 30330." This led viewers to believe that the former vice president was telling them to visit a website.
Due to Trump's and Biden's age, some have pointed to these gaffes as signs of aging and slowing mental fitness. These accusations are not, however, based on the opinions of medical practitioners who monitor the men's health. There is no credible reporting to back claims that either Trump or Biden has any significant mental or physical health concerns.
Nonetheless, many commentators have pointed to the gaffes with concern. Brian Beutler, editor-in-chief of Crooked Media, shared the latest mix-ups by Biden and Trump over the mass shootings' locations in a Twitter post. "Welcome to your gerontocracy," he quipped.
Activist and entrepreneur Adam Best argued that both leaders should be called out for their mistakes, noting that some were just focusing on Trump. "Sorry, but if we hit Trump for calling the mass shooting in Dayton 'Toledo,' we can't let Joe Biden off the hook for calling El Paso and Ohio 'Houston and Michigan.' He's out of touch and past his prime, too."