Donald Trump's Former Chief of Staff John Kelly Says He Would've Worked for Hillary Clinton If She'd Asked
John Kelly—former chief of staff to President Donald Trump—broke his post-White House silence this week while speaking at Duke University. In his remarks, the retired Marine Corps general said he would have worked for Hillary Clinton if she had won in 2016.
Cameras weren't allowed at the event, but ABC News obtained audio. Kelly reportedly did not directly address the report that the president ordered that his son-in-law, Jared Kushner, be granted a top-secret security clearance despite concerns from Kelly. and others.
He did say, however, that he would have signed up to work in a Clinton White House.
"If Hillary Clinton had won the presidency, if she had called me and said, 'I really need a good chief of staff here, 'I would have done it.'" Kelly said.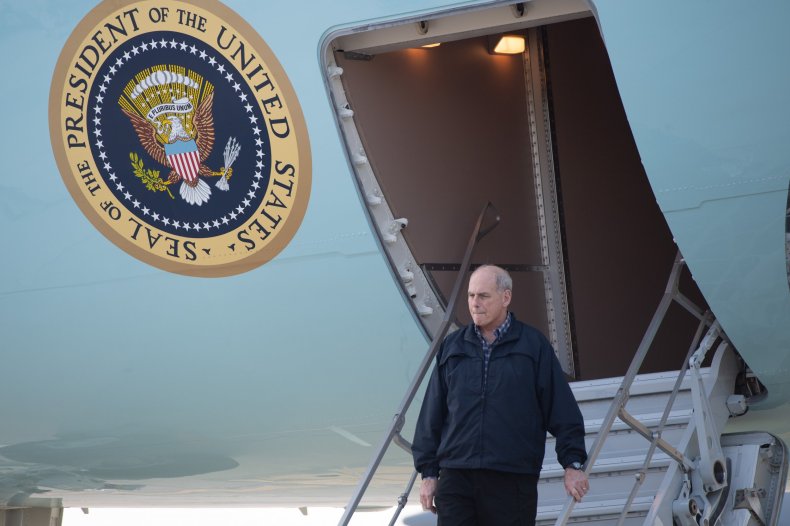 Kelly did work in a few quick jokes at the expense of Trump, his former boss. His advice to his successor, Mick Mulvaney? "Run for it."
Kelly said, according to ABC News, that working in the White House was the least enjoyable job he had ever had, but was also the most important.
Kelly was ousted from his role late last year, reportedly told of it just before the White House Christmas dinner in early December.
"John Kelly will be leaving, I don't know if I can say retiring, but great guy," Trump said to reporters at the time.
He would later say in a tweet announcing Mulvaney's appointment that Kelly was "a GREAT PATRIOT and I want to personally thank him for his service!"
In an interview shortly before his White House tenure ended, Kelly told the Los Angeles Times that he did his best to make sure Trump made decisions with enough information.
"It's never been: The president just wants to make a decision based on no knowledge and ignorance," Kelly said. "You may not like his decision, but at least he was fully informed on the impact."