Donald Trump Jokes About Shooting Migrants at the Border: 'That's Only in the Panhandle You Can Get Away With That Statement'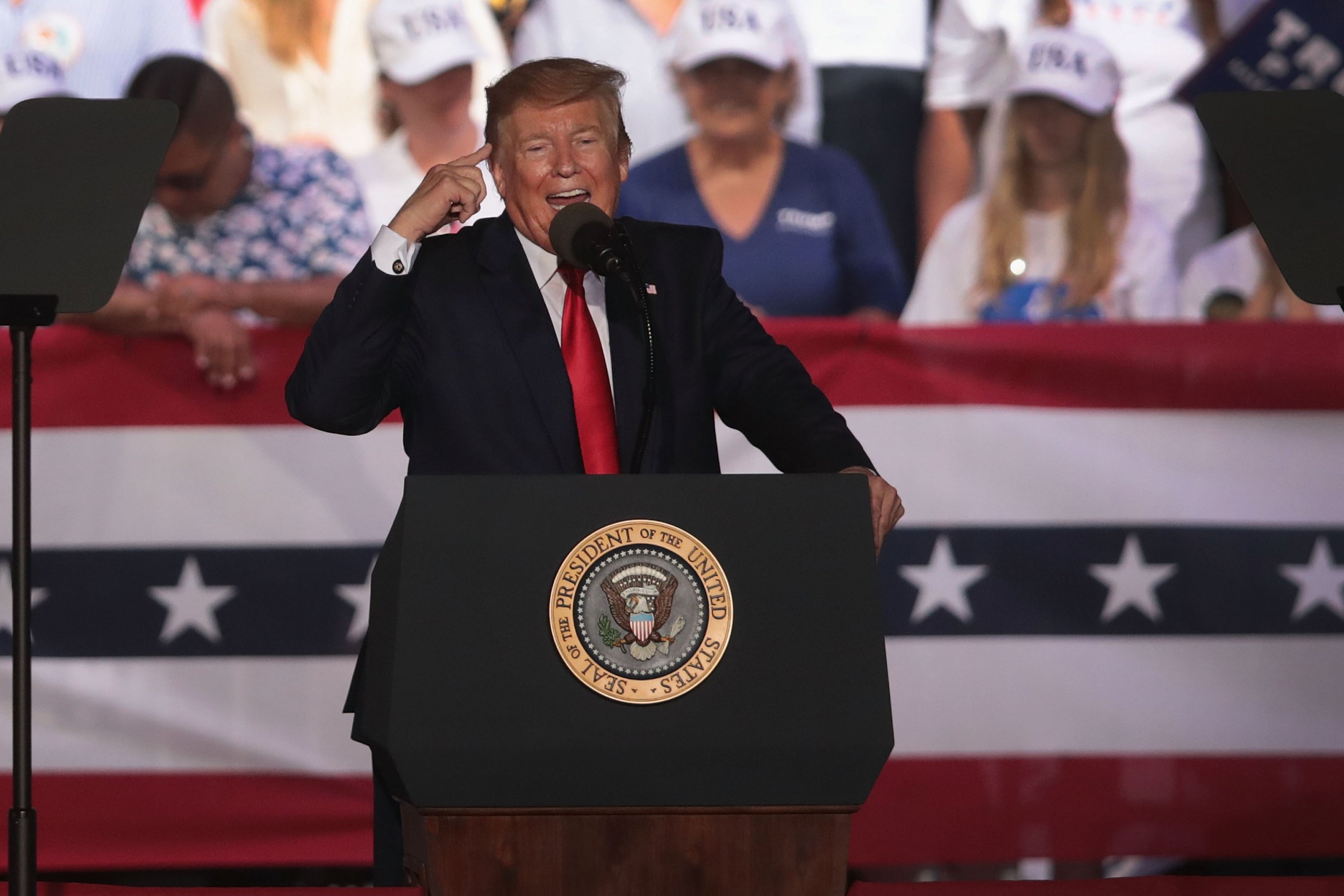 President Donald Trump appeared to joke with a supporter about the possibility of shooting migrants at the border on Wednesday evening at a rally in Panama City Beach, Florida.
The president had once again been deriding migrants and asylum seekers arriving at the border, ridiculing them for carrying the flags of their home countries as they made their way to the U.S.
"They want to fly the flag of Guatemala and Honduras and El Salvador right into our border," Trump said. "Save that flag, we love our country. We love our country, but we're afraid of it for purposes of getting into the United States, we're afraid of our country."
The U.S. leader then turned to how his long-promised border wall between the U.S. and Mexico "would stop" migrants from crossing into the U.S., while noting that using "weapons" was not option, despite the fact that that's what "other countries do."
"I mean, when you have 15,000 people marching up and you have hundreds and hundreds of people and you have two or three border security people that are brave and great, and don't forget, we don't let them and we can't let them use weapons," Trump said. "We can't. Other countries do. We can't. I would never do that."
"But, how do you stop these people? You can't," the president said.
At that point, a crowd member could be heard in video of the rally shouting: "Shoot 'em!" as laughter and cheers rang out across the room.
Grabbing onto the statement, Trump seemed to laugh and pointed to the crowd member who said it, before joking: "That's only in the Panhandle you can get away with that statement," as the crowd continued to clap and cheer. "Only in the Panhandle!
"It's a tough situation," the president said. "But, if they change the loopholes, we'll have it perfectly and when the wall is finished, it's gonna be great."
Newsweek reached out to the Trump campaign for comment on the incident.
The president had previously seemed to lament the fact that military troops deployed by his administration to the border could be more "rough" with migrants and asylum seekers arriving at the border.
Last month, the president told reporters in Texas that they should not forget that U.S. military members "can't act like a military would act... Because if they got a little rough, everybody would go crazy."
The U.S. leader then went on to blame "horrible laws that the Democrats won't change."
In recent months, Trump has ramped up his rhetoric on immigration amid a surge of asylum seekers arriving at the border, including many families.
On Wednesday, U.S. border officials speaking at a Senate Judiciary Subcommittee on Border Security and Immigration hearing said the number of people caught crossing the border and taken into U.S. custody in April had topped 100,000 for the second consecutive month.
The U.S. Customs and Border Protection agency said it had detained 109,144 migrants along the southern border last month, representing a 6 percent increase from March, with monthly arrests reach their highest point since 2007.