Donald Trump Jokes About Jan. 6 Steering Wheel Claims: 'Felt Very Strong'
Donald Trump has mocked Cassidy Hutchinson's testimony about his alleged actions on January 6, 2021.
In an explosive hearing in late June, Hutchinson, a former aide to then-White House chief of staff Mark Meadows, testified that she was told by Trump security official Tony Ornato that the former president grabbed at the steering wheel of the presidential SUV when the Secret Service refused to let him go to the Capitol that day.
Hutchinson testified that she was told Trump also "used his free hand to lunge" at Secret Service special agent Bobby Engel.
In remarks at the Conservative Political Action Conference (CPAC) in Texas on Saturday, Trump made fun of the allegation as he retold the story.
"How about that phony story? I'm sitting in the back of The Beast," he said, eliciting laughter from the crowd.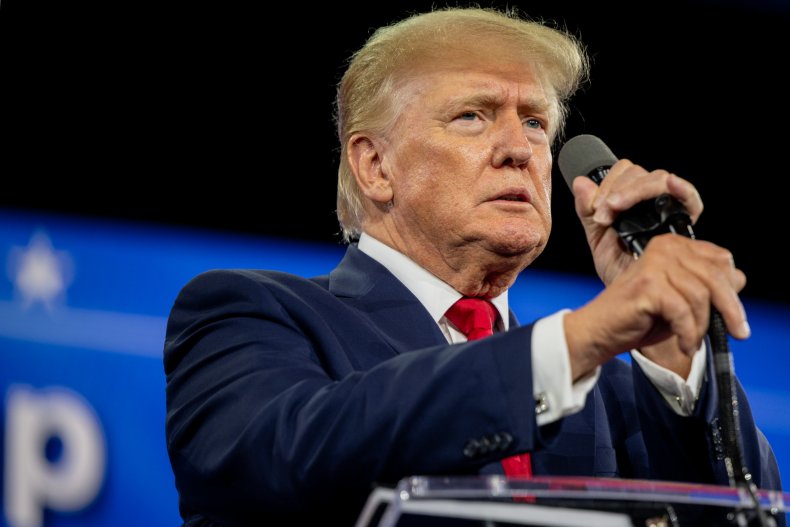 He went on to suggest that he was flattered at the idea that he could take on "big, strong" Secret Service agents.
"I wasn't sure if I should be honored 'cause I felt very strong," he said. "And I had these two big, strong Secret Service guys, one guy could lift 350 lbs, no problem. And I said, take me to the Capitol. 'No sir, can't do it.'
"So I grabbed the steering wheel, to commandeer the thing. And he rebuffed me, she said. He rebuffed. Interesting way, he rebuffed me. Yeah, like this. He rebuffed me.
"So my hands fell around another powerful guy. Strong as hell. I know these people, these are very strong people. It's just not my deal. And I started to choke him. I felt, you know. So when the story came out, some people said, 'I never knew you were that strong physically.'"
Trump also referenced Hutchinson's testimony alleging that he threw food at the wall after his Attorney General said in an interview published on December 1, 2020, that there was no evidence of widespread voter fraud in the 2020 election.
"They said I started throwing food all over the White House." Trump told the CPAC crowd.
He added: "Now I have too much respect for the White House, but that somebody could sort of believe, you know, that you could… but to think that I'm going to be jumping into the seat, grabbing a wheel, being rebuffed, grabbing this big powerful guy, his neck is like this, and grabbing, I'm going to take him.
"Oh boy, oh, boy, oh, boy. What we have to put... and guess what? The Secret Service put out an announcement—which they never do, put out an announcement that it never happened, which everyone knew anyway."
Earlier this month, it was reported that the leaders of the powerful House Oversight and Homeland Security committees wrote to the Department of Homeland Security's inspector general as part of a deepening investigation into the agency's handling of deleted Secret Service text messages surrounding the attack on the Capitol.
Over a summer of hearings, the January 6 committee has laid out evidence about what it described as an "attempted coup" by the former president as he desperately fought to overturn the 2020 election result.
On Saturday, Trump called the probe a "disgrace."
"It's a one-sided witch hunt that continues and continues," he said.
Newsweek has contacted Trump's spokeswoman for further comment.