Donald Trump Jr. Book Launch Event Turned 'Very Nasty, Very Fast' As President's Son 'Fled'
Donald Trump Jr.'s book launch event in Los Angeles, which ended in the author walking out on his audience, turned "very nasty, very fast," a reporter in the room has said.
Guardian journalist Andrew Gumbel, the first to report on Trump supporters protesting against his son's book event, told CNN host Don Lemon last night that Trump Jr. and his girlfriend Kimberly Guilfoyle had "fled" without a goodbye.
He also said the room was so loud with chants and booing that he could hear "only half" of what can be heard on recordings of the event.
Trump Jr. walked out of a promotional event for his new book Triggered: How the Left Thrives on Hate and Wants to Silence Us held at the University of California campus in Los Angeles on Sunday after Trump backers were angered by his refusal to take audience questions.
Several videos of the event shared yesterday showed the book launch being interrupted by booing and jeering from the audience, with one clip shared on Twitter by a person in attendance also showing Trump Jr. and Guilfoyle leaving the event as angered Trump supporters chanted "America First."
An anti-Trump protester was also filmed by Fox 2 KTVU chanting "immigrants are welcome here" at the event, before booing drowned her out.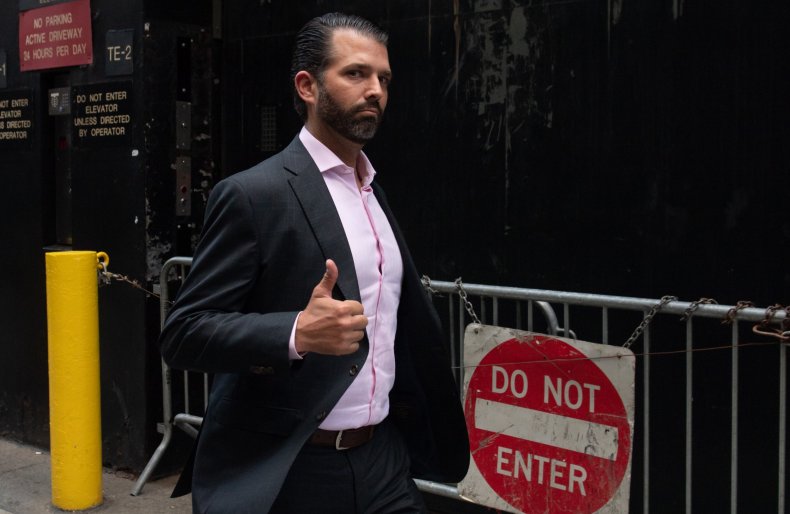 Asked what happened to turn the event so rowdy that Trump Jr. and his girlfriend walked out, Gumbel said: "It got very nasty, very fast actually is what happened. Right at the beginning of the event, there was an announcement there would be no question and answer session—because of time constraints, was the official excuse.
"And immediately half of the room erupted in fury, screaming "USA! USA!" which turned into "Q&A! Q&A!" And they didn't let up for the entire time."
He went on to say that Guilfoyle hitting back at the audience was the "climax" of the chaos, adding: "Don Jr. and Kimberly Guilfoyle fled, I think is probably the best way to describe it.
"There was no goodbye, no 'this is the end.' They just left."
Amid the chanting and booing, ABC 7 Eyewitness footage shows Guilfoyle saying: "You're not making your parents proud by being rude and disruptive and discourteous. We're happy to answer a question.
"Respect the people around you so they can hear. You don't play by the same rules."
Recounting the atmosphere in the room, the Guardian reporter said it was so loud in the room he could hear "only half" of what can now be heard in clips of the event.
He later added that supporters of the alt-right commentator Nick Fuentes, a critic of the conservative campus group Turning Point USA and its founder Charlie Kirk, were there to shut down the event over "beef" with Kirk.
"The people used the same guerilla, gadfly attempt to get attention to themselves at these events of the establishment, and the establishment in this case was the Trump family," he said.
The Guardian reported that the event was around 20 minutes into a scheduled two-hour slot before Trump Jr. and his girlfriend decided they'd had enough.
A "Triggered" book signing and launch party event is scheduled at the Trump International Hotel in Washington, D.C. tonight.