Donald Trump Jr. Calls John Kerry 'Liberal Hypocrite' for Maskless Photo on Flight
Donald Trump Jr. dubbed U.S. climate envoy John Kerry a "liberal hypocrite" after a photo surfaced showing the Democrat not wearing a face mask on a commercial flight.
A photo showing Kerry with a mask hanging off his ear on an American Airlines flight from Boston to Washington, D.C. was published by conservative news outlet The Tennessee Star on Wednesday. The photo quickly provoked scorn from conservatives online, including from the son of former President Donald Trump.
"SPOTTED: Liberal hypocrite & Biden Admin official @JohnKerry flouting @JoeBiden's Federal mask mandate," Trump Jr. tweeted. "NOTE: His mask is off & he isn't eating or drinking. Will he be fined for breaking the law & banned from flying @AmericanAir like regular citizens would be? #LiberalPrivilege"
A mask mandate from the administration of President Joe Biden went into effect for airplanes last month, while most airlines, including American Airlines, had already made the masks mandatory over safety concerns brought on by the COVID-19 pandemic.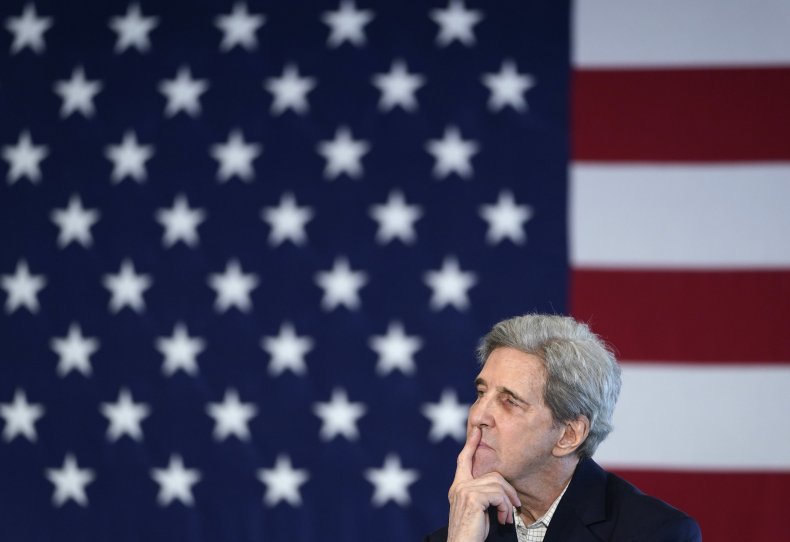 Although the photo suggests that the 2004 Democratic nominee for president was flouting the rules, Kerry insisted that he had only dropped the mask briefly and accused those participating in the online backlash of "malarkey" on St. Patrick's Day.
"Feels like there's some St. Patrick's day 'malarkey' afoot on Twitter," tweeted Kerry. "Let's be clear: If I dropped my mask to one ear on a flight, it was momentary. I wear my mask because it saves lives and stops the spread. It's what the science tells us to do."
The passenger who took the photo disputed Kerry's account, telling Fox News that the mask had been off for "five minutes" and questioning whether "being in a plane without a mask for five minutes is excusable."
American Airlines told Newsweek that the crew did not observe Kerry, who served as secretary of state during the administration of former President Barack Obama, without a mask, nor were they altered to the issue by any of the other passengers on the flight.
"Masks are required on board our aircraft," American Airlines spokeswoman Stacy Day said in a statement. "Our team works diligently to make sure customers are wearing masks properly as they travel with us, and flight attendants pass through the cabin several times during flight to ensure compliance."
"The crew did not observe Secretary Kerry without a mask, and they were not alerted by other customers to a non-compliance issue," added Day. "We continue to review the matter and we are reaching out to Secretary Kerry to underscore that all customers are expected to wear masks for the duration of their trip."
In addition to Trump, a host of other prominent conservatives also seized on the photo, alleging that Kerry was allowed to play by a different set of rules than those that apply to conservatives. Richard Grenell, a former Trump administration official, suggested that Kerry was "so used to flying privately that he comfortably ignores" the rules, while Sen. Tom Cotton (R-Ark.) said that "the only surprise is that John Kerry was flying commercial."