Donald Trump Jr.—who is, of course, the son of President Donald Trump—penned an opinion piece for the British publication The Telegraph that centered on Brexit, which he compared to his father's tenure in office.
Brexit has been a painful and slow process since the 2016 referendum. Members of parliament rejected a proposed deal from Prime Minister Theresa May last week and also voted that the U.K. would not leave the European Union without a deal. May has since indicated she would formally ask the E.U. for a delay.
Trump Jr. compared the Brexit process to his dad's election and claimed that establishment forces were working to stop both his father and Brexit.
"Why is this important for us Americans? Because Brexit is an example of how the establishment elites try to subvert the will of the people when they're given the chance," wrote Trump Jr. "When my father beat the Washington establishment in a historic outcome in 2016, just a few months after the Brexit vote, we mistakenly presumed there would be a peaceful and respectful transition of power from the Democrats to the Republicans, just as there has always been in this country.
"Instead, the Democrats and deep-state operatives in our justice system have been colluding to subvert the will of the American people, with high-level officials even discussing a scheme to try to remove him from office using the 25th Amendment of our constitution."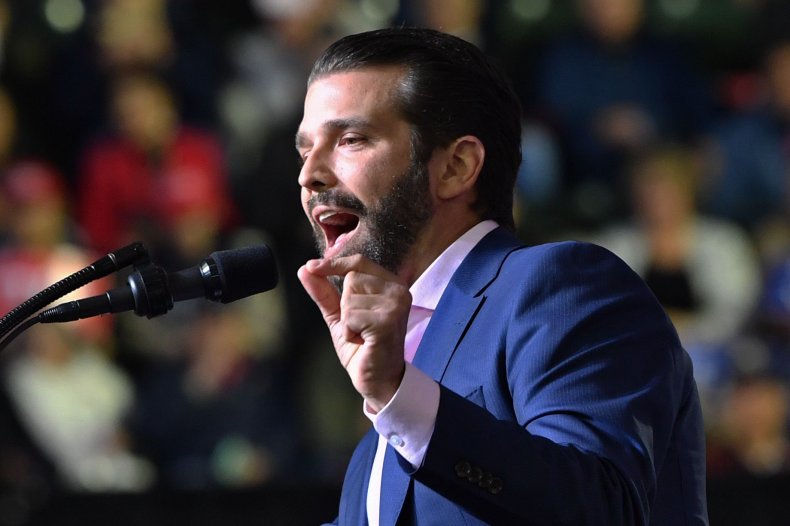 The mention of the 25th Amendment from Trump Jr. seemingly refers to an alleged conversation sparked by Deputy Attorney General Rod Rosenstein about potentally removing President Trump from office. Former acting FBI Director Andrew McCabe has said conversations about the topic did happen.
"In a way, you could say that Brexit and my father's election are one and the same — the people of both the U.K. and the U.S. voted to uproot the establishment for the sake of individual freedom and independence, only to see the establishment try to silence their voices and overturn their mandates," Trump Jr. wrote.
President Trump has recently commented about Brexit himself, suggesting May should've taken his advice for a smoother process.
"I gave the prime minister my ideas on how to negotiate it, and I think you would have been successful. She didn't listen to that, and that's fine, she's got to do what she's got to do. But I think it could have been negotiated in a different manner, frankly," Trump said during a press conference last week.
He also came out against the idea of taking a second Brexit vote.