Donald Trump Jr. failed to disclose a business relationship with a hunting partner who helped raise millions of dollars for his father's 2016 presidential campaign, new records reveal.
Trump Jr. and Texas hedge fund manager Gentry Beach have had business deals together since the mid-2000s, including the recent formation of a company called Future Venture LLC, according to documents obtained by the Associated Press.
Despite Beach not listing any Trump connection to Future Venture, a disclosure report filed with New York City officials showed that Trump Jr. had been named as the president, secretary and treasurer of the company.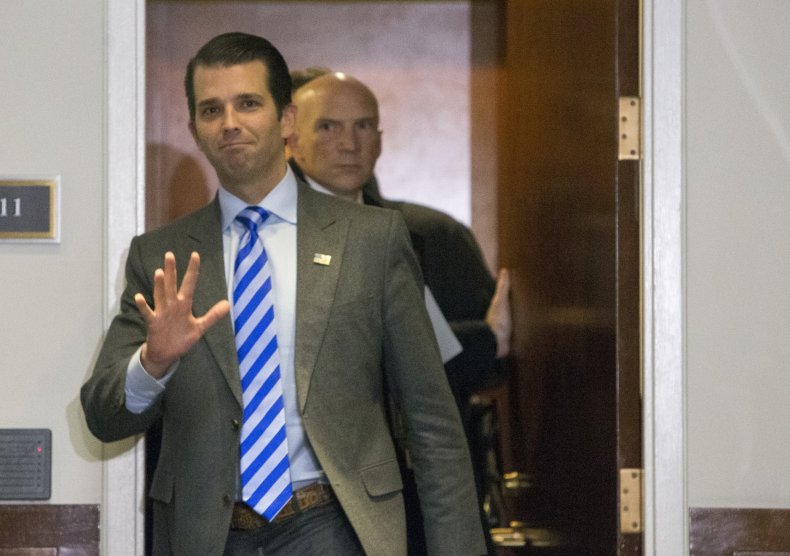 The two men, who were known to be hunting buddies, had previously said their relationship was personal rather than professional.
The revelation of their longtime business ties comes less than two weeks after President Donald Trump's administration quietly reversed an Obama-era ban on elephant trophy imports.
Not long after Trump took office, Beach and an Iraqi-American businessman were able to meet with top officials at the National Security Council (NSC) to present a plan that would curb U.S. sanctions in Venezuela and open business opportunities for U.S. companies, a former U.S. official with direct knowledge of the proposal told AP.
The official said foreign policy experts were instructed by the West Wing to accept the meetings specifically because of Beach's relationship with Trump Jr. They added that the meeting went ahead, despite NSC lawyers raising concerns about whether the meeting was appropriate.
Ultimately, the pitch was not accepted, as it would have been counter to the president's stance on the South American country, which he threatened with new sanctions earlier this month.
Seven months after his meeting with the NSC, however, Beach also attended a private lunch in Dallas with Interior Secretary Ryan Zinke and Republican donors, according to a copy of Zinke's schedule, obtained by AP.
Read more: Donald Trump Jr. Says Company Got 'No Credit' for 'Doing the Right Thing' and Not Profiting Off His Father's Presidency
In a statement, the Trump Organization told the news agency Trump Jr. has never had any involvment in arranging meetings "with anyone at the White House or any other government agency."
The Trump Organization did not immediately respond to a request for comment from Newsweek.
Beach told AP it was "absolutely not true" that he had ever "used my longtime personal friendship with Donald Trump Jr." in a bid to influence any government decision-making.
Trump Jr. had told donors in Texas last March that Beach and another hunting buddy, Tom Hicks Jr. had helped raise millions for his father's campaign, according to a report from Dallas Morning News.
At the time, the president's son said Beach and Hicks Jr. had spent seven months with him on the campaign trail doing everything from "taking selfies to carrying my bags."
Beach himself had told the Dallas newspaper that if he "called up" to the White House "and asked someone to do me a favor, could I get in the door? Sure." However, he claimed he had no plans to take advantage of that access at the time, adding: "I need nothing from the government."
Beach later served as a finance vice chairman for the inaugural committee and was criticized after a non-profit he launched at the same time advertised hunting and fishing trips with Trump Jr. and his brother Eric, who is also known to be an avid hunter, to donors. The non-profit offered a package including a multi-day hunting and/or fishing excursion for 4 guests with Trump Jr. "and/or Eric Trump and team" for $1 million, according to documents published by the Centre for Public Integrity.
But court documents obtained by AP showed that Beach and Trump Jr. did business together long before Trump's election campaign.
In a 2010 deposition, Trump Jr. testified that he had made investments in ventures that Beach had an interest in on two occasions. In one case, he made a $200,000 investment in a dry Texas oil well managed by Beach's father and also funneled an undisclosed amount of cash into a failed mining stock connected with Beach's uncle.
Trump Jr. also testified that the pair also had business plans that had never come into fruition, including one proposal to buy a hunting preserve in Mexico together.
The president's apparent U-turn in his stance on elephant trophy imports came just over three months after he put a bid to ease the ban on pause after the moved sparked public outrage.
The U.S. Fish and Wildlife Services announced its reversal of the ban at the start of this month, with the agency now expected to approve requests to bring body parts of African Elephants from Zimbabwe to the U.S. on a "case-by-case basis."