Donald Trump Jr. Says Father's CPAC Speech Was 'Incredible ... Because I Was Involved'
Donald Trump Jr. has praised his father's "incredible" CPAC speech and even credited himself for the former president's 90-minute crowd-pleasing performance on Sunday.
In a video posted to his private Facebook page, the son of former president Donald Trump urged his supporters to watch his father's first major public appearance since leaving the White House.
"Here's some of the highlights of this incredible speech," Trump Jr. captioned the clip. "I think you'll love it as much as I do and I only think this because I was involved with him for about 3 hours yesterday getting the speech right, nailing the points, talking about the things that matter to you and to me."
The clip transitions to footage from the Conservative Political Action Conference (CPAC) where an embittered Trump takes to the stage and quickly launches into his predictable rhetoric that the Democrats "lost the White House" while telling hopeful supporters he "may even decide to beat them for a third time."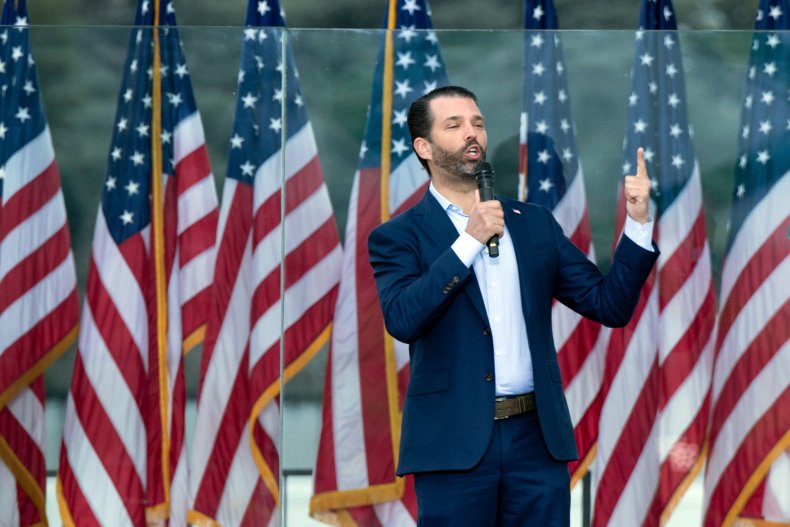 Meanwhile, Trump Jr. has remained resolute in his father's influence and leadership within the Republican Party.
"Donald Trump is back. He's back on the world stage," Trump Jr. triumphantly tells his supporters in the clip. "He's talking to the base. He's talking to us. He's talking to the future of the Conservative movement and what it all means."
In a series of videos posted in the lead-up to Trump's closing speech, Trump Jr. promised his father "will expose the disastrous truth about Biden" and "take a torch to the establishment."
And he again took to addressing his audience following Trump's public appearance in Orlando, Florida, heaping more praise on the twice-impeached former president.
"We saw a 90-minute speech that spent more time focusing on the disasters of the Biden administration, on the future failures of the policies that are putting Americans out of work, that are putting America last, that are putting China and others first and he [Trump] did it more effectively than anyone else combined," Trump Jr. railed. "That's why he's your president, that's why he's your leader and that's why he's the future of the Republican Party."
In an interview with Fox News' Sean Hannity on Saturday, Trump Jr. again reiterated his belief in his father's leadership. "Donald Trump is still the future of the Republican party," he told Hannity. "They [Republicans] just rather lose gracefully I guess ... Donald Trump has shown you don't have to do that. You can actually push back."
Trump Jr. also joined his father in speaking at CPAC over the weekend, delivering a fiery speech where he railed against the GOP "establishment."
He also called out RINOs or "Republicans in name only," for breaking away from his father's influence over the party and singled out Cheney, a Wyoming Republican congresswoman, for voting to impeach the former president last month.
Newsweek has contacted Donald Trump Jr. for comment.