Trump Jr. Attacks GOP Establishment, Says No Different Than Democrats 'in Most Cases'
Donald Trump Jr. railed against the GOP "establishment" at the Conservative Political Action Conference (CPAC) this weekend, and compared it to the Democratic Party "in most cases."
"The [Republican] establishment is too focused on corporate interest, on nonsense policy that doesn't do anything for the American people," he said in an interview posted to Twitter on Saturday.
"They're no different, frankly, from the Democrats in most cases," he added.
Trump Jr., who is the son of former President Donald Trump, went on to say that his father created a "movement of the people, by the people, and for the people," within the GOP.
"What Donald Trump was able to deliver for the forgotten men and women, and for the hardworking men and women of America, is what he promised. The establishment, they haven't even acknowledged those things," he added in the interview.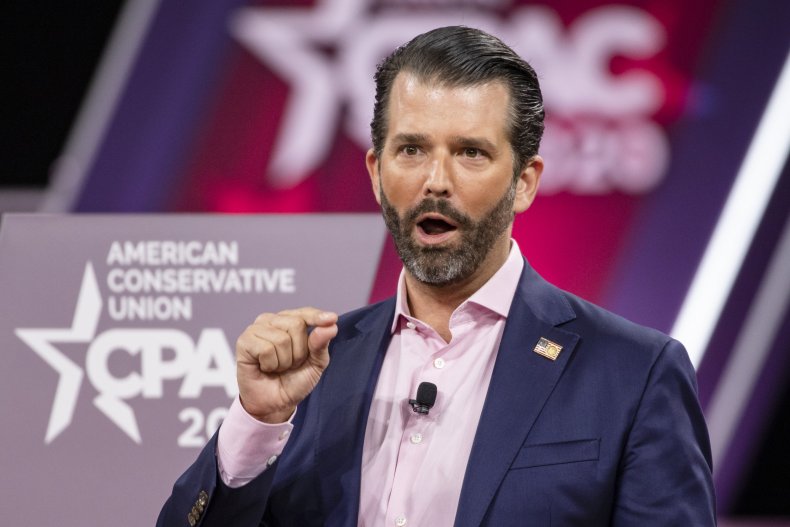 Trump Jr. echoed those remarks in his speech at CPAC on Friday, in which he called out RINOs or "Republicans in name only," for breaking away from his father's influence over the party
"Liz Cheney, she hates Donald Trump and his policies because her family has a long history of friendly fire," Trump Jr. in his speech. "But she also hates them because she's tied to an establishment that has done nothing but fail us time and time again."
Trump Jr. singled out Cheney, a Wyoming Republican congresswoman, for voting to impeach the former president last month.
Cheney was among 10 House Republicans and seven GOP senators who found Trump guilty of inciting an insurrection at the U.S. Capitol on January 6. Those who broke from Trump have since faced backlash, including local censures and formal rebukes, from other members of the Republican Party.
On Thursday, CPAC kicked off with a number of pro-Trump speakers, including top Republican lawmakers and members of Trump's former Cabinet. The former president himself is slated to speak at the conference on Sunday, in his first major public appearance since leaving office.
Near the end of his remarks on Friday, Trump Jr. prefaced his father's speech, which he predicted would "not be what we call a low energy speech."
"I assure you that it will solidify Donald Trump and all of your feelings about the MAGA movement as the future of the Republican Party," he said.
Trump is expected to use his time to focus on the future of the Republican Party and conservative movement, along with attacking President Joe Biden. Some predict that the former president will even announce a bid to run again in the 2024 election.
"[Trump] is going to say Sunday that he's the presumptive nominee for 2024. No one is going to oppose him – there are nine panels at the CPAC convention all about how the election was stolen, and none about why it was lost. That's where they are," Real Time host Bill Maher said on Friday.
Texas Republican Senator Ted Cruz alluded to the former president's political future at the conference on Friday.
"There are a whole lot of voices in Washington that want to just erase the last four years," Cruz said during his speech.
"They look at Donald J. Trump and they look at the millions and millions of people inspired, who went to battle fighting alongside President Trump, and they're terrified and they want him to go away. Let me tell you this right now: Donald J. Trump ain't going anywhere," he added.
Newsweek contacted Trump for additional comment, but did not hear back in time for publication.