Former President Donald Trump will speak at the Conservative Political Action Conference (CPAC) in Orlando, Florida, next week in his first major public appearance since leaving office.
Trump will speak on Sunday afternoon, the final day of the conference, which will run from February 25 to February 28, the conference organizer confirmed to Newsweek on Saturday.
The former president will use his time to discuss the future of the Republican party and the conservative movement, according to The Hill. He's also expected to attack President Joe Biden's extensive immigration plan by specifically highlighting "disastrous amnesty and border policies," the publication reported.
The annual conservative conference, which typically takes place in or near Washington, D.C., was moved to Florida this year to escape stringent coronavirus restrictions.
Trump has spoken at CPAC in previous years, but his attendance in the aftermath of losing the 2020 presidential election remained up in the air until Saturday.
In the months after the election, the highly influential conference grappled with how much they wanted to focus on Trump's ongoing influence within the GOP, Politico reported in January.
"Do we pull the Nancy Pelosi option and try to expunge Trump from public life or do we try to build on the movement he created and make it tenable? It's messy," a person involved in the CPAC planning process told the outlet.
But without Trump, Politico reported that the conference was facing difficulty with programming and guest bookings.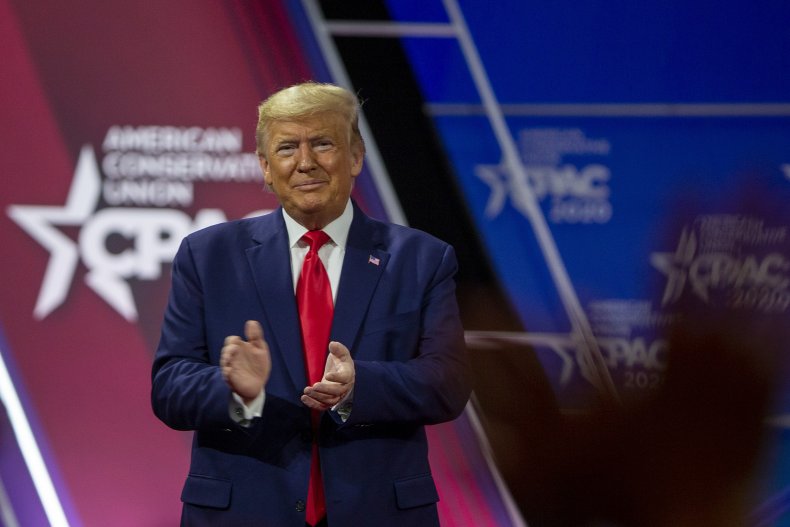 Now, with just one week ahead of the conference, CPAC is shaping up to include Trump and a number of his key allies, including former cabinet members.
Texas Republican Senator Ted Cruz, Florida Representative Matt Gaetz, and Alabama Representative Mo Brooks—staunch allies of the former president—will be featured as guest speakers.
Florida Governor Ron DeSantis, who's received major political buzz as a leading figure in the GOP 'Trumpism' movement, will also speak at the conference.
After the Senate voted to acquit Trump for a second time in a historic impeachment trial last week, Trump hinted at the release of new political plans in the coming months.
"Our historic, patriotic and beautiful movement to Make America Great Again has only just begun. In the months ahead I have much to share with you, and I look forward to continuing our incredible journey together to achieve American greatness for all of our people," he said.
"There has never been anything like it! We have so much work ahead of us, and soon we will emerge with a vision for a bright, radiant and limitless American future," he added.
Though Trump has maintained a relatively low profile of late, CPAC will be a natural place to make his first major public appearance since leaving the White House.
Some political analysts believe the former president essentially kicked off his political career with an appearance at CPAC in 2011, when he began to be seen as a key voice within the conservative movement.
"The conservative movement, its institutions and press, really were consistently resistant to Trump for a long time," Walter Olson, a senior fellow at the Cato Institute's Center for Constitutional Studies, told the Huffington Post in 2017. "They didn't write about him seriously or treat him as a serious figure. But his appearance at CPAC was an important breach in that general wall of disdain and lack of interest."
Newsweek reached out to representatives for Trump, but did not hear back in time for publication.