Bill Maher Warns to Not Underestimate Trump, 2024 Will Be a 'Nail-biter'
Real Time host Bill Maher said that former President Donald Trump will likely announce a 2024 bid for president at the Conservative Political Action Conference (CPAC) this weekend, and warned that the next election will be a "nail-biter."
"[Trump] is going to say Sunday that he's the presumptive nominee for 2024. No one is going to oppose him – there are nine panels at the CPAC convention all about how the election was stolen, and none about why it was lost. That's where they are," Maher said Friday.
"If you think that 2024 is not going to be a nail-biter or that he isn't going to be the nominee, I think you're being naive," he added.
The host also compared Trump to a "shark" that "went out to sea for a little while," but that's going to come back to "eat more people on the shore."
Democratic Montana Senator Jon Tester, a guest on Maher's show, agreed with his assessment and said he believes Trump is "absolutely the frontrunner right now."
"He may very well be their nominee in 2024, I don't think there's any doubt about it," Tester added.
Trump will speak at CPAC on Sunday afternoon, in his first major public appearance since leaving office. His highly anticipated speech is expected to focus on the future of the Republican Party, along with attacking President Joe Biden.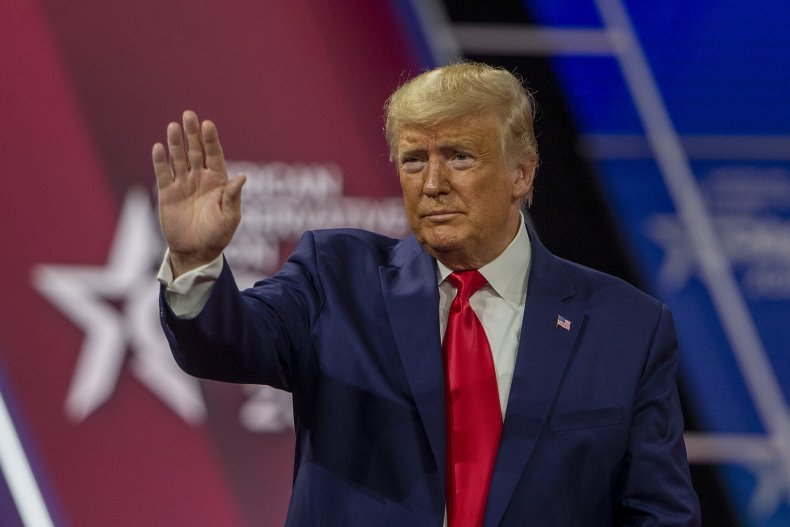 The conference, which kicked off on Thursday, has been nothing short of Trump-friendly.
Among CPAC's speakers include top Republicans who have staunchly supported the former president, such as Florida Governor Ron DeSantis, Texas Senator Ted Cruz, and former Secretary of State Mike Pompeo.
On Friday, Cruz used his speech to push back on claims that the GOP is in the midst of a civil war, and asserted that "Trump ain't going anywhere."
"There are a whole lot of voices in Washington that want to just erase the last four years," the Texas Republican said.
"They look at Donald J. Trump and they look at the millions and millions of people inspired, who went to battle fighting alongside President Trump, and they're terrified and they want him to go away. Let me tell you this right now: Donald J. Trump ain't going anywhere."
As Maher noted, CPAC will also feature several panels throughout the weekend regarding election security, as Trump continues to push the false narrative that the 2020 election was stolen due to voter fraud.
Also present at the conference is a golden statue of Trump wearing a suit jacket with tie, stars and stripe boxing shorts and red sandals.
"To anyone who wants to fool themselves into thinking Donald Trump's grip over the Republican Party is coming to an end... They erected a literal golden statue of him at the party's most influential annual conservative gathering," journalist Dave King said.
Though he has not officially made an announcement for a 2024 run, earlier this month the former president hinted at the release of new political plans.
"Our historic, patriotic and beautiful movement to Make America Great Again has only just begun. In the months ahead I have much to share with you, and I look forward to continuing our incredible journey together to achieve American greatness for all of our people," Trump said on February 13.
Newsweek contacted Trump for additional comment, but did not hear back in time for publication.