CPAC 2021 Schedule, Where Donald Trump Is Star, Has Seven Panels on 'Protecting Elections'
The Conservative Political Action Conference (CPAC) will feature seven talks on "protecting elections" as former President Donald Trump, the annual convention's top speaker, continues to baselessly claim that he won the 2020 presidential election.
Three "protecting elections" events will take place on Friday, according to the CPAC 2021 schedule, and the remaining four will go ahead on Sunday—when Trump is slated to deliver a keynote speech to close the conservative conference.
The subtitles for the talks vary but indicate that panelists are likely to take issue with state election rules, or allege that the November election was impacted by mass voter fraud in favor of President Joe Biden.
"Failed States (PA, GA, NV, oh my!)" is the title of one panel discussion on "protecting elections," while another promises a talk on how "the left pulled the strings, covered it up, and even admits it."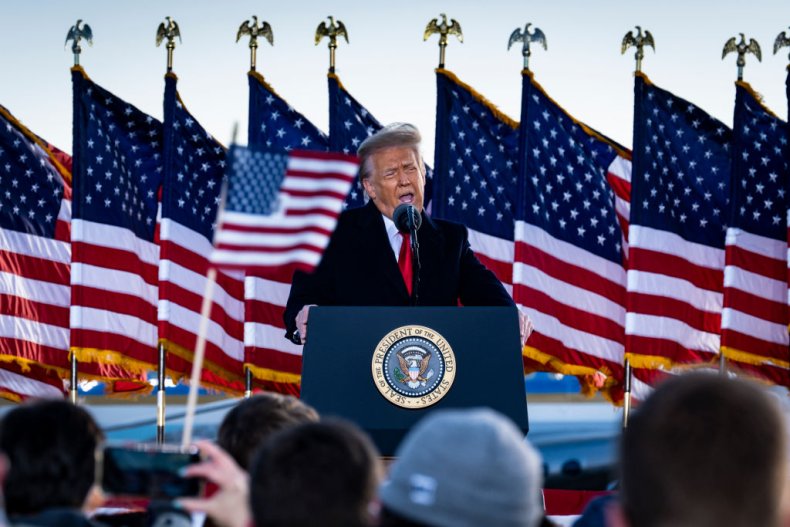 The second talk on the 2020 election, scheduled for the first full day of the conference, will cover "other culprits" in the outcome of the race—namely the "judges & media" who supposedly "refused to look at the evidence."
Rep. Mo Brooks (R-AL) is expected to sit on the panel. In a December speech on the House floor, he claimed that there was "irrefutable" and "overwhelming" evidence that Trump would have won a second term in the White House if "only lawful votes" had been counted.
Newsweek has contacted the American Conservative Union for comment and further details on the panel discussions.
Trump is set to make his first major public appearance at CPAC on February 28 and deliver an address to conservative activists gathered in Orlando, Florida. Several of his allies on Capitol Hill are also slated to appear at the event, including Sen. Ted Cruz (R-TX) and Rep. Matt Gaetz (R-FL).
The New York Times reported that the former president plans to talk about the future of the GOP as a civil war brews between populists and the so-called traditional wing of the party in Washington, D.C.
Speaking to conservative outlets in his first post-presidency interviews last week, Trump returned to making false claims about the November election as he paid tribute to the late radio host Rush Limbaugh.
"Rush thought we won, and so do I, by the way. I think we won substantially, and Rush thought we won, he thought it was over at 10 o'clock... and a lot of other people feel that way too," Trump told Fox News on Wednesday.
"Rush felt that way strongly, and many people do, many professionals do. I don't think that could have happened to a Democrat. You would have had riots going all over the place if that happened to a Democrat."
He also told Newsmax that he thought his election defeat to President Joe Biden was "disgraceful," and claimed that his team won the election "as far as I'm concerned."