GOP Civil War Barely Registers at Conservative Conference Where Trump Will Speak
The 2021 Conservative Political Action Conference, which kicks off Thursday, appears to remain aligned behind Donald Trump, even as leading Republicans have condemned and clashed publicly with the former president.
The roster of speakers for CPAC 2021 features Trump—who will deliver his first big speech since leaving the White House—and a slate of other politicians and pundits who are supportive of him. Although analysts have described tensions within the Republican Party as a "civil war," Trump's GOP critics won't be given a platform to share their perspective during the event, which takes place in Orlando, Florida, from February 25 to 28.
Mike Pompeo, who served as Trump's secretary of state; Ben Carson, who served as secretary of housing and urban development; and Sarah Huckabee Sanders, the former White House press secretary now vying to become the next Arkansas governor, are set to speak at the event along with a number of other former Trump administration officials. Additionally, pro-Trump politicians including Florida Governor Ron DeSantis, South Dakota Governor Kristi Noem, Florida Congressman Matt Gaetz, Missouri Senator Josh Hawley, Texas Senator Ted Cruz and Arizona Congressman Andy Biggs are set to address the attendees. The former president's son—Donald Trump Jr.—will speak as well. Notably, former Vice President Mike Pence, who's been a hit at CPAC the past three years, reportedly declined an invitation to speak.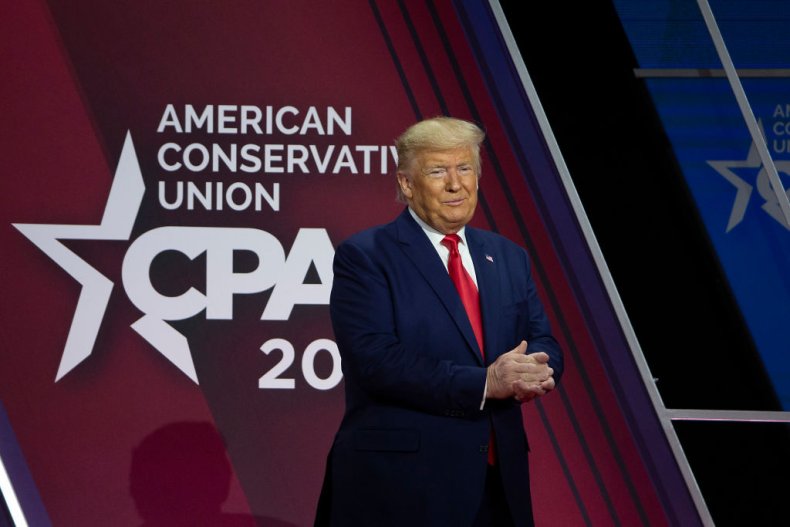 Last year, Senator Mitt Romney, a Utah Republican, was told publicly not to attend the event—despite previously winning CPAC's presidential straw poll on four occasions. But Romney became a persona non grata after his criticism of Trump during his first Senate impeachment trial in 2020, in which the Utah Republican voted with Democrats to convict the former president. Rejecting Romney again this year, CPAC has instead fully embraced Trump—as have most conservative voters.
CPAC chairman Matt Schlapp said in January 2020 that he would be concerned that Romney would not be safe if he attended the event.
In 2021, the Republican divide has grown significantly in the wake of Trump's claims that the presidential election was stolen and the violent insurrection against the U.S. Capitol on January 6 by his supporters. While the majority of Republican lawmakers and voters continue to align themselves with Trump, a significant number of prominent Republicans have now come out against the former president.
Trump was impeached a second time on January 13, a week after the insurrection. Ten House Republicans voted with their Democratic colleagues to impeach him for inciting the mob that stormed the Capitol in a bid to block the formal certification of President Joe Biden's win.
When the Senate trial was held this month, seven GOP senators voted with all 50 members of the Democratic Caucus to convict Trump—making it the most bipartisan impeachment conviction vote in U.S. history. However, it failed to meet the Constitution's high two-thirds majority threshold to convict, which would have required at least 10 more Republicans to vote "guilty."
Although Senate Minority Leader Mitch McConnell, a Kentucky Republican, voted to acquit Trump, he said this was because he did not believe it was constitutional to hold a Senate trial for a president after he'd left office. McConnell condemned Trump's actions, suggesting that he should be prosecuted through the criminal justice system. Trump then released a statement last week attacking McConnell. The former president described the Kentucky Republican as "a dour, sullen, and unsmiling political hack." McConnell is not on the CPAC speaker list this year, though he's certainly been a major presence at the event in years past.
McConnell and a number of other prominent GOP lawmakers hope to expel Trump from their ranks going forward. But that appears unlikely to happen, as polls suggest that the former president remains highly popular with Republican voters. A poll conducted earlier this month by CBS News/YouGov showed that 70 percent of GOP voters would join or consider joining a new political party if Trump formed one. Furthermore, 71 percent of Republican voters said they viewed GOP lawmakers voting to impeach or convict Trump as "disloyal."
On the other hand, this week prominent Republicans pushed back at GOP censures of senators who voted to convict Trump in the impeachment trial.
Newsweek reached out to CPAC's press representatives for comment but did not immediately receive a response.