Donald Trump Jr. Foreign Policy Speech in India Renamed Amid Ethics Backlash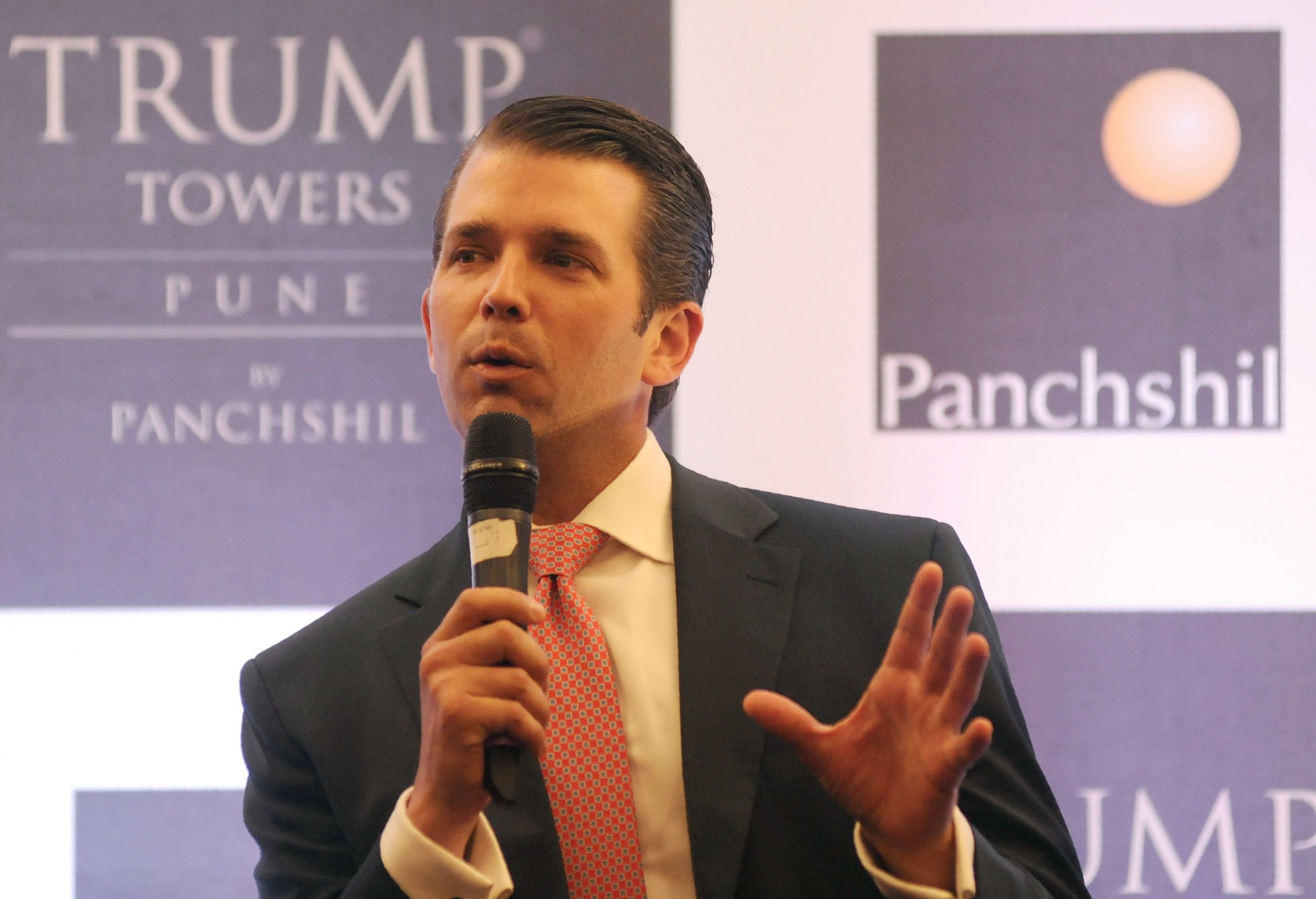 Because ethics concerns and criticism mounted ahead of Donald Trump Jr.'s foreign policy speech at a business conference in India, summit organizers decided to change its title.
Instead of "Reshaping Indo-Pacific Ties: The Era of Cooperation," as it was originally billed, the president's eldest son's talk on Friday evening is now called "Fireside Chat With Donald Trump Jr., Executive Vice President, the Trump Organization."
The initial title, and the visit in general, drew backlash from some politicians and ethics watchdogs, because they suspect that Trump Jr. would mix his father's politics with business during the weeklong visit. In fact, the executive is also selling Trump-branded luxury condos in India.
Indian Prime Minister Narendra Modi will also be featured at the summit.
Related: Donald Trump Jr. called Russian interference 'disgusting' and 'so phony' while allegedly colluding
"I am concerned that Mr. Trump's speech will send the mistaken message that he is speaking on behalf of the president, the administration or the United States government, not as a private individual, or that he is communicating official American policy," Senator Robert Menendez, a ranking Democrat on the Senate Foreign Relations Committee, wrote in a letter to the U.S. Embassy in New Delhi earlier this week.
Earlier in the week, Indian newspaper ads said that real estate buyers who signed up early for Trump-branded condos outside New Delhi would get a "conversation and dinner" with Trump Jr.
"These advertisements brazenly suggest that people can purchase access to the son of the president of the United States," Noah Bookbinder, executive director of Citizens for Responsibility and Ethics in Washington, told CNN. "An instance where the president's decision-making may end up being influenced by those who support his businesses."
White House spokeswoman Lindsay Walters told The Washington Post on Thursday that government resources were not being used on Trump Jr.'s trip.
"Donald Trump Jr. is a private individual, and neither the State Department nor the White House has provided any support for this trip beyond coordinating with his Secret Service protection," she said.
The Trump Organization, which has been run by Trump Jr. and his brother Eric since the president was sworn in, has five ventures in India, the company's largest number of projects outside the U.S.