Donald Trump Jr. Sparks Fury After Calling John Fetterman a 'Vegetable'
Donald Trump Jr., eldest son of former President Donald Trump, has caused an angry reaction online after he described Democratic Senator John Fetterman as a "vegetable."
Trump Jr. made the comments on his Triggered podcast on Thursday after Fetterman's team announced that the senator had checked himself into Walter Reed National Military Medical Center to receive treatment for depression.
Video of Trump Jr. making the remarks during a conversation with Republican Representative Marjorie Taylor Greene was shared to Twitter on Thursday by PatriotTakes, which describes itself as "researchers monitoring and exposing right-wing extremism."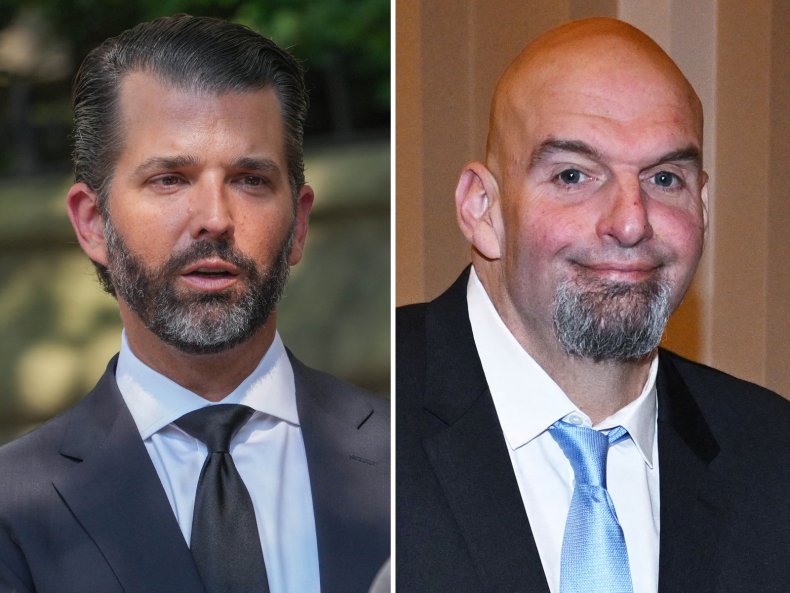 While discussing challenges Republicans face in elections, Trump Jr. said: "I have a feeling the people that elected the vegetable senator—I have a feeling that a lot of the people that 'cast those ballots' probably couldn't tell you who's on the ballot for the Senate in Pennsylvania."
Fetterman defeated Trump-backed Republican candidate Dr. Mehmet Oz in November's Senate election in Pennsylvania.
Representative Greene from Georgia seemed taken aback when Trump Jr. used the term "vegetable senator" and after he'd spoken, she told him: "He's back in the hospital, by the way."
Fetterman had previously been hospitalized after feeling lightheaded at a Democratic Senate retreat but was subsequently released. He checked into a hospital again on Wednesday to receive treatment for clinical depression.
"And I wish him well," Trump Jr. said on Thursday. Greene added: "We do wish him well."
"I don't mean him any harm but I could see that a mile away," Trump Jr. said. He added that he had been "criticized for being an ableist—meaning I'm discriminating against someone with disabilities for expecting a United States senator to have basic, cognitive function."
"I don't think that's negotiable. You can call me whatever the [...] you want, that's a no brainer. And yet, it's terrible..." he went on.
Greene responded: "It's the ability to do the job. We need someone that's thinking really well."
Twitter users appeared to overwhelmingly respond to PatriotTakes' video with anger as they criticized both Trump Jr. and Greene.
"One thing you can count on is Don Jr and MTG having the worst and most offensive takes on all things," tweeted JC McCoy.
"Just when you think they can't go lower," wrote user Bev Chapman, while Kristen Hanlon tweeted: "There is no low too low for these two."
"Two of the most hideous people on this planet," responded Twitter user John Reuter.
Separately on Thursday, Fox News host Laura Ingraham and guest, conservative activist Ned Ryun, criticized Senator Fetterman's wife, Gisele Barreto Fetterman, following her husband's hospitalization.
"Before we let you go, what do you think of Gisele Fetterman, who pushed this poor man to run for Senate?" Ingraham asked Ryun.
"Now he ends up in the hospital with clinical depression after already being hospitalized. I mean, is there a more twisted scenario than this, frankly cruel scenario than this?" she asked.
Ryun replied: "It feels very much like a Lady Macbeth situation, which, she's very ambitious and she used her impaired husband as the vehicle to achieve some of her ambitions."
Ingraham said it was "sickening and cruel" and Ryun agreed.
Following the November midterm elections, Gisele Barreto Fetterman addressed criticism she'd received from conservative circles, telling The New Republic: "The right-wing hates women."
"They especially hate strong women, and I think that's what you're seeing," she added.
In a tweet on Thursday, she said she was "so proud of him for asking for help and getting the care he needs."
"This is a difficult time for our family, so please respect our privacy. For us, the kids come first," she added.
Newsweek has contacted John Fetterman's office for comment.