John Fetterman Hospitalized: What We Know So Far
Democratic U.S. Senator John Fetterman has been hospitalized after he "began feeling lightheaded" at a Senate Democratic retreat in Washington, D.C. on Wednesday.
Fetterman, who is a first term senator representing Pennsylvania, was admitted to George Washington University Hospital, according to a statement issued by his office.
"Towards the end of the Senate Democratic retreat today, Senator John Fetterman began feeling lightheaded," the statement said. "He left and called his staff, who picked him up and drove him to The George Washington University Hospital."
"Initial tests did not show evidence of a new stroke, but doctors are running more tests and John is remaining overnight for observation," the statement went on. "He is in good spirits and talking with his staff and family. We will provide more information when we have it."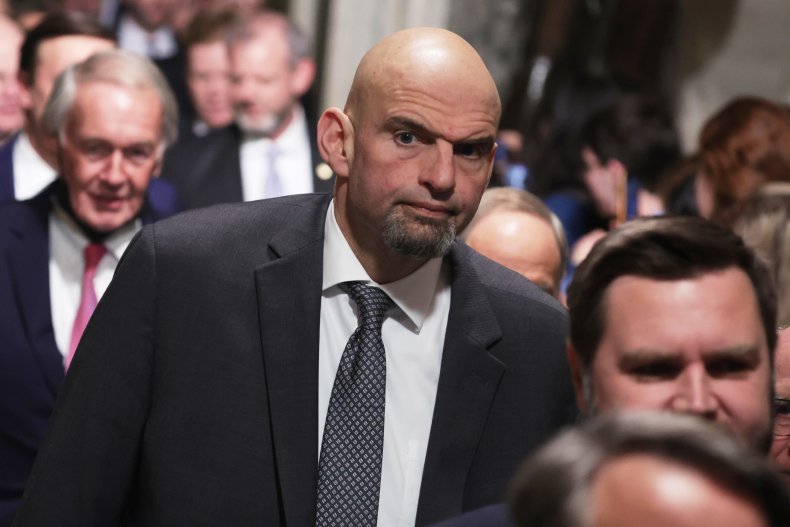 Fetterman suffered a stroke in May last year while campaigning for the Democratic nomination for Senate in Pennsylvania. He won the nomination and went on to defeat Republican candidate Dr. Mehmet Oz in November.
The Pennsylvania Senate race was one of the most closely watched and contentious of 2022, with President Joe Biden and former President Barack Obama visiting the state to support Fetterman.
Fetterman's election was a key victory that helped to secure the Senate majority for President Biden's party in midterms elections where Democrats were widely expected to perform poorly.
Oz, best known as a celebrity surgeon, had been endorsed by former President Donald Trump and the Oz campaign highlighted Fetterman's health, suggesting he could be unable to serve in the Senate.
Fetterman's performance during a televised debate with Oz was also the subject of intense scrutiny. He was still recovering from the stroke and used a closed captioning system during the debate to read moderator's questions.
Fetterman enjoyed a substantial polling lead for much of the campaign but the polls narrowed heading into November. Nonetheless, Fetterman scored a win and now occupies a Senate seat previously held by Republican Senator Pat Toomey.
During his victory speech, Fetterman celebrated that his campaign had "jammed them up."
"I never expected that we were gonna turn these red counties blue," Fetterman said. "But we did what we needed to do, and we had that conversation across every one of those counties."
He also made reference to his own health during his victory speech, saying: "Healthcare is a fundamental human right. It saved my life and it should all be there for you whenever you might need it."
Newsweek has reached out to Fetterman's office for further comment.
Update 02/09/23 03.30a.m. E.T.: This article was updated to include more information.