Donald Trump Jr. Greeted With Chants of 'Forty-Six' at New Hampshire Campaign Rally
President Donald Trump's fans chanted "forty-six" when his eldest son took the stage at a campaign event in New Hampshire on Monday, showing their support for a potential Donald Trump Jr. presidential campaign.
Trump Jr. appeared beside his father at the packed event in Manchester, New Hampshire last night as the 45th U.S. president boasted about his Senate impeachment trial acquittal in front of supporters holding up signs that read "Promises Kept."
The commander-in-chief also used the New Hampshire rally as an opportunity to mock the Democratic Party and its leadership, telling supporters that House Speaker Nancy Pelosi was "mumbling" behind him as he delivered his State of the Union address last week.
Speaking about candidates in the Democratic primary field, President Trump said: "I hear a lot of Republicans tomorrow will vote for the weakest candidate possible of the Democrats, does that make sense?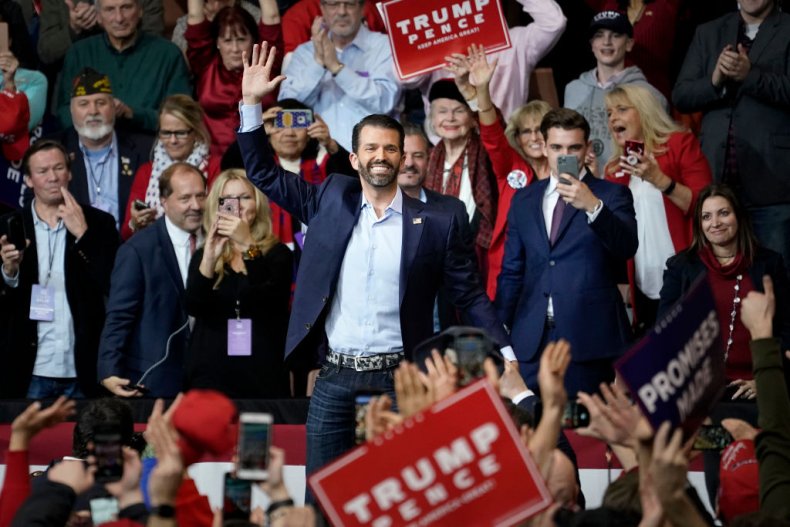 "My only problem is I'm trying to figure out who is their weakest candidate. I think they're all weak."
The commander-in-chief went on to praise his family, calling his daughter Ivanka "very beautiful" and thanking his son-in-law Jared Kushner for working on a Middle East peace plan that has drawn criticism.
"And Kimberly [Guilfoyle] thank you so much, I heard your speech on the plane on the way in. I was very impressed," Trump added. "And did Don Jr. make a good speech?"
As the regular Trump campaign surrogate took to the stage, the president's supporters in New Hampshire chanted: "Forty-six!"
"They're good kids. They went through a lot with this hoax," the president said as Trump Jr. and Ivanka left the stage.
The president's eldest son has not ruled out running for office, telling Fox News' Sean Hannity in March last year that he would "never rule anything out."
"I do enjoy it. I like being in the fight. I like being in the mix," the Trump Organization executive vice president said at the time. "I like seeing, you know, the difference it's making to real working-class families all over the country."
Newsweek has contacted Trump Jr. through the Trump organization for comment on the New Hampshire rally chants and will update this article with any response.
A look ahead poll published by Axios and SurveyMonkey in January found that 29 percent of more than 1,800 surveyed Republican-leaning voters would consider voting for Trump Jr. in 2024, making him the second most popular candidate from a list of ten.
Vice President Mike Pence polled 11 points ahead of the president's eldest son in the poll conducted between December 14 and 17 last year.