Donald Trump Jr. on Running for Office: 'I'm The Son of a Billionaire From NYC...But I Have Friends In Flyover Country...These Are My People'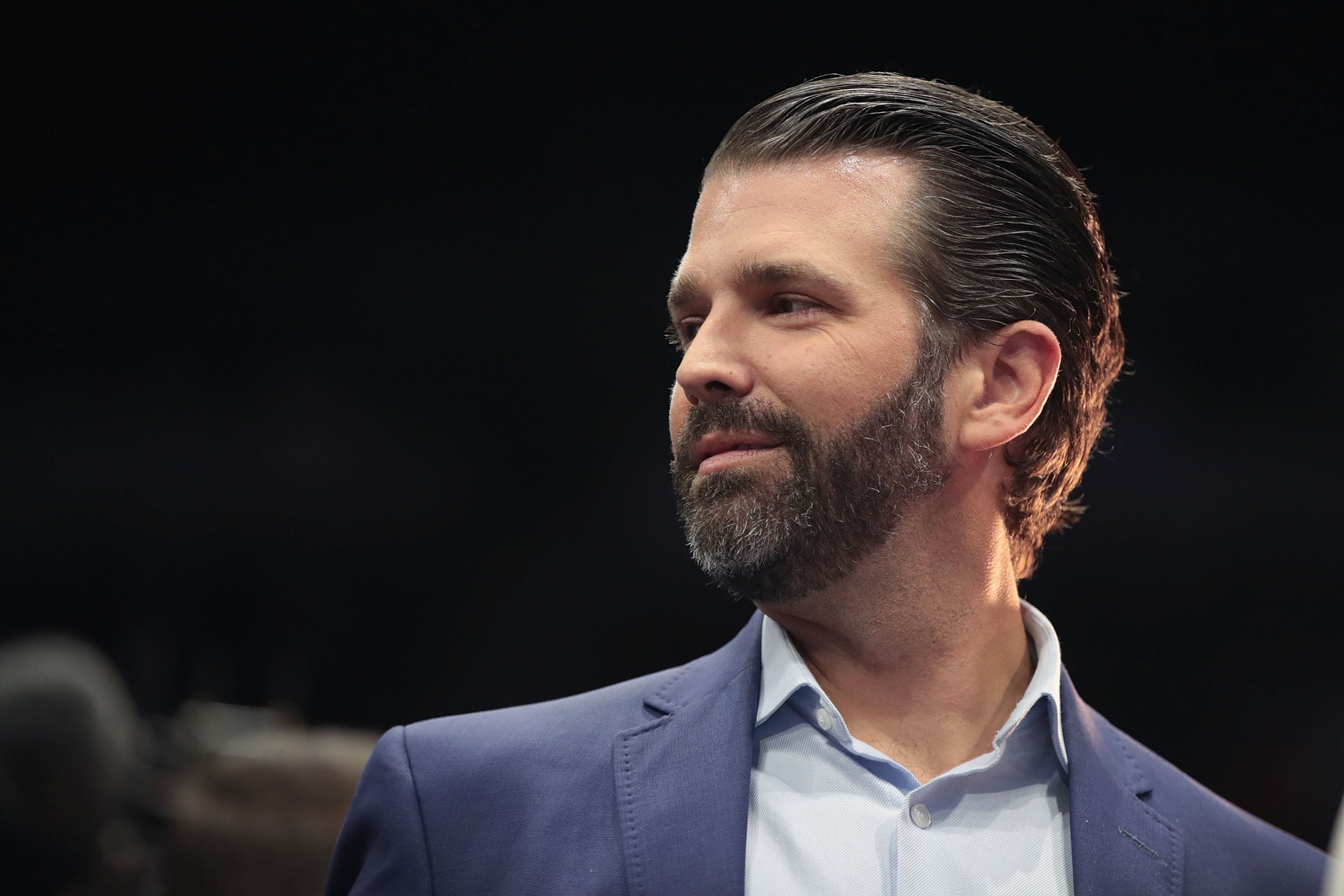 President Donald Trump's son Donald Trump Jr. renewed speculation Thursday that he would run for political office one day, telling Fox News host Sean Hannity that he would "never rule anything out."
Trump Jr. made the comments during a rally for his father's 2020 re-election run in Grand Rapids, Michigan, after Hannity asked him whether he ever thought about running for office.
"Right now, I'll never rule anything out," Trump Jr. said. "I do enjoy it. I like being in the fight. I like being in the mix. I like seeing, you know, the difference it's making to real working-class families all over the country.
"I get that I'm the son of a billionaire from New York City," Trump Jr. said. "But I think everyone knows and anyone who's seen me on the campaign trail knows, I have friends in flyover country. I've spent time with them over the years hunting, fishing, competitive shooting. All of those things. I mean, I actually spend much more time here than I do at the rubber chicken charity dinner circuit in New York City. These are my people. I get it.
"So, watching it make a difference to them, watching them recapture their American dream, that American dream that's been exported to foreign countries, most of whom hate our guts, for the last few decades, that's a huge deal for me," Trump Jr. continued.
Ultimately, Trump Jr. said he planned to funnel his energy into supporting his father's political career before he considered pursuing his own.
"I see what my father's doing, and I'm just damn proud as an American to see those results and I'm going to keep fighting for him," he said. "I won't rule it out for myself, but first things first, we're gonna let him finish up strong."
Trump Jr.'s comments follow an interview he did on Wednesday with Bloomberg Radio's Sound On in which he said that he still has "plenty of time" to enter politics.
"My father decided to get into politics at 68. I'm 41, I've got plenty of time," he said. The president's son has yet to indicate what political role he might envision for himself.
Trump Jr. also exulted in the recently released summary of special counsel Robert Mueller's report on his investigation into Russian meddling in the 2016 election, asserting that he considered it "an incredible vindication for me, for my father, for my entire family."
The president's son also praised his father's supporters, whom he called "the Deplorables who stuck with us through all of this nonsense.
"When you look at what my father's accomplished in the last two years, when you look at his winning track record despite the largest witch hunt, the greatest hoax ever perpetrated on the American people, imagine what he can do now with that cloud off of his back," Trump Jr. said, adding: "I think it's going to be a big deal. I think America's going to win because of it."