Donald Trump Jr. Calls Ilhan Omar 'Anti-Semite,' Shares New York Post Cover of 9/11 Terrorist Attacks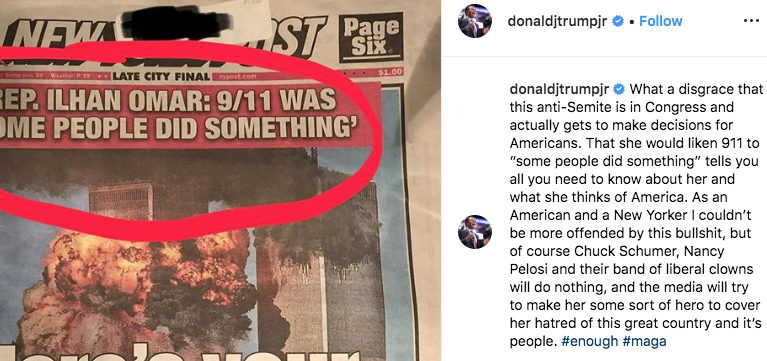 President Donald Trump's oldest son blasted Congresswoman Ilhan Omar as an "anti-Semite" in response to a comment the Minnesota Democrat made about the September 11, 2001 terrorist attacks.
In Instagram and Twitter posts published Thursday morning showing that day's cover of the New York Post, Donald Trump Jr. accused Omar and the wider Democratic Party leadership of supporting anti-Semitism.
Omar, who became one of the first two Muslim congresswomen elected to the U.S. House in November, referred to the September 11 attacks as when "some people did something" during a Council of American-Islamic Relations (CAIR) event in March, while discussing government incursions on Muslim civil liberties.
Trump Jr. said he "couldn't be more offended by this bulls**t" as both a New Yorker and an American.
"This woman is a disgrace. Never in my life would I imagine a member of congress showing this much disdain for America & Americans. I also never thought I'd see Democrats & their media lackeys turn a blind eye to this and her anti-semitism. The dems have lost their way! #Enough," the president's son tweeted early Thursday morning.
"What a disgrace that this anti-Semite is in Congress and actually gets to make decisions for Americans," Trump Jr. wrote in a Thursday Instagram post showing the same New York Post cover of the second jet hitting the World Trade Center.
"That she would liken 911 to 'some people did something' tells you all you need to know about her and what she thinks of America. As an American and a New Yorker I couldn't be more offended by this bullshit, but of course Chuck Schumer, Nancy Pelosi and their band of liberal clowns will do nothing, and the media will try to make her some sort of hero to cover her hatred of this great country and it's people. #enough #maga," Trump Jr. wrote.
On Wednesday, Fox & Friends host Brian Kilmeade apologized after questioning on-air if the Somali-born Muslim congresswoman puts "America first," joining dozens of prominent conservative voices lashing out at Omar.
Omar responded to Fox News and Texas Republican congressman Dan Crenshaw's ridicule of her September 11 comments on Wednesday, labeling it "dangerous incitement" after an upstate New York man threatened her last month. Omar has repeatedly accused her critics of twisting her words in order to incite hate. Fox News and the New York Post are both owned by Rupert Murdoch's News Corporation.
"This is dangerous incitement, given the death threats I face. I hope leaders of both parties will join me in condemning it. My love and commitment to our country and that of my colleagues should never be in question. We are ALL Americans!" Omar tweeted Wednesday.
Scores of Muslim journalists and Islamic relations activists condemned the New York tabloid's Thursday cover, which responded to Omar's out-of-context dismissal of the September 11 attacks blaring the headline, "Here's your something 2,977 people dead by terrorism."
Trump Jr. went after Omar earlier this week after she labeled senior Trump White House adviser Stephen Miller a "white nationalist." The president's son called her "the head of the [Louis] Farrakhan Fan Club" and again accused her of "anti-semitic bigotry."