Will Donald Trump Jr., Jared Kushner Be Indicted? Odds Rise Following Roger Stone Arrest
Another major domino fell in special counsel Robert Mueller's Russia investigation Friday with the arrest and indictment of Roger Stone, a longtime confidant of President Donald Trump's. The allegations against Stone of obstruction, making false statements and witness tampering brought the number of former Trump campaign officials or associates to be charged as part of the investigation to six.
But many think the biggest names are yet to be indicted.
Certainly, that was evident in the betting markets. On political stock market site PredictIt, where users forecast future political events, the price of Trump's son-in-law Jared Kushner facing federal charges by the end of 2019 soared by 9 percent, up to 40 cents. The price on the president's eldest son, Donald Trump Jr., being indicted meanwhile, rose 5 percent to 52 cents.
It wasn't just speculators on the betting markets, however, who were suggesting Mueller's probe was far from done.
"I think people are waiting for the report that is coming out from Robert Mueller. What I look for most are the indictments. It's so rich in detail," former CIA Director John Brennan told MSNBC on Friday shortly after Stone's arrest in Florida. "To me all of these indictments will be basically the compendium of Robert Mueller's, the special counsel's investigation. I expect there to be a significant number, and a significant number of names that will be quite familiar to the average American."
One line, in particular, has garnered attention for its reference to an unnamed high up member of the Trump campaign.
"After the July 22, 2016 release of stolen DNC emails by Organization 1, a senior Trump Campaign official was directed to contact STONE about any additional releases and what other damaging information Organization 1 had regarding the Clinton Campaign," the indictment read referring to Stone's interactions with WikiLeaks.
White House press secretary Sarah Huckabee Sanders was repeatedly asked on CNN Friday whether the president was the one who had directed the senior Trump campaign official to reach out to Stone about the release of emails stolen from Hillary Clinton's campaign.
"I'm not an attorney, I haven't read through that, even if I had I'm not going to be able to provide you some type of insight or legal analysis," Sanders said. "What I can tell you is the specific charges that have been brought against Mr. Stone don't have anything to do with the president."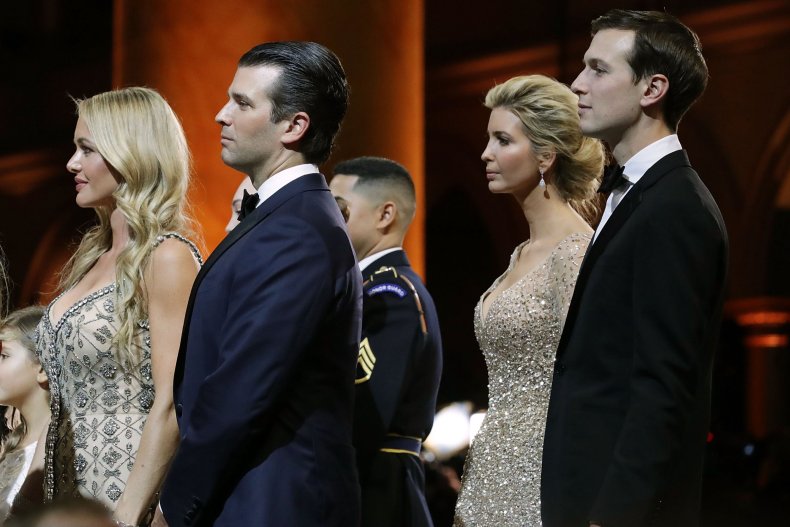 Both Trump Jr. and Kushner would also presumably have the authority to direct a senior campaign official. And both have long been the subjects of speculation over potentially being caught up in the legal peril that has surrounded former members of the Trump campaign.
Trump Jr. was in contact with WikiLeaks during the 2016 campaign to discuss the release of emails damaging to Clinton, The Atlantic has reported, although there was no evidence that he had prior knowledge about their release.
Trump Jr. was also the individual who agreed to take a meeting with a Kremlin-connected lawyer promising "dirt" on Clinton at Trump Tower in June 2016. Also at the meeting, which Trump Jr. has insisted yielded no relevant information and was primarily about adoptions, was Kushner.
Now a senior White House adviser, Kushner was accused last year of failing to hand over emails concerning contacts with WikiLeaks to Senate investigators.