Donald Trump Jr. Accuses Instagram of Deleting Posts 'Because I'm In It'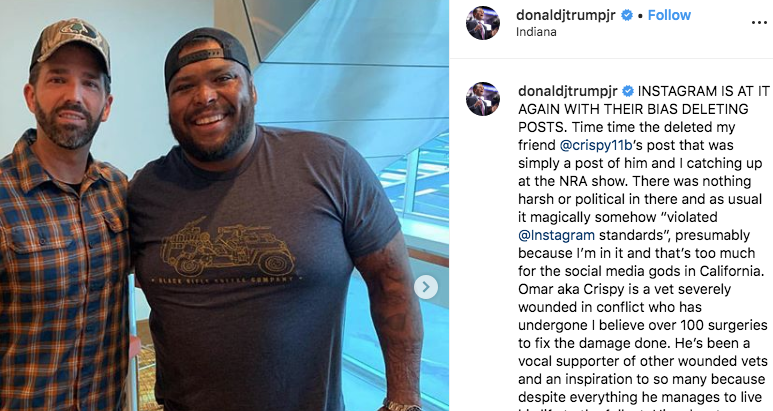 Donald Trump Jr. has taken his claims of social media censorship one step further, accusing Instagram of deleting his photographs solely because he appears in them.
The president's son tossed his latest accusation of "bias" at a social media network, this time claiming the Facebook Inc.-owned Instagram app deleted a picture of he and retired U.S. Army Sergeant Omar "Crispy" Avila posing together at this past week's NRA convention in Indianapolis. The motivational speaker and power lifter initially said he was unsure why it was taken down or what "guidelines it violates." Trump Jr. lashed out at the Silicon Valley "social media gods" in response to the supposed deletion.
He later shared the same photo of the two Tuesday, saying there was "nothing harsh or political" about the post and calling on the country at large to adopt Avila's patriotic attitude.
"INSTAGRAM IS AT IT AGAIN WITH THEIR BIAS DELETING POSTS. Time time the deleted my friend @crispy11b's post that was simply a post of him and I catching up at the NRA show," Trump Jr. wrote on Instagram Tuesday.
"There was nothing harsh or political in there and as usual it magically somehow "violated @Instagram standards", presumably because I'm in it and that's too much for the social media gods in California. Omar aka Crispy is a vet severely wounded in conflict who has undergone I believe over 100 surgeries to fix the damage done."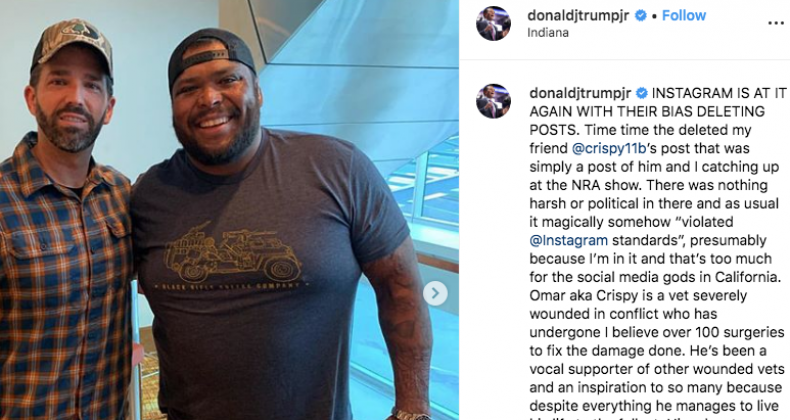 Perhaps looking to appeal to users on a platform not owned by Facebook, Trump Jr. took his complaint over to Twitter: "If @instagram can censor this great American hero for simply posting a picture with me, who won't they censor? The bias has to stop. It's gone too far," he tweeted Tuesday morning.
Trump Jr. continued, relaying how the Purple Heart recipient and Paralympic world record holder posing with him was severely burned during his service in Iraq.
"He's been a vocal supporter of other wounded vets and an inspiration to so many because despite everything he manages to live his life to the fullest," Trump Jr. continued. "This man is amazing and he should not be censored, in fact we would be better off as a nation with many more with his attitude, demeanor, and patriotism. I suggest you give him a follow. The bullshit has to stop. If Instagram can censor a hero like this who the hell won't they suppress???"
Instagram is only the latest target of Trump and other conservatives' ongoing accusations of anti-conservative bias coming out of the largely Silicon Valley-based tech companies. His father suggested he was considering antitrust actions against Silicon Valley companies in November. In February, Trump Jr. penned an op-ed for Real Clear Politics entitled, "If Big Tech Can Censor Me, Think What It Can Do To You."
And last month, he wrote another opinion piece for The Hill in which he accused Facebook algorithms of purposely suppressing conservative viewpoints.
Several top comments on each of their respective Instagram posts, which were shared with Trump Jr's 1.7 million followers and Avila's 231,000 followers, reflected the Trump Organization executive's "bias" claims.
"It violates the fact Instagram hates anything republican, especially when it involves a Trump," one user remarked.